10.23.2011
Stephanie
*

NOLA Bread Pudding with Cognac Sauce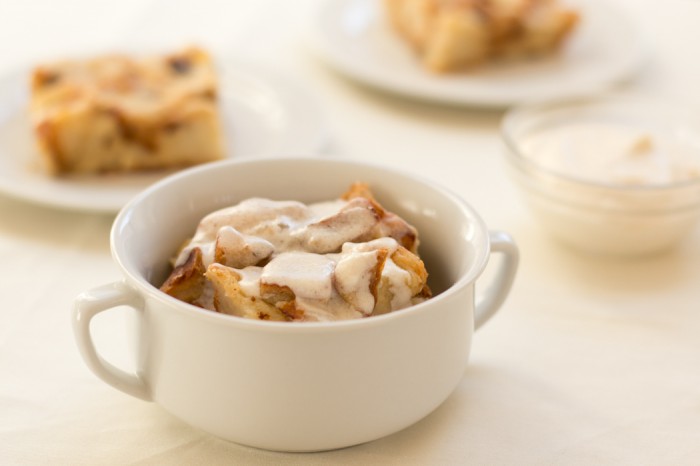 Even after we leave a place, certain things get taken with us. Sometimes it's our accents that give us away – the speed and intonations and the lilt of our voices.  Other times, it's the way we dress or how fast we walk. Some signals are obvious, others more subtle: coffee mugs from Café du Monde tucked in the kitchen cabinets, a framed poster of the New Orleans Zoo hanging on the wall, Mardi Gras beads stashed in a drawer. And sometimes, it's a deep, enduring love of good old-fashioned bread pudding that really says it all.
"I've been living on the East Coast for a while now," Stephanie tells me, "but I still have these strong roots in the South, and in New Orleans in particular. It's a wonderful city with a lot of culture and really amazing food." If you've ever tasted a tender beignet dusted with powdered sugar, or spicy Cajun jambalaya with andouille sausage – you know exactly what she's talking about.
"When I was in graduate school, one of the first things I made for company was red beans and rice for dinner, and bread pudding with cognac sauce for dessert," Stephanie says. "Both are terrific dishes in the sense that they taste really wonderful, but they're also very easy and inexpensive to make. It was important to me that, even on a tight student budget, I could still serve a nice, nourishing meal to a good group of friends." Years later, she's no longer a student, but bread pudding remains a staple in Stephanie's home.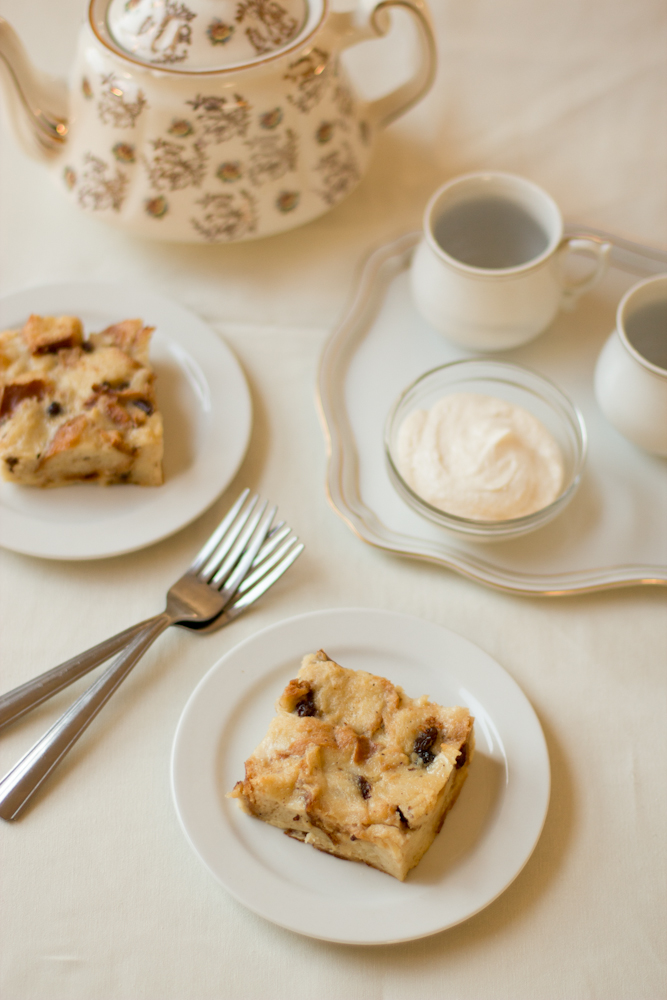 It's a classic dish, "but everyone has their favorite variation," Stephanie explains. "Some people will put pineapple in it, or dried fruit, or coconut. Personally, though, I'm more of a purist when it comes to bread pudding — I like a basic custard with raisins, and a little nutmeg rather than cinnamon. I think the nutmeg gives it a more sophisticated, distinctive flavor. And of course, this recipe is really best if you can use good bread."
For many New Orleans natives, that means using the French bread made by Leidenheimer Baking Company, an iconic bakery founded by a German immigrant in 1896. Originally, George Leidenheimer started off selling thick, dense German breads, but ultimately found fame when he perfected the beloved New Orleans French bread we see today. The bread has a uniquely crisp yet delicate crust, while the insides are light and airy. It makes for a great bread pudding, but if you can't get your hands on it, don't worry. The best bread to use is the one you like most, and really, it's hard to go wrong here — some French bread, brioche or challah from your local bakery will also give great results.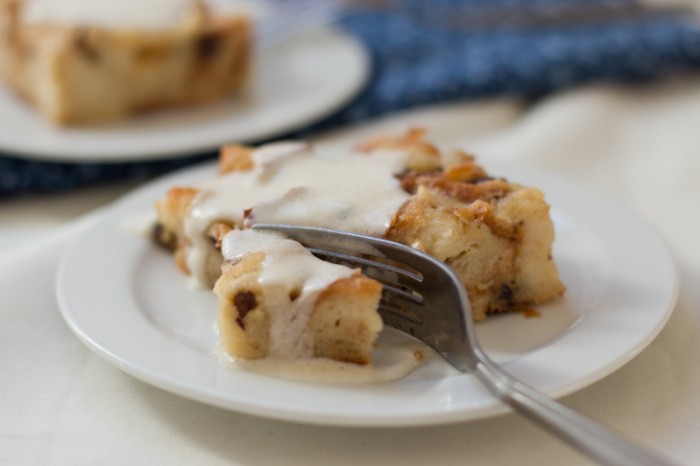 Though bread puddings evolved centuries ago as a way of using up stale bread, New Orleans has embraced the dessert as its own and transformed it into something special. This particular recipe begins with bread soaked in a mixture of milk, eggs, butter and sugar, which is then baked and served with a rich, sweet sauce spiked with a generous dose of cognac. Drizzled over warm pudding, the sauce softens and melts into the light, eggy bread so that each bite is filled with flavor.
"This is one of those dishes that I grew up on and have served repeatedly over a lifetime," Stephanie says, recounting its many appearances — while in graduate school, at her daughter's christening, at a lab party upon completion of a large research study. "Some dishes go in and out of style — they're trendy for a while and then they fade away — but this is one of those things that has simply always been good."
Three Quick Questions…and Stephanie's Answers
It's your last meal. What do you have?
Probably red beans and rice — I think that would be pretty comforting. And maybe some bread pudding or my mother's lemon pie.
Your kitchen is burning down. What's the one thing you grab?
I think I'd grab my set of ceramic knives that my brother gave me for Christmas years ago. They do a great job of cutting really clean lines in fruits and vegetables so that the cut surfaces are left intact and beautiful.
Do you have a favorite cookbook?
I don't really have a favorite — I probably get one or two new cookbooks each year and and then tend to work through each one. In doing so, I usually find a few recipes that are just phenomenal and that I'll make again and again. I do go back periodically to Alice Waters's book on vegetables and Mark Bittman's How to Cook Everything Vegetarian — I actually just used that one when I needed something to do with the Sunchokes from our garden. And then recently I've been cooking a lot from Donald Link's Real Cajun. It has some great recipes and stories and teaches you a lot about Louisiana culture.
Stephanie * NOLA Bread Pudding with Cognac Sauce
Author:
Adapted from The Plantation Cookbook by the Junior League of New Orleans
Prep time:
Cook time:
Total time:
The key to this dish is starting with the best bread you can get your hands on, and then making sure it is sufficiently stale. If you can find good French bread, use that. If not, a good brioche or challah works well, too. Leftovers make for a delicious breakfast, whether cold or re-warmed.
Ingredients
FOR THE BREAD PUDDING:
2 cups whole milk
4 tbsp (1/2 stick) butter
½ cup sugar
4 cups stale French bread (may substitute brioche or challah), cut into 1" cubes
½ cup raisins
2 eggs, beaten
⅛ tsp salt
½ tsp grated nutmeg
1 tsp vanilla extract
FOR THE COGNAC SAUCE:
8 tbsp (1 stick) butter
2 cups powdered sugar
¼ cup Cognac (may substitute Bourbon, Rum or Whiskey)
Instructions
Preheat oven to 350°F.
Using a medium size, heavy-bottom sauce pan, heat milk, stirring frequently, until it begins to steam and form small bubbles (being careful not to boil). Melt the butter in the hot milk and stir in the sugar. Pour over bread and raisins in a large bowl and let stand for 15 minutes.
In a separate bowl, stir together beaten eggs, salt, nutmeg and vanilla. Add to the bread mixture and gently combine. Pour into a well-greased 1 ½ quart dish and bake for 35-45 minutes until the edges turn golden brown.
Meanwhile, start your Cognac sauce. In a large mixing bowl, cream together butter and sugar until fluffy, then gradually pour in the Cognac until well blended.
Serve on the side or drizzle over warm bread pudding. Enjoy!