9.11.2011
Sharon
*

Scallion Pancakes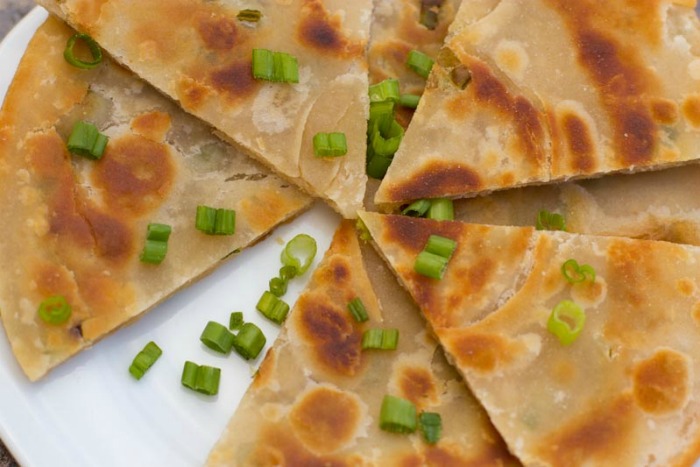 If you ask me, one of the very best things about being a kid is how much fun it can be to mess stuff up. Case in point: cooking. When you're a kid, how a dish turns out is almost beside the point — it's just fun to get your hands dirty, to measure a cup of flour, to crack open an egg. If the results leave something to be desired, it doesn't really matter. The thrill of combining a few simple ingredients to create something new is reward enough.
Which is a good thing, because I don't know about you, but I wasn't exactly Top Chef material at nine years old (and let's be honest, I'm still not!). I think we all have a story to tell about tackling our first recipe, and Sharon is no exception. "I was in second grade," Sharon says, "and it was international day at school. That meant forming groups and cooking food from different countries. I was in the China group, and my mom gave me a recipe for scallion pancakes. I went to a sort of progressive, kids-lead-the-way type school, so my group got to make them with very little supervision."
Even so, the silver dollar sized pancakes seemed to turn out well, and that afternoon, they were set out on a display table in the school gymnasium. China was positioned between France (featuring crepes with nutella) and Italy (showcasing caprese salad). Parents began to fill the room, moving from country to country in a few short steps to sample a whole host of international cuisine. "And then, my dad got to our table," Sharon says. "He took one bite of the scallion pancakes, spit it out, and bolted for the water fountain."
"Turns out, we had somehow managed to mistake teaspoons of salt for tablespoons of salt," Sharon explains. "They were pretty salty." Not surprisingly, the adults began to take a pass on the scallion pancakes, though oddly enough, the kids seemed to really like them. "I think they kept coming back because all that salt made them more like potato chips."
Perhaps we should add that to the list of great things about being a kid: You don't turn your nose up at a little extra salt. Still, being an adult has its perks too, one of them being the ability to (for the most part) follow a recipe. Years after her first try, Sharon has made her second attempt at scallion pancakes, and I can assure you: these pancakes will not precipitate a mad dash to the water fountain.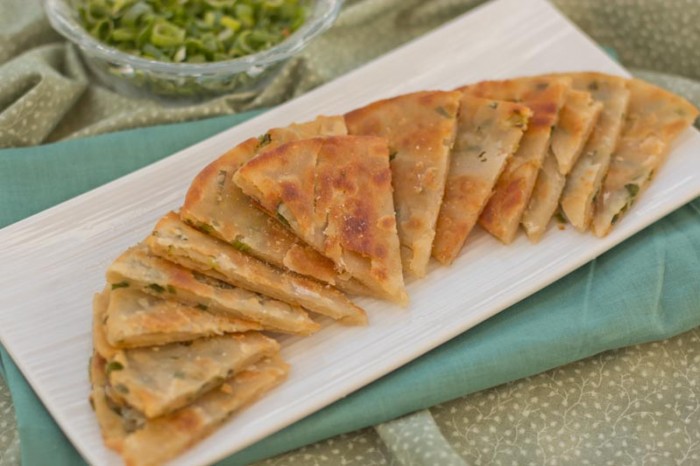 Just off the skillet, the pancakes are warm, golden, and totally addictive. Layers of flaky dough mingle with nutty toasted sesame oil and sweet, garlicky scallions. Crispy peaks bubble up on top, while the insides remain soft and chewy. And while the pancakes stand alone just fine, pair them with a tangy ginger-soy sauce and you can't go wrong no matter what your age.
Three Quick Questions…and Sharon's Answers
It's your last meal. What do you have?
My father passed away two years ago and when he was in the hospital, one of his colleagues was planning to visit and asked him if she could bring along something to eat. He wanted Kentucky Fried Chicken. In my family, we would always get a bucket of dark meat and then cook up a huge pot of white rice –- this is so Chinese — and then go to the park and have a picnic. Even though KFC chicken is already pretty heavily spiced, my dad always wanted it with soy sauce. So I think that would be a pretty good thing to eat, too.
Your kitchen is burning down. What's the one thing you grab?
Honestly, the kitchen burning down would be a great excuse to get rid of things and re-do the kitchen. I was on Jeopardy a few years ago and they asked me what I would do with the money I won. I told them I would replace all my kitchenware, but I bought my condo instead.
Do you have a favorite cookbook?
When we finished college, my six roommates and I put together this little cookbook with some of our favorite recipes. One of my friends did all the photocopying and binding, another did some graphic art. It reflects our tastes at the time, which looking back is kind of funny. It's filled with a lot of really rich, homey kind of stuff that we used to make together. And now we're working on a second edition!
Sharon * Scallion Pancakes
Author:
Serious Eats Extra-Flaky Scallion Pancakes
Recipe type:
Breakfast, Appetizer/Side
Prep time:
Cook time:
Total time:
Ingredients
FOR THE PANCAKES:
2 cups all-purpose flour
1 tsp salt
1 cup boiling water
up to ¼ cup toasted sesame seed oil
2 cups thinly sliced scallion greens
about ¼ cup vegetable oil, for cooking
sea salt to taste
FOR THE DIPPING SAUCE:
3 tbsp soy sauce
1 tbsp rice wine vinegar
1 tsp grated fresh ginger
3 tsp sugar
Instructions
Place flour and salt in the bowl of a food processor (see note below). Pulse to combine, and then slowly pour in about ¾ cup of boiling water while the processor continues to run. If the dough hasn't clumped together around the blade after about 15 seconds, add more water a tablespoon at a time – just enough to help the dough come together. Transfer your dough to a floured board or counter-top and knead briefly to form a smooth ball.
Place dough in a bowl and cover with a damp towel or plastic wrap and allow to rest at room temperature for at least 30 minutes (or up to 24 hours in the fridge).
Divide dough into four equal pieces. On a floured workspace, gather your first piece into a smooth ball and roll out into a disk about 8 inches in diameter. Using a pastry brush (or your fingers), coat the top of the disk in a very thin layer of toasted sesame oil. Roll the disk into a cylinder, then twist into a spiral, pinching the ends and tucking them underneath. Flatten gently with your hands, and then roll again into an 8-inch disk.
Paint the disk in another layer of sesame oil and then distribute ½ cup sliced scallions across the top. Carefully roll up dough into a cylinder, then twist into a spiral, flatten gently, and re-roll into a slightly smaller disk than your first. Repeat rolling process with remaining three pieces of dough.
Heat about a quarter of the vegetable oil in an 8-inch non-stick or cast-iron pan over medium-high heat. When oil begins to shimmer, cook one pancake for about 2 minutes, shaking pan occasionally, until the bottom of pancake has turned golden brown. Flip with tongs or spatula (be careful of hot oil!), and cook for about 2 more minutes until the top side is golden, too. Transfer to paper towel to drain. Repeat for remaining 3 pancakes.
Meanwhile, whisk together ingredients for the dipping sauce. Sprinkle pancakes with sea salt, cut into wedges, and enjoy.
Notes
If you don't have a food processor, stir the flour with a wooden spoon in a large bowl while you add in boiling water (beginning with ¾ cup). Stir to combine, adding more water as necessary, then transfer to a floured board or counter-top and knead for about five minutes. Continue with instructions above.