1.22.2012
Janet
*

Orechovnik (Slovak Nut Roll)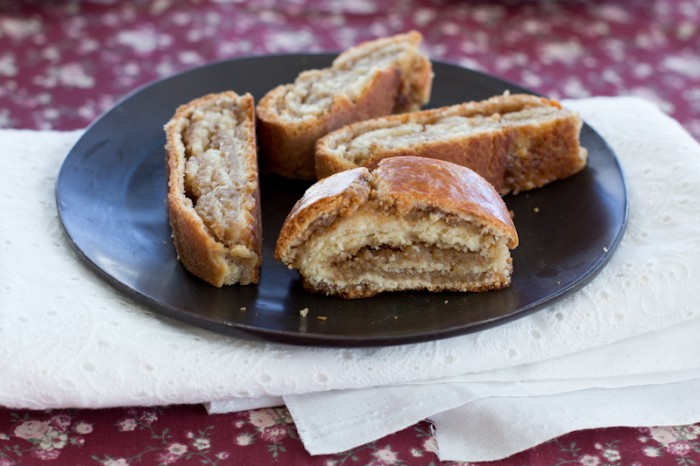 Ms. Dubrovsky* liked to schedule her doctor's appointments for Monday mornings because that left her plenty of time to prepare. All weekend long she worked away in the kitchen, and when Monday rolled around, she would arrive at the doctor's office with arms full of Slovak nut rolls and shoeboxes full of kolaches. At night, her doctor, David, would return home to his family, who would congregate in the kitchen eagerly awaiting his return. "Anytime we heard Ms. Dubrovsky was scheduled for an appointment, we knew that David would be bringing home nut rolls," Janet says, smiling. "They were delicious."
This went on for years, until eventually Janet decided it was time for a proper thank you. "I think Ms. Dubrovsky always thought she was thanking David, but I felt like she was the one who deserved a thank-you," Janet explains. "So I wrote her a thank-you note, and I asked her if she would be willing to share her recipe for nut rolls."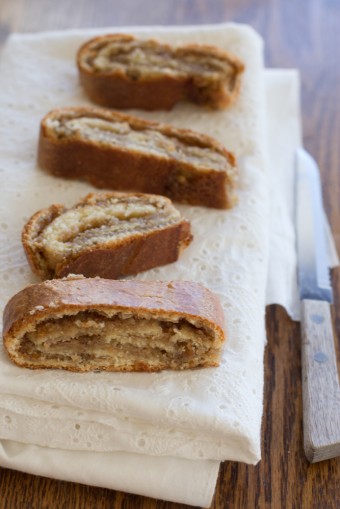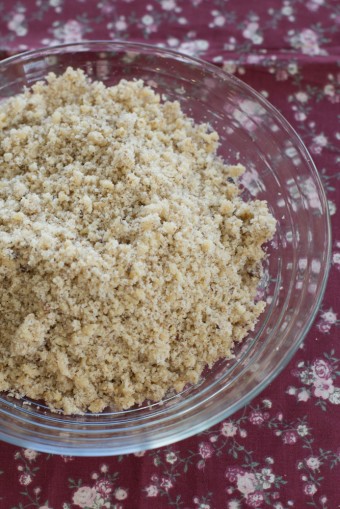 Ms. Dubrovsky's response was almost overwhelming. Not only was she thrilled to provide her recipe, scrawled out in beautiful flowing cursive with detailed instructions and notes, but she also passed along one of her favorite cookbooks and a four-page handwritten letter. The letter began:
Dear Janet,
I'm so happy that you like this ethnic baking. I didn't bake a whole lot until I retired from a lifetime of work, 16 years ago. I did, however, help my mom when I was a child — 75 years ago, we baked together almost every day. It was all yeast baking, a way of baking she learned from her own mother in the mountains of Slovakia…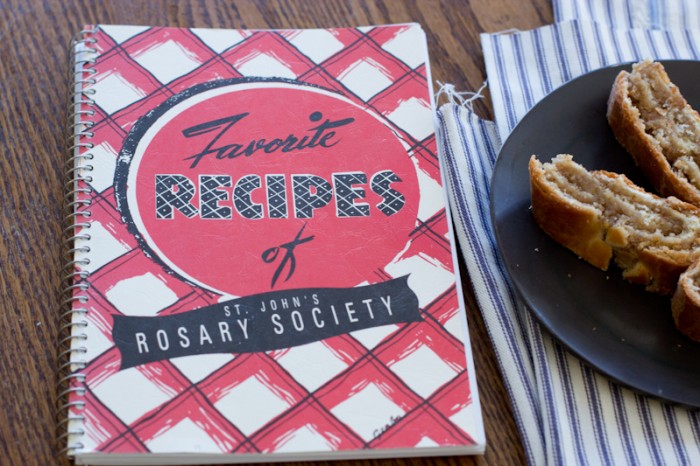 In her mother's village, Ms. Dubrovsky continued, one had to be resourceful, as there was no yeast available in stores. Instead, her mother learned to make her own yeast starter that had to be fed daily and kept warm. The letter goes on to talk all about baking with yeast, how to form the dough for the nut rolls, how to grind the walnuts into a paste, and how a bit of applesauce keeps it all nice and moist. Not a detail is skipped, nor a step overlooked. Sometimes, though, the things you know best can be the hardest to explain:
It is surprising to me that procedures done by rote – such as with baking – are rather difficult to describe in a step-by-step fashion. But I have a good excuse if I don't do it well – I just call it a senior moment!
Of course, even with the most carefully crafted instructions, when it comes to baking, it doesn't hurt to cross your fingers. In closing, Ms. Dubrovsky wrote:

Put the nut roll in the oven, say a prayer, and hope for the best! Enjoy the nut rolls and the book in good health, and know that someone on Glen Street* in Whiting, Indiana loves you very much.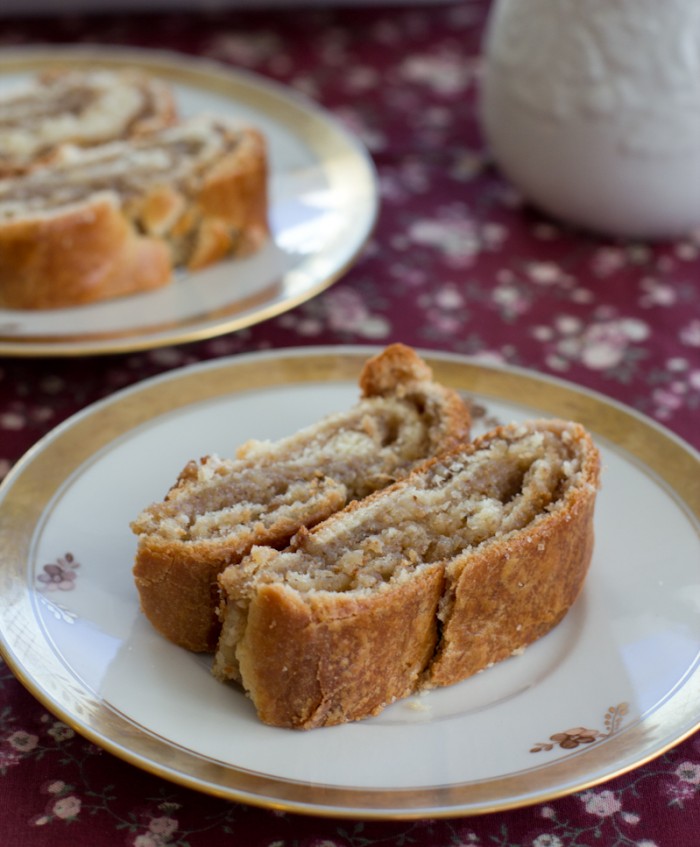 "It was the sweetest letter I'd ever read," Janet tells me, smoothing out the creased pages with her hand.
Janet hasn't heard from Ms. Dubrovsky for a while now. As Ms. Dubrovsky grew older, and baking became difficult, she started buying nut rolls to bring to the doctor's office, and then one day she stopped coming altogether. Janet made her nut rolls for the first time just a few weeks ago, hoping they would turn out well, afraid that she wouldn't be able to "recreate this fabulous memory of Ms. Dubrovsky."
And yet, Ms. Dubrovsky's instructions must have been thorough. The nut rolls turned out perfectly —  glossy and golden, flaky and tender, the outer edges barely holding everything together. Inside, paper-thin layers of dough — delicate but dense — blanket a paste of ground walnuts and both brown and white sugars. Their rich texture makes the nut rolls almost cake-like, but they are simple breads that are not too sweet.
Just like Ms. Dubrovsky's.
Three Quick Questions…and Janet's Answers
It's your last meal. What do you have?
Well, my favorite food groups are potatoes, fat, and cheese. So I figure I'd have the perfect breakfast: a cheddar cheese omelet, with hash browns or french fries, and challah toasted with butter. It's my last meal, so why not? And no egg whites in the omelet — real eggs.
Your kitchen is burning down. What's the one thing you grab?
I would take my old lemon juicer, called the "Juice-it," which isn't made any more. It's super powerful and it's just wonderful.
Do you have a favorite cookbook?
Ok, so I have about 2,500 cookbooks. I've been reading them all my life, and I don't do drugs and I don't smoke and I don't drink, so that's what I spend my money on. I think cookbooks are fascinating. But if I had to choose a few, I would choose the New York Times Cookbook, which is the first cookbook I ever bought. I'd choose Maida Heatter's Book of Great Chocolate Desserts, which is the book my husband bought me my first Mother's Day. And then I'd choose anything by Gil Marks; I love everything he's written.
*Name and street name have been changed.
Orechovnik (Slovak Nut Roll)
Prep time:
Cook time:
Total time:
Serves:
makes two 12-inch rolls
A tender sweet bread with a deep golden crust and a flavorful, nutty filling. Perfect with a hot cup of coffee. Before you begin, keep in mind that the dough needs to be refrigerated overnight.
Ingredients
FOR THE DOUGH:
2 cups all-purpose flour
2 tbsp sugar
1 tsp salt
2 egg yolks, beaten (set aside the egg whites)
½ cup butter (1 stick)
½ cup cold milk
½ tsp vanilla
1 package dry yeast
FOR THE NUT FILLING:
¾ lb ground walnuts (about 3 cups whole walnuts)
¾ cup sugar
¼ cup brown sugar
FOR ASSEMBLY:
2 egg whites (saved from dough)
2-3 drops vanilla, divided
½ cup applesauce
¼ cup milk
Instructions
In a small bowl, mix the vanilla and milk together then dissolve yeast in the mixture. Sift the flour, sugar and salt into a large bowl. Cut the butter into the dry ingredients (like you would for a pie crust) until the dough resembles a course meal. Add the beaten egg yolks (setting aside the egg whites, covered, in the refrigerator) and the yeast mixture. Mix together briefly with a wooden spoon, then knead with your hands against the sides of the bowl until everything is blended together and the dough is no longer very sticky. Alternatively, you can use an electric mixer with a dough hook. Form the dough into a ball, cover in plastic wrap, and refrigerate overnight.
When you are ready to put together the nut rolls, prepare the filling: mix together the ground walnuts, sugar, and brown sugar. Divide evenly into two bowls and set aside.
Remove your dough from the refrigerator; divide in half and place on a floured work surface. One at a time, roll out each piece of dough to a 14" x 13" rectangle. Turn the dough so that one of the longer edges is facing you. Mix your reserved egg whites with a drop of vanilla. Using a pastry brush or your fingers, brush some of the egg white mixture over the top of the dough. Then smear about ¼ cup applesauce (or a little less) over the dough to keep the nut roll moist. Sprinkle one of the bowls of nut filling over the dough, leaving about a 1-inch margin on each side of the rectangle but the far end, where you can leave a little less room (about ½-inch margin).
Start rolling the dough away from you, into a spiral, keeping the spiral firm and tight. When you've made several turns, fold the 1-inch side margins inward, and then continue to roll all the way up, pinching the seam once rolled. Place the nut roll, seam down, on a parchment-lined or lightly greased baking sheet. Using a pastry brush or your fingers, use just enough milk combined with a drop or two of vanilla to brush the top of the rolls (this will make the rolls nice and shiny). Repeat the process with remaining dough.
Preheat oven to 350 F. Let the rolls rise for 30 minutes, then bake for 30-35 minutes until the rolls are a deep tan color. To serve, cut the nut rolls crosswise into slices.