7.31.2011
Claire
*

Green Pea and Asparagus Risotto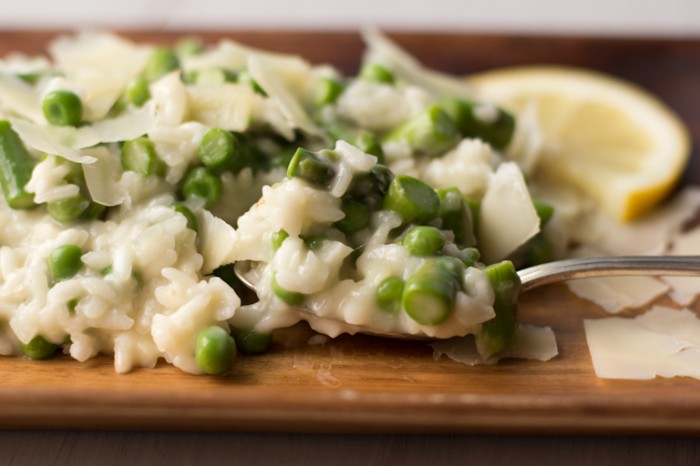 When I showed up at Claire's doorstep on a rainy Wednesday morning, she greeted me with a warm hug and welcomed me inside. I knew she would be cooking her favorite risotto, but I was excited to learn more about the story behind it. I wish I could say it was a regular visit for me, that Claire and I are total BFFs — but in actuality, it was my first time meeting her. I say this with a bit of a sigh because, frankly, Claire Bidwell Smith is awesome. She's kind and real and incredibly talented.
When she isn't posting to her award-winning blog, Claire does all kinds of food and travel writing and has contributed to publications such as the Huffington Post, Chicago Public Radio and Time Out New York, to name just a few. She is also the author of the widely-acclaimed book The Rules of Inheritance, a memoir about losing both her parents as a young adult. Not surprisingly, Claire's mother was also an interesting woman who played many roles during her lifetime: model, professional cook, food stylist for major commercials, and owner of a small specialty-foods store. "She imported pâté, wine, chocolate, and all kinds of things," Claire tells me. "She was self-taught, but she was a true gourmet." Homemade family dinners were frequent and impressive — things like roast chicken à la Julia Child, shrimp gumbo and beef bourguignon.
While Claire's childhood tastes weren't quite as adventurous as those of her mother ("I was on the 'white diet' — bread, potatoes and pasta!"), Claire loved spending time with her mom in the kitchen. "Food is such a nurturing thing, where we're feeding ourselves and feeding other people and creating this really warm environment" Claire says. So when her mother passed away, Claire quickly realized that in losing her mother she had lost something else: "Suddenly it wasn't just my mom who was gone, but this whole environment that was missing."
At the time, Claire was still in college in Vermont. But rather than resign herself to pizza and Pop Tarts, she sought solace in an old copy of the Joy of Cooking. "I would cook these meals that my mom used to make, these recipes for, like, 4-6 people, and then I'd sit down and watch Dawson's Creek and probably eat too much. But I learned to cook, and I loved it, and I realized I knew more than I thought. I had spent so much time watching my mother, just kind of soaking it all in, that I knew some things intuitively — how to hold a knife, how to time things right."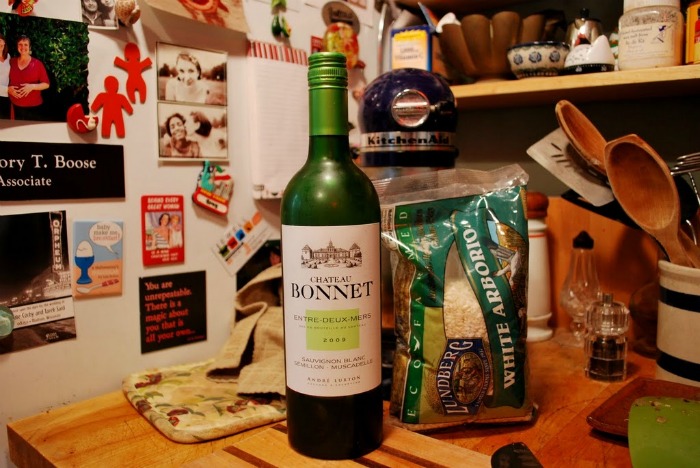 Years later, Claire is still cooking, not only for herself but for her husband, Greg, and 2-year-old daughter, Veronica — creating that same warm environment with food that she had temporarily lost. Food for Claire, like it was for her mother, is something to be shared, something communal. Her mother was a huge entertainer and loved hosting a good party, a habit Claire has joyfully picked up as well.
Still, she has developed her own distinctive style of cooking, which in many ways differs from that of her mother. For one, she cleans as she cooks, while her mother would, as Claire puts it, "destroy the house" — leaving the kitchen a great sea of pots and pans. And while her mother took pleasure in complicated, elaborate recipes, Claire prefers simpler dishes she can put together on the fly. "I wonder what my mother would think of me cooking this risotto!" she muses out loud.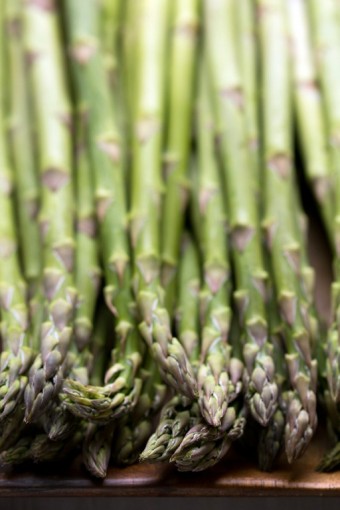 Although Risotto is relatively easy to make, it has complexity in presentation and flavor; in a way, it combines Claire's easy-going approach to food with her mother's flair for more dramatic dishes. Risotto is also incredibly versatile and Claire notes that you can play around with it however you want — change up the vegetables (mushrooms are a popular one), use different spices, maybe mix in some spicy Italian sausage. Oh, and if that wasn't enough to sell you on this recipe, did I mention it calls for butter AND alcohol? Yes, alcohol cooking with butter. As Claire will tell you, there is nothing better.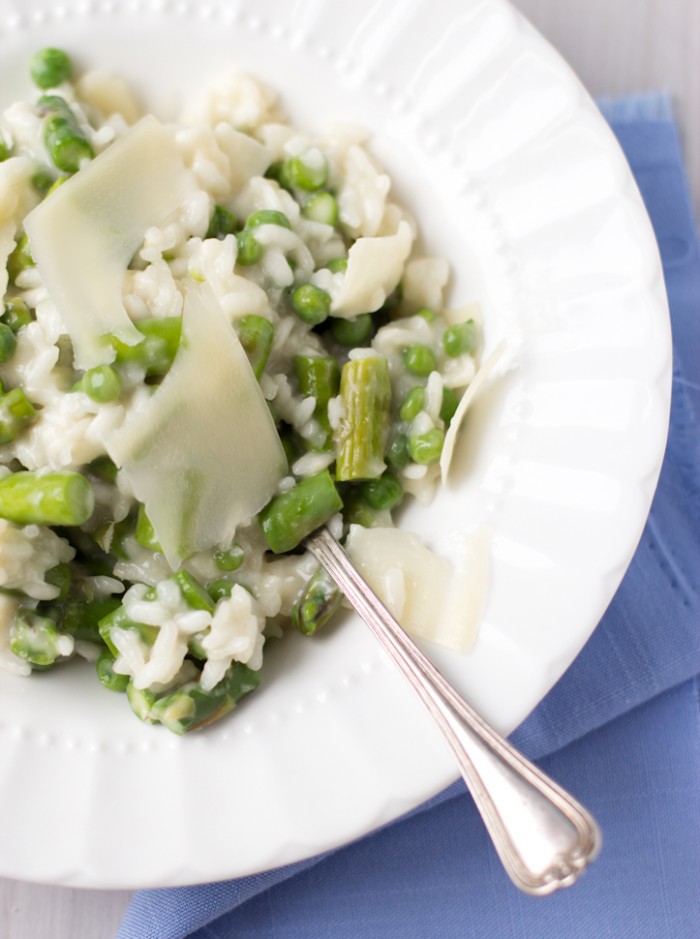 Three Quick Questions…and Claire's Answers
It's your last meal. What do you have?
I hate to say it, but macaroni and cheese. But my mom's version. It's baked with three cheeses, milk and butter.
Your kitchen is burning down. What's the one thing you grab?
I think my mom's pots. There's just a few of them — the ones I cooked with today. They would probably survive a fire, actually, but I really love those pots. I've been using them as long as I've been cooking. And I just — I've never seen anything like them. They're not made like that anymore. You can always get another Le Creuset, but those pots — I don't know where to find them.
Do you have a favorite cookbook?
Nigela Lawson's How to Be a Domestic Goddess, which is a great title. It's mostly baking but I love it. And then of course I have an old fondness for the Joy of Cooking.
Green Pea and Asparagus Risotto
Recipe type:
Main, Appetizer/Side
Prep time:
Cook time:
Total time:
Serves:
2 mains or 4 sides
Risotto isn't an exact science, so use your best judgement when it comes to how much broth to use. Taste as you go along, and if you feel like it needs more or less broth, don't be afraid to adjust the recipe a bit.
Ingredients
1 bunch fresh asparagus, tough ends removed, cut into 1 inch lengths
1 cup frozen peas
2 tbsp butter
2 medium shallots, finely chopped
3 cloves garlic, finely chopped
1 cup arborio rice or other risotto rice
½ cup dry white wine (or more stock)
about 3½ cups chicken or vegetable stock
2 tsp lemon juice or zest (optional)
½ cup freshly grated Parmesan cheese
salt and freshly ground black pepper
Instructions
Bring a small saucepan of water to boil, then add the asparagus and frozen peas. Boil for two minutes until tender, then transfer to an ice water bath with slotted spoon to stop the cooking. Drain and set aside.
In a medium-sized pot, bring the stock to a simmer. Meanwhile, melt the butter in a deep, medium-sized heavy saucepan over low heat. Add the shallots and garlic, and cook, stirring, for about 2 minutes or until soft, then stir in rice to coat.
Add the wine to the rice mixture and stir until liquid is absorbed. Add half a cup of simmering stock and again, stir until absorbed. Continue adding stock in half-cup increments, cooking and stirring periodically, for another 15-20 minutes or until the risotto is smooth and creamy but the rice grains still retain a bite in their centers.
Remove pan from heat. Stir in the lemon zest (if using), grated Parmesan, asparagus and peas; season with salt and freshly ground black pepper to taste. Hurry to the table and enjoy!
Notes
If you are using packaged stock, keep in mind that these are usually high in salt so you many not need to add any extra. Taste first and adjust as needed.