6.9.2013
Antique Taco Salad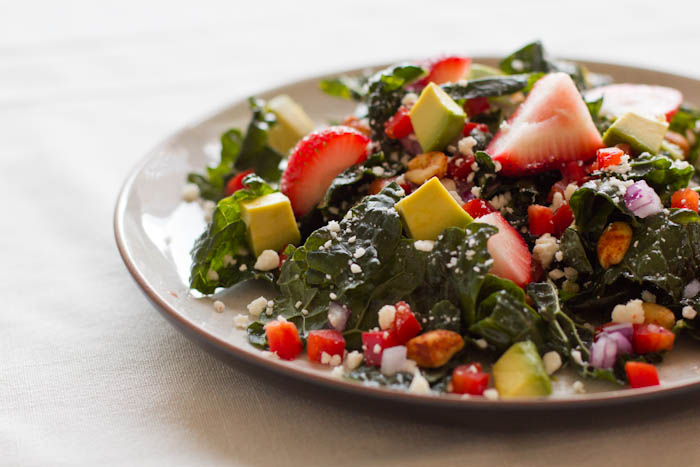 I love the idea of a taco salad, don't get me wrong. But I'm often left disappointed by what is all too often a sizeable—yet flavorless—mass of meat and beans sitting on a mound of soggy romaine. I had just about given up on the zesty, spicy salad of my dreams, when I stumbled unexpectedly into a veritable jungle of flavor known as the Antique Taco Salad from Antique Taco in Chicago's Wicker Park neighborhood. This is my recreation of the salad with just a few minor tweaks.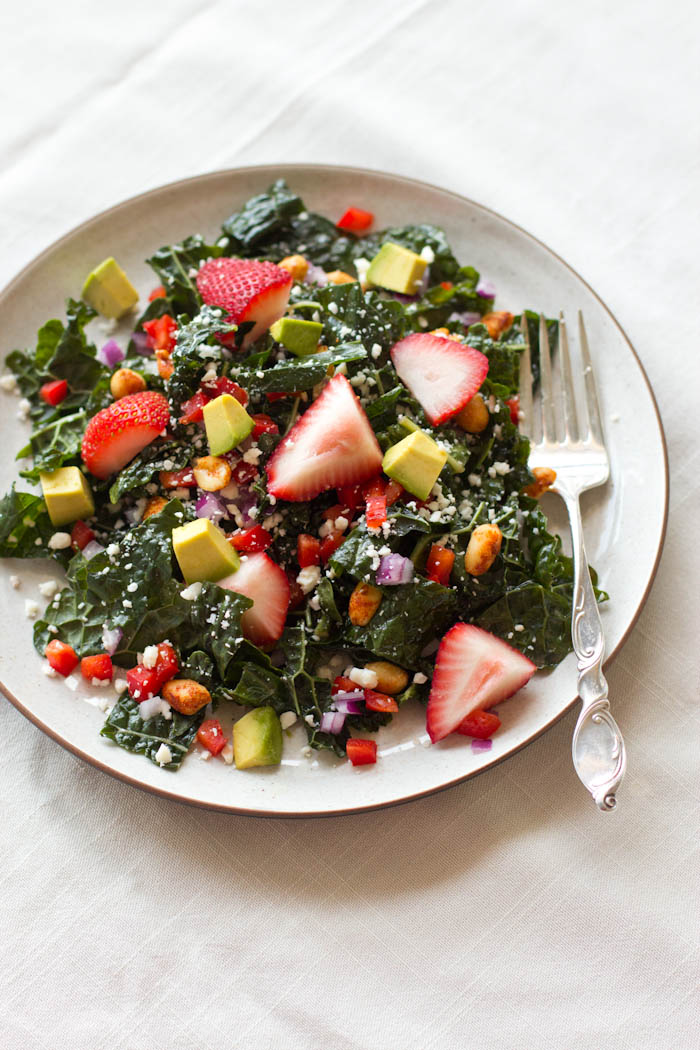 You'll have to forgive me for forgetting to include what might be the most traditionally taco thing about this salad—the tortilla strips—and use your imagination to envision what it would look like had I actually remembered such a crucial crunch factor. Whoops! I would say this is more of a taco salad in the abstract, since you won't see many of the usual suspects here (beans, meat, salsa), but you will find all kinds of other goodies with a Southwestern bent: spiced peanuts; diced red pepper and onion; crumbly, salty Queso Fresco; sweet fresh strawberries and sliced avocado; and a sparklingly light pomegranate dressing. The resulting salad is the perfect blend of both flavor (salty, sweet, spicy) and texture (juicy, creamy, crunchy).
In other words, my taco salad dreams have come true at last.
Prep time:
Cook time:
Total time:
Salads are only as good as their foundation, and this one—built from a tangle of fresh kale in a light pomegranate dressing—is really good. I like to dress this salad first thing and then prepare the mix-ins so that by the time I'm done, the kale is perfectly tender but still retains a nice, satisfying crunch. As an added bonus, kale is ridiculously good for you and this salad will give you energy for miles.
Ingredients
FOR THE SPICED PEANUTS:
¼ tsp cayenne
¼ tsp cumin
¼ tsp paprika
⅛ tsp garlic powder
pinch of salt
1 tsp olive oil
½ cup peanuts
FOR THE POMEGRANATE DRESSING:
3 tbsp pomegranate juice
2 tbsp red wine vinegar
1 tbsp honey
1 tsp Dijon mustard
salt and freshly ground black pepper
¼ cup olive oil (not extra virgin)
FOR THE KALE SALAD:
2 bunches Lacinato or Curly Kale—stems removed—chopped into small pieces
2 ounces crumbled Queso Fresco or Cotija cheese
⅔ cup sliced strawberries
½ an avocado, peeled and cut into small cubes
½ cup tortilla strips
1 medium red pepper, finely diced
½ medium red onion, finely diced
½ cup spiced peanuts (see ingredients above)
Instructions
Make the Spiced Peanuts: Preheat oven to 300°F. In a small bowl, whisk together all spices. In another small bowl, toss the peanuts in a teaspoon of olive oil until thoroughly coated. Add the mixed spices and toss to coat. Spread the nuts in a single layer on a cookie sheet fitted with parchment paper, and bake for 8-10 minutes, stirring once halfway through. Remove from oven and set aside to cool.
Make the Pomegranate Dressing: Add pomegranate juice, vinegar, honey, Dijon mustard, and a dash of salt and pepper into a small mixing bowl. Whisk together. Continue to whisk, slowly drizzling in the olive oil until blended. Set aside.
Prepare the kale salad: First, remove the kale leaves from the tough kale stems. Discard the stems. Gather your kale leaves onto a cutting board, and tear or cut the leaves into small, bite-sized pieces. Place in a large mixing bowl and thoroughly toss with the pomegranate dressing, starting with a little bit and adding more as you like. Use your hands to massage the dressing into the kale, scrunching handfuls at a time until you notice the kale becomes darker in color; this will help to soften the kale and improve the taste. Once you're done, set the kale aside and let marinate in the dressing while you prep the remaining ingredients.
Add remaining ingredients to kale salad, along with the spiced peanuts, and toss together. Enjoy!