7.9.2012
Amy E.
*

Pretzel Fried Chicken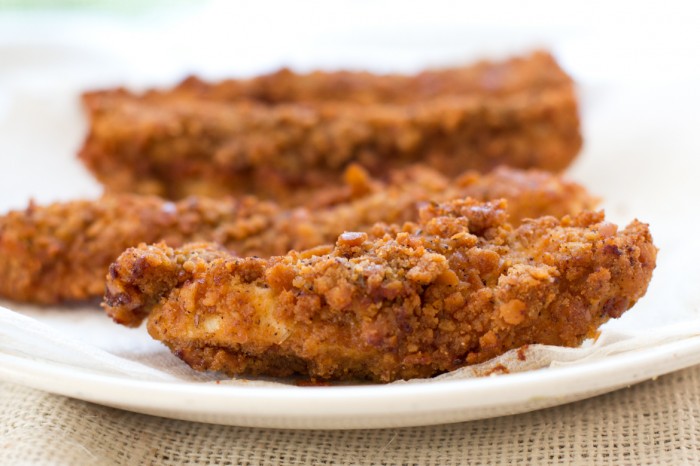 Amy: "This is a fun twist on a summertime and picnic favorite!"
The key to shaking up something as classic as fried chicken is making small, subtle changes while maintaining certain essential qualities. Let's be honest, here — fried chicken has to be crispy on the outside. There's no changing that! And it has to be tender on the inside. It's got to be bathed in tangy buttermilk, and it needs to be well-seasoned. Amy's pretzel fried chicken retains all these key elements but adds one healthy, delicious twist: pretzels (rather than deep-fried skin!) lend the chicken that spicy golden crunch. Serve it at your next backyard party, bring it along to a picnic, or cook it up for a quick and easy weeknight meal that's just a little bit different.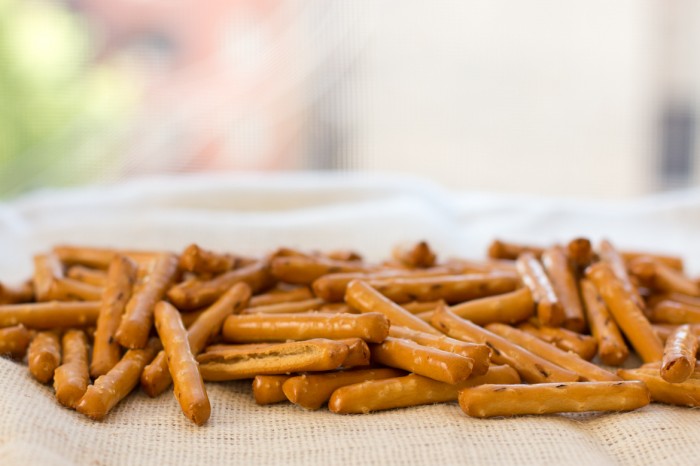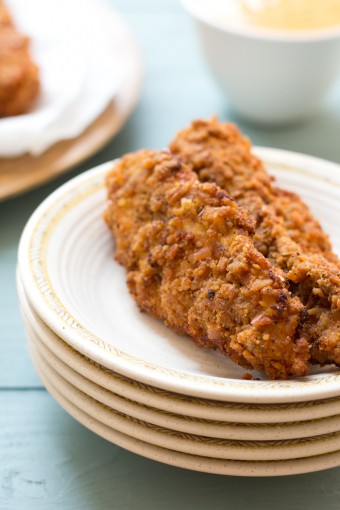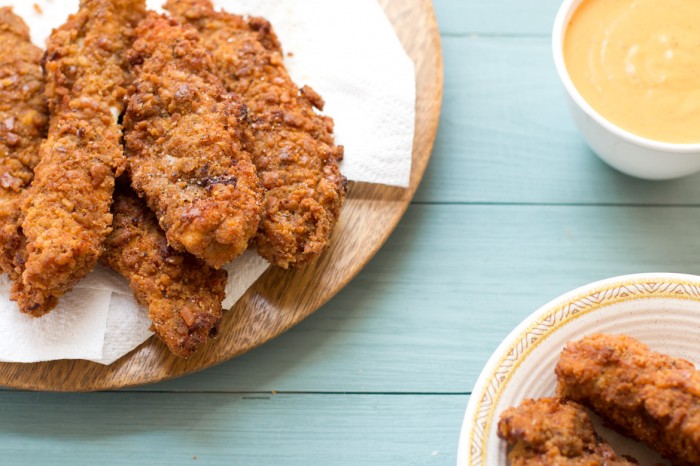 Three Quick Questions…and Amy's Answers
It's your last meal. What do you have?
A homemade brick-oven pizza with pesto, sun-dried tomatoes, artichoke hearts, garlic, feta and thinly sliced onions. I hope that's not too weird!
Your kitchen is burning down. What's the one thing you grab?
My grandmother's cookbook, called America's Cookbook, published in 1947 and filled with old-time recipes and black and white pictures. It's so much fun to see which recipes have endured throughout the years, and which ones have been forgotten.
Do you have a favorite cookbook?
My grandmother's cookbook.
*For more on Amy, check out her food blog: http://www.ohbiteit.com/
Prep time:
Cook time:
Total time:
Crispy, crunchy, spiced fried chicken that's perfect for summer days.
Ingredients
2 cups unsalted pretzels (I used pretzel sticks because I had them on hand, but
regular will grind up better)
1 tsp caraway seeds
1 tsp ground cumin
1 tsp chili powder
2 eggs
salt and pepper to taste
⅛ cup buttermilk
1 lb boneless skinless chicken breast, at room temperature
2-3 cups oil (grapeseed, peanut, and canola oil all work well), for frying
Instructions
Place pretzels in a food processor with the caraway seeds, cumin, and chile powder; pulse mixture until pretzels resemble course crumbs. Alternatively, you can place pretzels in a heavy-duty plastic bag and crush by hand, then mix in spices. Transfer pretzel mixture to a large plate. In a medium-sized bowl, whisk together the eggs, buttermilk, and a few dashes salt and pepper.
Rinse chicken breasts in cold water and pat dry with paper towels. Slice chicken into 1-2" wide strips. Gently press each strip into the pretzel crumbs to coat, shaking off the excess. Dip into the egg and buttermilk mixture and return to plate of pretzel crumbs. Repeat process for each chicken strip, lining them up in a single layer as you go; do not stack. Cover a clean plate with paper towels to set the chicken on after frying.
In a cast-iron skillet or other heavy skillet, add just enough oil so that when you add the chicken, the oil comes half way up your thickest piece; oil will be about ¾" deep. Bring oil to 350°F over medium heat. Using tongs, place chicken into oil one piece at a time, leaving at least an inch between each piece so you have enough space to flip them. Fry for 5-7 minutes per side, adjusting heat as necessary to maintain a steady temperature of about 300°–325,° until coating is a crisp golden brown. Season with salt and pepper while chicken is hot. Remove from pan and place on paper towels. Allow to cool.
If desired, serve chicken with honey, BBQ sauce, jalapeño cheese dip, or another favorite condiment. Enjoy!