5.6.2013
Justin
*

Swiss Chard, Pinto and Bacon Burritos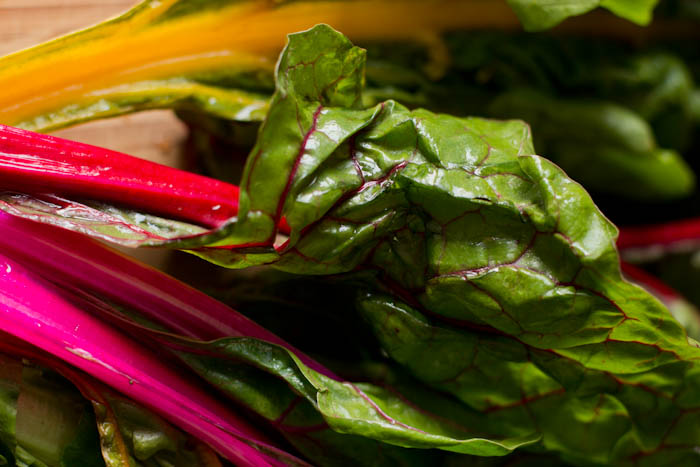 Justin: "This recipe came about when my wife and I decided to grow Swiss chard in our garden. Chard grows really, really well, and we had so much of the stuff that we didn't know what to do with it. We tried sautéing it with some garlic and olive oil, and that was pretty good. Then we used it on top of a pizza, and that was okay. And then one day, we landed on burritos. They turned out so well that we've made them over and over again and haven't changed a thing."
Last Monday after I finished work, I didn't much feel like taking a train to Roselle, a suburb 45 minutes outside of Chicago. But when you hear talk of life-changing, mind-blowing burritos at the other end of that ride, you just don't walk away. You drink a cup of coffee, you pull yourself together, and you go.
This is one of those rare, wonderful recipes that is not only savor-every-bite delicious, but also quick, balanced and flexible. The pinto beans are really the foundation of the burritos, and they deserve more credit than they're typically given. They're inexpensive. They're hearty. They're healthy. And they pair really well with bacon, another key component of these burritos. Toss in a handful of rainbow chard in vibrant electric hues, plenty of spice, and a sprinkle of salty Cotija cheese, and you've got yourself a winning combination.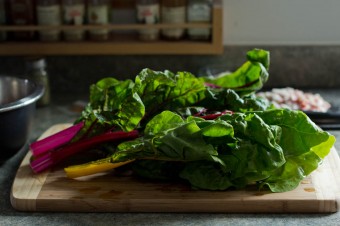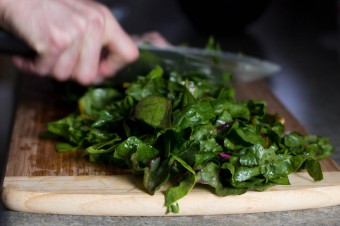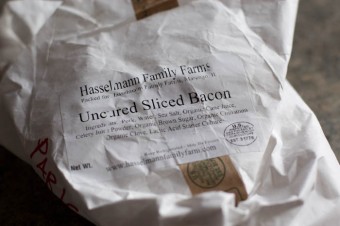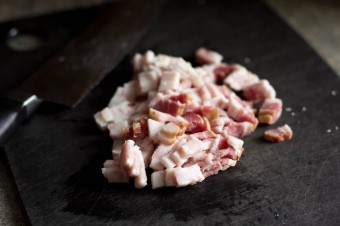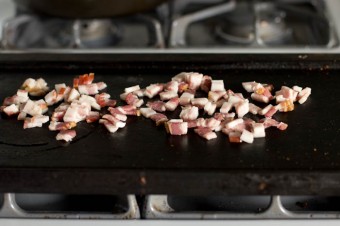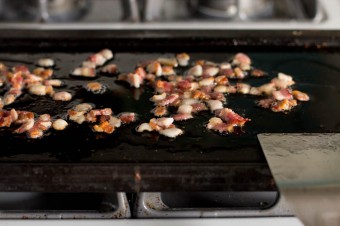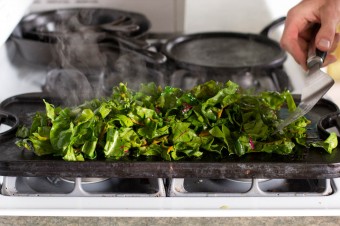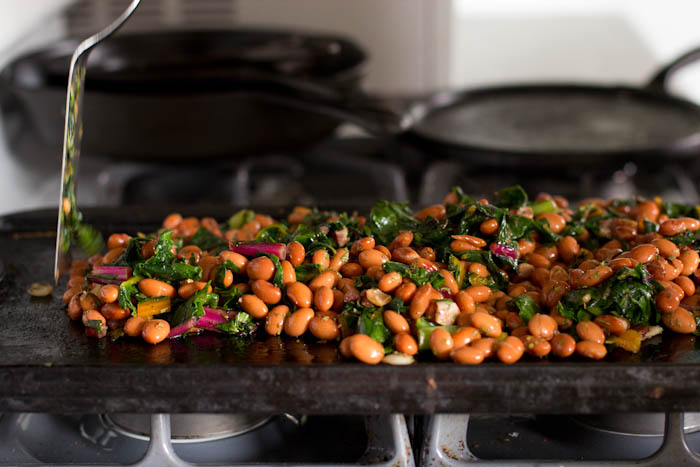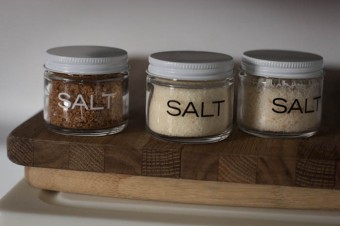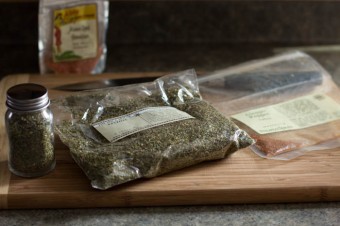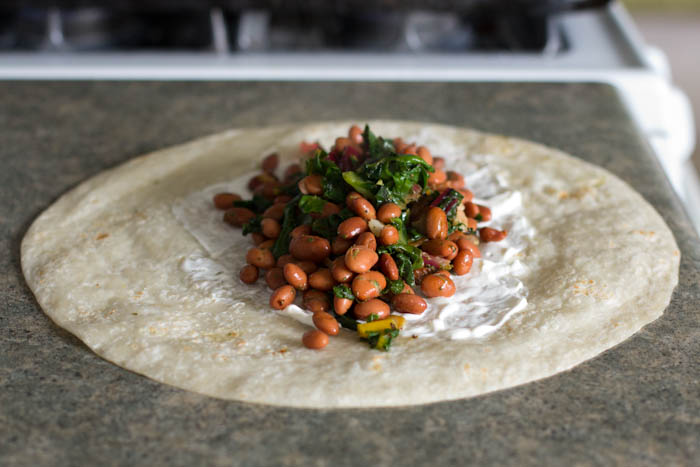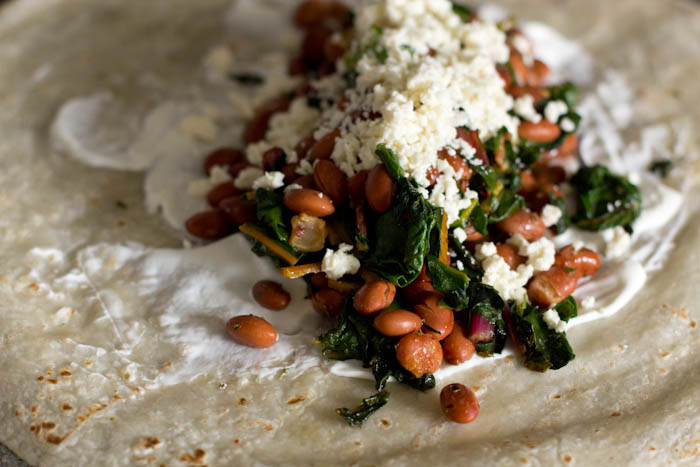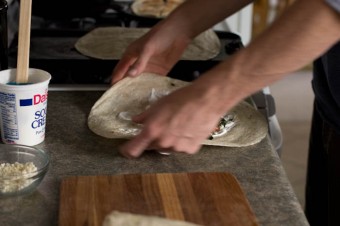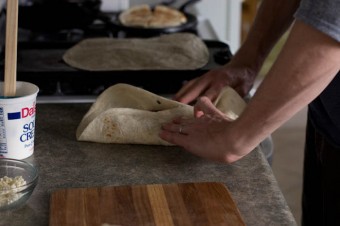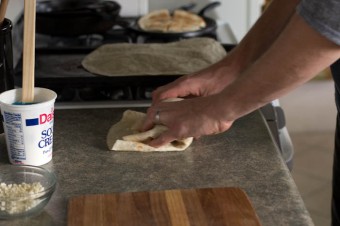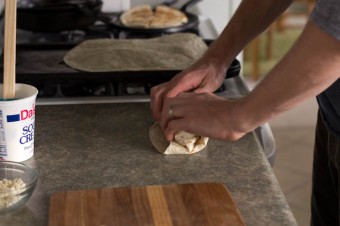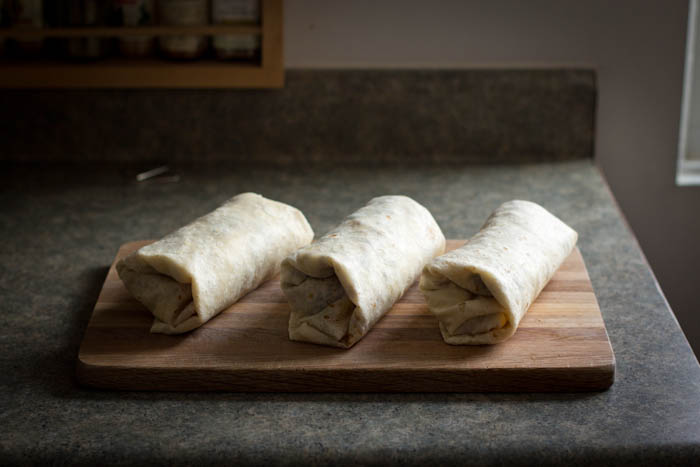 Three Quick Questions…and Justin's Answers
It's your last meal. What do you have?
These burritos. Definitely some chips and salsa, some guacamole. And beer.
Your kitchen is burning down. What's the one thing you grab?
I'd probably grab our big cast-iron skillet because we use it for everything…then again, it's probably the one thing that would be totally fine in a fire. But we use it every single day.
Do you have a favorite cookbook?
We don't use cookbooks all that often.  If I really need to figure something out, I'll look it up on the internet, but otherwise, we're pretty experimental with our cooking.
*Justin is a professional photographer who does incredible work. If you're looking for inspiration, I highly recommend browsing his site: www.justinbparis.com
Swiss Chard, Pinto and Bacon Burritos
Prep time:
Cook time:
Total time:
These burritos are amazing on their own, but even better with a cold beer and a side of fresh guacamole and chips. A note on herbs and spices: Epazote can be found at most Latin or Hispanic grocery stores and markets. The Mexican herb has a distinct, earthy taste (in a good way), and is often used to season a variety of dishes such as soups, stews and beans. A little goes a long way. Crushed Aleppo pepper is Mediterranean in origin, with a moderate heat level and a wonderful tangy-sweet flavor.
Ingredients
2-3 strips bacon, diced
2-3 swiss chard leaves, chopped
16 oz can pinto beans, drained
a few dashes dried Epazote
a few dashes Hawaiian pink sea salt, or to taste (may sub regular sea salt or Kosher salt)
a few dashes crushed Aleppo pepper, or to taste
2-3 tbsp sour cream
2 large tortillas
⅓ cup crumbled Cotija cheese
optional add-ins: avocado, salsa, hot sauce, etc.
Instructions
Add the diced bacon to a large, heavy pan, and cook over medium heat until it just begins to brown. Add the chopped Swiss chard and sauté with the bacon until soft and wilted. Stir in pinto beans, salt, Epazote and Aleppo pepper. Cook and stir until the beans are hot and everything is mixed together. Spread 1-2 tablespoons sour cream onto each tortilla, cover each one with half the pinto and chard mix, and sprinkle each one with half of the crumbled Cotija. Roll it all up! Enjoy.