12.23.2011
Sandi
*

Southwestern Sweet Potato Latkes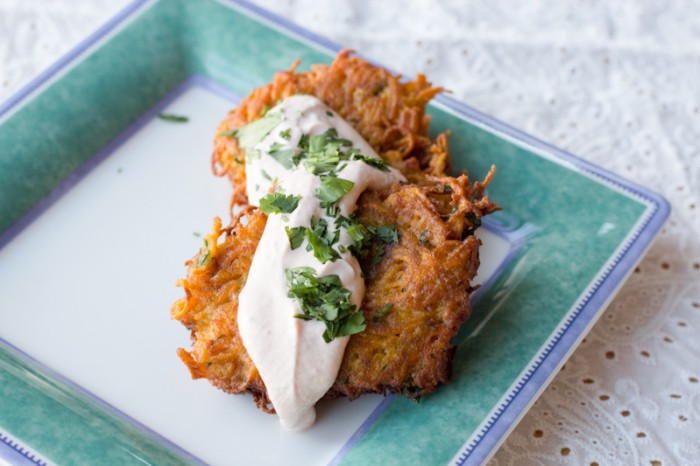 Sweet potatoes have a history of stealing the show. They did it with french fries and hash browns, and now, they've done it again. Sandi's southwestern sweet potato latkes with chipotle sour cream are overwhelmingly delicious, not to mention healthier, more complex, and dare I say it — even better than their fair-complexioned friends.
While sweet potato latkes aren't traditional for Hanukkah, for Sandi, that's part of the fun: "I love the challenge of taking a traditional dish and tweaking it in such a way that you arrive at something new and different, while still retaining the vestiges of where you started." Reinventing something as classic as latkes can be a daunting task, but Sandi manages to pull it off, and pull it off well. She has an intuitive knack for weaving together complimentary flavors, and her background in pharmacy has given her an understanding of the more scientific aspects of cooking. Cooking, she says, is all about chemistry.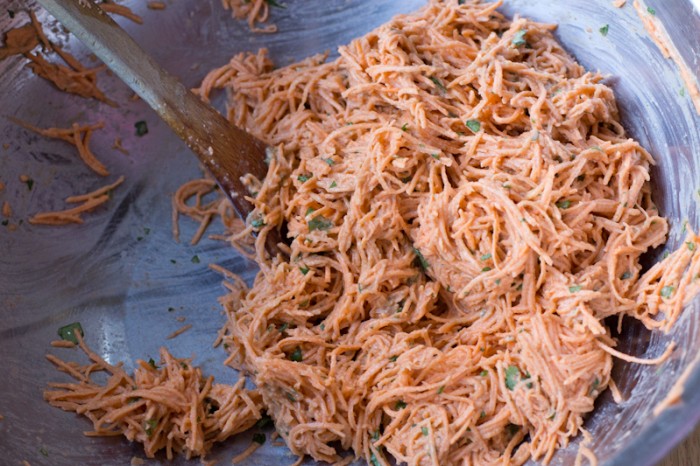 Ahh…If only my high school chemistry class had involved these latkes, perhaps I would have paid a bit more attention! I have never come across an experiment that tasted quite so good or looked quite so pretty. Made with shredded sweet potato, caramelized onions, and a flurry of spices, these latkes are lightly fried until hot and crisp, then topped with a dollop of cool, smooth chipotle sour cream. Brown sugar and cinnamon lend a mild sweetness, while cumin and cayenne give the latkes a spicy kick. The flavors are all layered and overlapping, a beautiful balance of sweet and spicy bundled up into little pancakes the color of vibrant autumn leaves.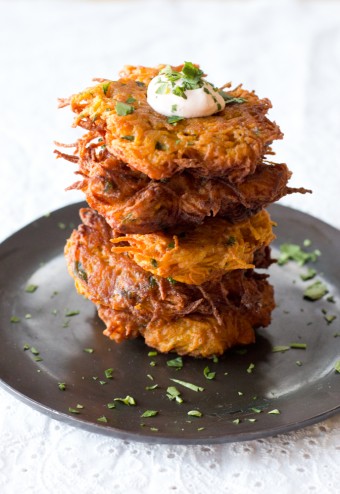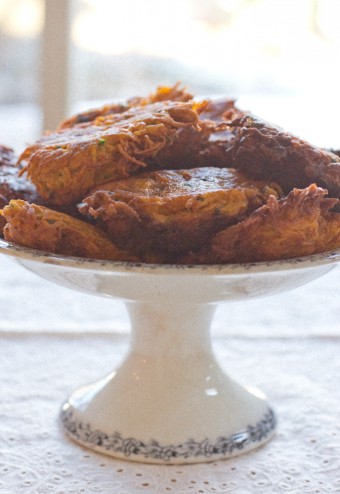 They may not be traditional, but they're pretty darn good.
Three Quick Questions…and Sandi's Answers
It's your last meal. What do you have?
I would have bread — lots of it, with really good butter. And that would be it. Love my carbs!
Your kitchen is burning down. What's the one thing you grab?
My dog, Brutus. If I'm in the kitchen cooking, he's right there alongside me.
Do you have a favorite cookbook?
I love the Silver Palate, an oldie but a goodie. It's sort of a department store of a cookbook — it has everything.
Southwestern Sweet Potato Latkes with Chipotle Sour Cream
Prep time:
Cook time:
Total time:
Serves:
makes 2 dozen latkes
A spicy-sweet twist on the traditional potato latke.
Ingredients
FOR THE CHIPOTLE SOUR CREAM:
4 tbsp Preferida brand chipotle sauce (or any other brand you like)
2 cups sour cream
FOR THE LATKES:
2 medium yellow onions
canola oil (or vegetable oil)
4 medium sweet potatoes
4 eggs, lightly beaten
1 cup flour
1 tsp baking powder
1 tbsp salt
1 tbsp ground cumin
1 tsp cinnamon
1 tbsp brown sugar
1 tsp cayenne
1 cup chopped cilantro + extra for garnish
Instructions
For the chipotle sour cream:
Combine chipotle sauce and sour cream and mix well. Set aside in refrigerator.
For the sweet potato latkes:
Heat a splash of oil in sauté pan and add onions. Cook over medium-low heat, stirring frequently, for about 25 minutes until onions have caramelized. Meanwhile, peel sweet potatoes and shred them in a food processor or with the large holes of a box grater.
At this point, you will want to pre-heat your oven to 200°F. Put a wire rack on a baking sheet and place in the oven. In a large mixing bowl, beat eggs. Add the grated sweet potato, caramelized onions, and all remaining ingredients and mix well.
Heat ¼-inch of oil in a large cast iron or other heavy skillet over medium heat. Working in batches, spoon about ¼ cup of the latke mixture into the skillet, pressing lightly with a spatula to form 3-inch rounds. Cook for 3-4 minutes until golden, then flip each latke and cook for an additional 3-4 minutes. Transfer latkes to the rack in the oven while you cook the remaining batter.
To serve: Top latkes with a dollop of chipotle sour cream and garnish with chopped cilantro.