2.26.2012
Root Vegetable Baked Fries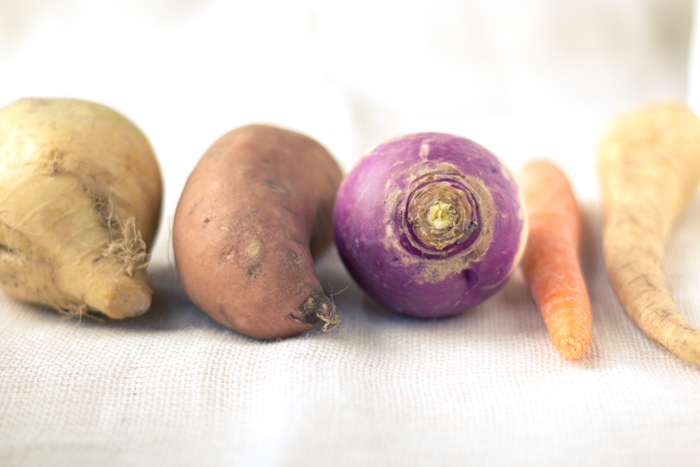 On the savory-sweet continuum, I fall heavily toward the sweet side. I'll take a piece of cake over a bag of chips any day.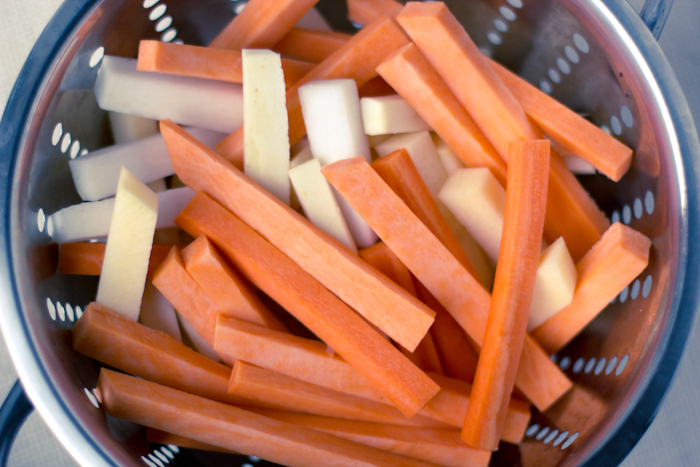 Still, there are exceptions to every rule. A girl can't be sweet all the time. Have you tried Five Guys Cajun Fries? I'm powerless to them. Maybe it has something to do with the fact that they use actual, fresh potatoes. That they're served hot and crisp with those tender, fluffy interiors. Maybe it's the peanut oil used to fry them, or the spicy seasoning sprinkled all over. Whatever the reason may be, somehow they are my exception.
There's a Five Guys just a block from my apartment, the scents flooding out into the streets and calling at me whenever I pass by. They're compelling, those smells. It isn't easy saying no, but I can't be eating Five Guys every day. I need something a bit more wholesome, more colorful, more sustaining — but also satisfying.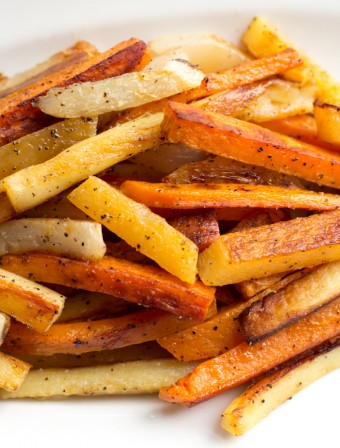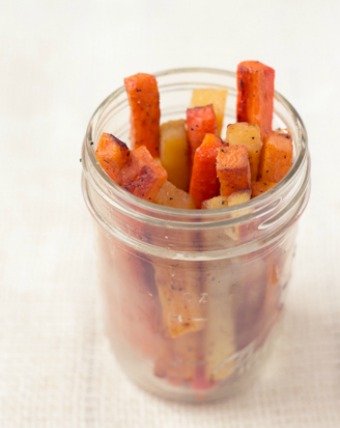 And that, of course, is where these bad boys come in: sweet potatoes, parsnips, turnips, carrots, and rutabaga. Turns out, they make a pretty great team, especially when you dress them up in a little peanut oil, sprinkle them with sea salt and black pepper, and roast them until they're hot, crackly, and golden brown.
The only problem is that they're so good, I start questioning things. Doubting. We're talking serious, weighty stuff here. Like maybe — just maybe — I'm not the sweets person I thought I was.
Root Vegetable Baked Fries
Recipe type:
Appetizer/Side
Prep time:
Cook time:
Total time:
A colorful, healthy twist on traditional fries. I used sweet potatoes, rutabaga, parsnips, turnips, and carrots here, but any combination of root vegetables will work.
Ingredients
2 lbs root vegetables, washed and chopped into matchsticks
⅛ - ¼ cup peanut or olive oil
generous shakes of sea salt and black pepper
Instructions
Preheat oven to 450°F. Place vegetables on two rimmed baking sheets. Toss with oil to coat, then spread the veggies out into a single layer. Sprinkle generously with salt and pepper. Using a spatula, flip the veggies a few times as they bake, about 40-60 minutes depending on how crispy and brown you like them. Season with additional salt and pepper, if needed. Serve while hot.