5.31.2012
Roe
*

An Italian Feast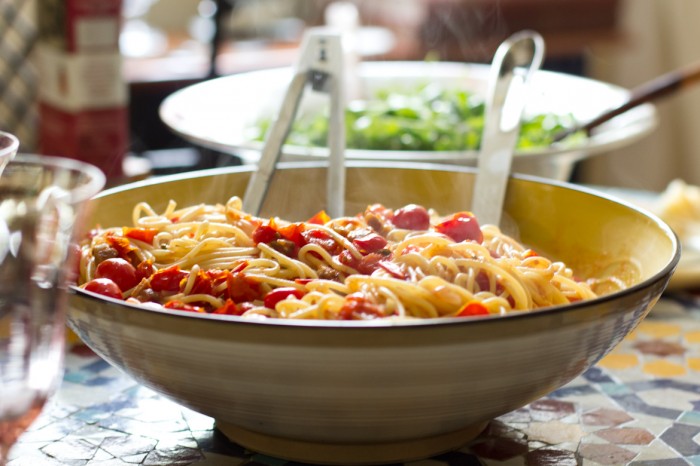 AN ITALIAN FEAST: RICOTTA CROSTINI WITH ASPARAGUS AND LEMON ZEST; SPAGHETTI WITH
TOMATOES, PANCETTA AND MINT; AND ARUGULA SALAD WITH LEMON AND OLIVE OIL
Roe: "When I was in Italy last year with my friend Helene, she sort of lost her mind and started inviting all these people over to our place for dinner one night. She asked me to make the pasta. Well, we had mint everywhere, the tomatoes were incredible, and we had this amazing pancetta, so I thought: why not? That was the first time I actually paid attention to what I was doing and fine-tuned the recipe for this pasta, which I had made many times before for myself but had never served to anyone else. For the crostini and the salad, I sort of improvised with what we had. Fortunately, it all turned out really well!"
Looking for a simple meal that only seems complicated? Want to impress your friends/family/significant others with cooking skills that rival those of an Italian grandmother? It's your lucky day! This gorgeous menu, created and assembled by Roe, focuses on fresh, quality ingredients that add up to bold, sophisticated flavor — no elaborate cooking techniques required. Crisp crostini with smooth ricotta and a burst of bright lemon zest? Yes, please. Tender but firm al-dente pasta wrapped up in tomatoes, pancetta, and mint? Don't mind if I do! And for a bit of green, a tangy arugula salad tossed with lemon juice and olive oil? Sold. I am sold on it all. And yes, thank you, I will have seconds.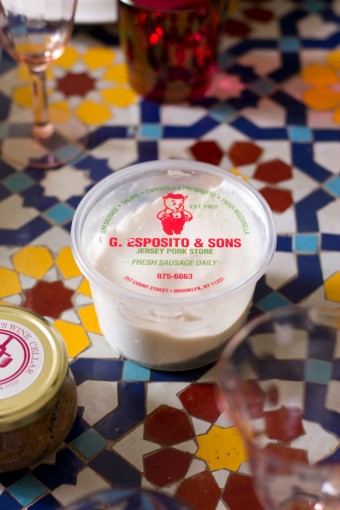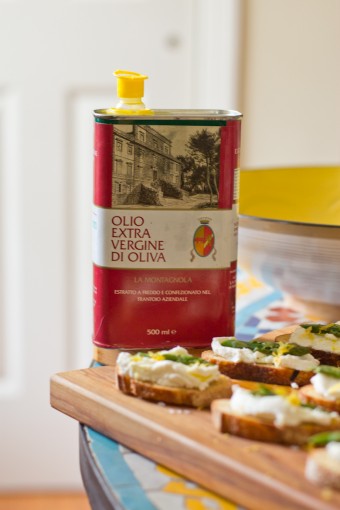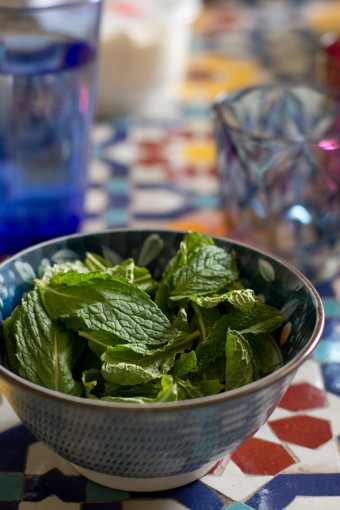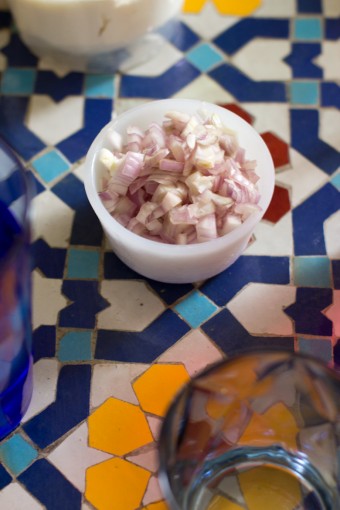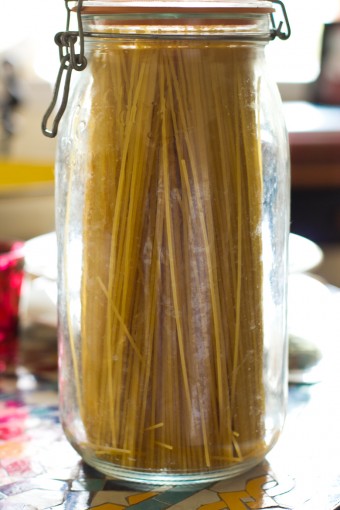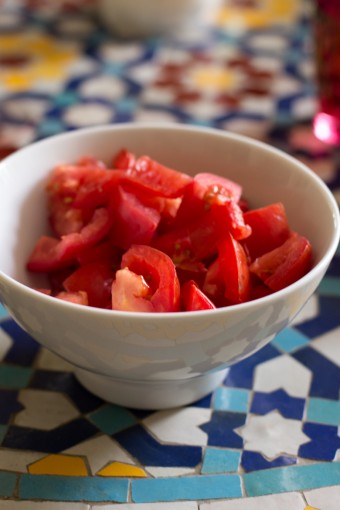 Three Quick Questions…and Roe's Answers
It's your last meal. What do you have?
My grandmother's Christmas ragu. It's a crazy ridiculous meat sauce with things like sausage, spare ribs, pig feet and pig neck bones. The thing braises for 4 or 5 hours and makes the whole house smell amazing. And then you serve it on rigatoni and it's really, really good.
Your kitchen is burning down. What's the one thing you grab?
My cat, Ming.
Do you have a favorite cookbook?
The one I've used more than anything is the first Union Square cookbook. It's got a lot of really interesting recipes; the vegetable lasagna with goat cheese is very involved but unbelievably good.
Recipe type:
Appetizer, Main
Prep time:
Cook time:
Total time:
A vibrant, nourishing Italian meal with simple ingredients and complex flavors.
Ingredients
FOR THE RICOTTA CROSTINI WITH ASPARAGUS AND LEMON ZEST:
12 (1/4-inch) thick slices day-old baguette
olive oil
salt
ground black pepper
¾ cup ricotta cheese
zest of one lemon
sea salt
6 steamed asaparagus tips, cut into halves
FOR THE SPAGHETTI WITH TOMATOES, PANCETTA AND MINT:
2 tbsp olive oil
4 oz pancetta, diced
1 shallot, minced
¼ - ½ tsp pepperoncini (red chili flakes)
2 lbs cherry tomatoes, the large ones cut in half and the small ones left whole
1½ lbs ripe plum or vine tomatoes, cut into large dice
1 lb spaghetti
3 tbsp finely chopped fresh mint (more if mint is bland)
1 tsp salt
½ tsp ground black pepper
Mint leaves, olive oil and grated Parmesan cheese (or another favorite), to garnish
FOR THE ARUGULA SALAD WITH LEMON AND OLIVE OIL:
4 cups (packed) baby arugula
splash of olive oil
a few squeezes fresh lemon juice
⅓ cup black olives
ground black pepper
Instructions
FOR THE RICOTTA CROSTINI WITH ASPARAGUS AND LEMON ZEST:
Preheat oven to 400°F. Arrange baguette slices on a baking sheet; brush both sides with olive oil and season with salt and pepper. Bake until golden and crisp, 10-15 minutes, flipping crostini over once during baking. Allow to cool completely on baking sheets.
Divide ricotta among crostini. Drizzle each piece with a tiny bit of olive oil, top with grated lemon zest, and sprinkle with a small amount of sea salt. Place a piece of asparagus on top of each crostini. Serve immediately.
FOR THE SPAGHETTI WITH TOMATOES, PANCETTA AND MINT:
Heat oil over medium heat in a large skillet. Once hot, add pancetta and cook for 15 minutes, or until browned and crispy. Use a slotted spoon to transfer pancetta to a small bowl; set aside.
Add minced shallot and chili flakes to the pan used to cook pancetta; sauté 2 minutes over medium heat. Add tomatoes and salt, bring to a simmer, and cover. After 5 minutes, remove cover and let simmer another 20 minutes, stirring occasionally. Meanwhile, cook the spaghetti as directed by box instructions until al-dente. Drain pasta, reserving a cup of the cooking water for later.
Stir mint and reserved pancetta into the tomato sauce and simmer about a minute. Taste and adjust seasoning as needed. Sauce should be fairly brothy and loose. Add drained, cooked spaghetti to the still-simmering sauce, plus a little of the pasta cooking water and/or olive oil to thin it out to desired consistency. If you like a thicker sauce, use less cooking water. Cook for a couple more minutes then remove from heat. Garnish pasta with torn mint leaves, a drizzle of olive oil, and Parmesan cheese, if desired. Enjoy!
FOR THE ARUGULA SALAD WITH LEMON AND OLIVE OIL:
Toss arugula with a splash of olive oil, a few squeezes of fresh lemon juice, black olives, and a few dashes black pepper. Serve alongside pasta.