1.15.2012
Patrick
*

Mini Pecan Rolls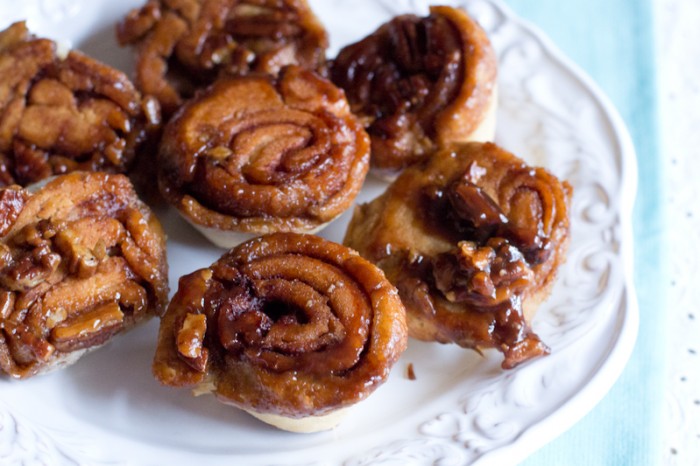 It was March 31st, 1981. President Reagan had just been shot, and Patrick, age 14, was at home baking biscuits. He had been dismissed early from school that day, and while the nation struggled through a state of limbo, Patrick had a job to do. His mother had just returned to work after a long hiatus, and everyone — including Patrick and his two younger sisters — would need to start pitching in around the house. That night was Patrick's turn to cook dinner, and he was going to do it right.
Inexplicably springing from his imagination, it occurred to Patrick that a muffin basket might make a nice addition to the dinner table. And so, not only did he whip up a formal dinner for his family of five, he also baked buttermilk biscuits, cornbread muffins, and best of all — pecan rolls. "I spent all afternoon cooking and dirtied every dish in the kitchen," Patrick recalls. "I'm not sure why, but I just went crazy with it."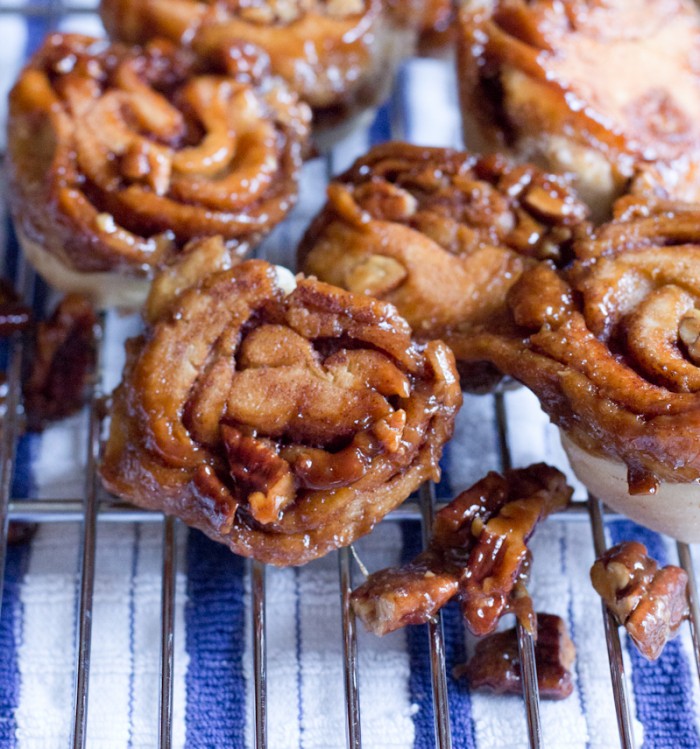 The meal was perfectly, wonderfully over-the-top. On that unforgettable day, Patrick's pecan rolls — devoured by his family that evening — served as a small comfort. A deep golden brown, they are everything you hope for in a pastry: gooey, sticky, soft, oozing with caramel, swirled with cinnamon, and studded with crunchy, candied pecans.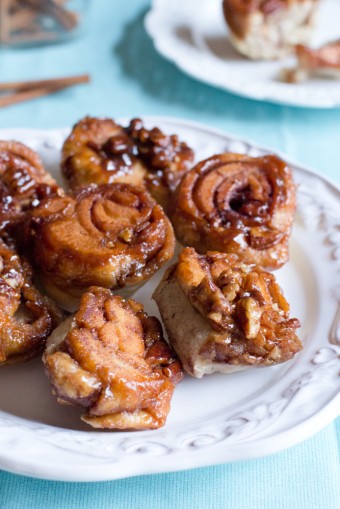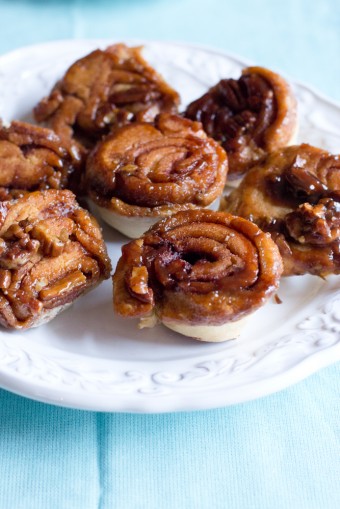 These days, Patrick tends to serve pecan rolls for breakfast rather than dinner, but they are so deliciously addictive that you just might find yourself eating them all day long.
Three Quick Questions…and Patrick's Answers
It's your last meal. What do you have?
I would start with oysters, which I love. Then a caprese salad, and a Greek-style grilled lamb chop, and of course wine. And then for dessert, something with chocolate and whipped cream.
Your kitchen is burning down. What's the one thing you grab?
I think it would have to be my knives. My new favorite is probably the 5-inch Santoku.
Do you have a favorite cookbook?
I know that everyone says Joy of Cooking, but I'd have to agree. I'm also a subscriber of Food & Wine, which isn't exactly a cookbook, but I find a lot of great things in there.
Author:
Mark McGough via Martha Stewart
Prep time:
Cook time:
Total time:
Serves:
makes 12 pecan rolls
Though Patrick was unable to locate the original recipe he used for his pecan rolls at age 14, this recipe apparently comes pretty close. These rolls are melt-in-your mouth delicious, covered in gooey caramel and crunchy candied pecans.
Ingredients
FOR THE DOUGH:
1 package active dry yeast
½ cup warm water, 105 degrees to 110 degrees
½ cup milk, scalded and cooled
⅓ cup sugar
⅓ cup unsalted butter, softened
1 ¼ tsp salt
1 large egg
4 cups all-purpose flour
FOR THE FILLING:
¾ cup sugar
4 tsp ground cinnamon
6 tbsp unsalted butter, room temperature
FOR THE TOPPING:
½ cup (1 stick) unsalted butter, softened
1 ½ cups packed light-brown sugar
4 tbsp corn syrup
1 ½ cups pecan halves
Instructions
Prepare the dough: In a large bowl, dissolve yeast in warm water, then stir in milk, sugar, butter, salt, egg, and 2 cups flour. Add remaining 2 cups flour, and mix, using your hands, until incorporated.
Transfer dough to a lightly floured surface and knead for about 5 minutes until smooth and elastic. Transfer dough to large greased bowl, turning the dough to coat. Cover with plastic wrap, and leave in a warm place for about 1½ hours until dough has doubled in size.
Punch down dough; let rise again until doubled in size (45 to 60 minutes).
Prepare the caramel pecan topping: Grease a muffin tin, and place over a baking sheet. In a medium saucepan, melt butter over medium heat; stir in brown sugar, corn syrup, and pecan halves. Cook until sugar is dissolved. Divide pecan mixture evenly among muffin tins.
Prepare the cinnamon-sugar filling: In a small bowl, combine sugar and cinnamon; set aside. On a lightly floured work surface, roll out dough to a 12-by-12-inch square. Spread butter over dough, and sprinkle with cinnamon-sugar mixture. Roll up dough into a log, and stretch to even out, if necessary. Using a sharp knife, cut into 12 slices (about 1 inch each). Transfer slices to muffin tins, and let rise for 40 minutes.
Preheat oven to 350°F. Bake pecan rolls until lightly browned, 30 to 35 minutes. Remove from oven, and immediately invert onto a plate, but don't remove the muffin tin just yet; let stand for 1 to 2 minutes so that the caramel can fall completely and settle onto rolls. Serve while still warm.