1.7.2013
Lucy
*

Tomato, Mozzarella and Basil Bruschetta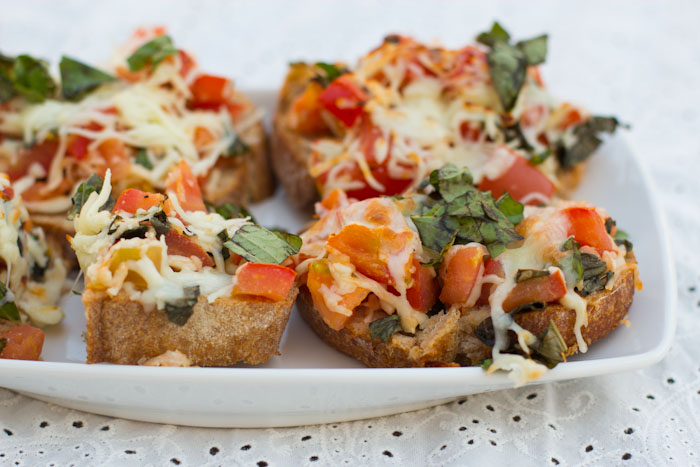 Lucy: "One day in middle school, my older sister and I decided that we needed an afternoon snack. Somehow I was inspired to try to make some concoction that is now my go-to bruschetta. It's evolved over the years, and at some point I finally wrote down approximations for the recipe. In high school, my friends and I started a New Year's Eve pot-luck tradition at a friend's house, and I always brought this bruschetta. The best part is that it's super easy to make, and people always love it!"
Bruschetta is one of the simplest, yet most satisfying, appetizers around. Like a healthier, heartier (and less greasy!) pizza, this variation combines the rich flavor of roasted tomatoes, fresh mozzarella and fragrant basil, plus plenty of garlic and a drizzle of olive oil. It makes an elegant party appetizer, a delicious snack, or–served with your favorite salad–a light and refreshing meal.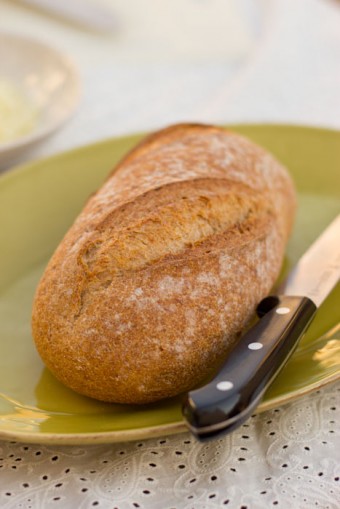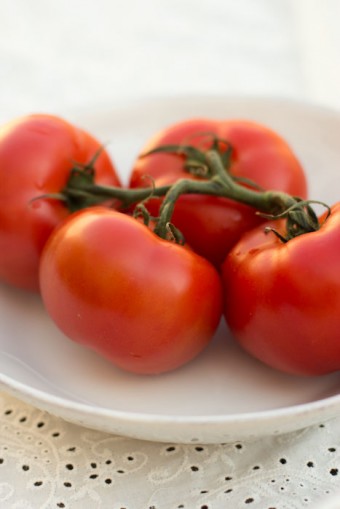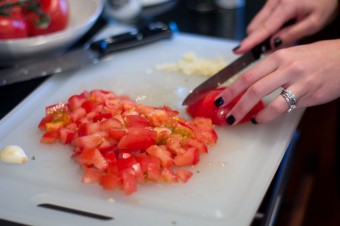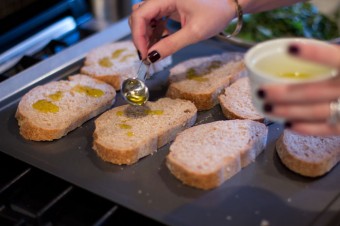 Three Quick Questions…and Lucy's Answers
It's your last meal. What do you have?
Fish tacos, but really good ones. And definitely pecan pie for dessert.
Your kitchen is burning down. What's the one thing you grab?
Assuming my husband is okay, I'd grab my KitchenAid Stand Mixer because I love to bake.
Do you have a favorite cookbook?
I love all of Ina Garten's cookbooks but I also find a lot of recipes online. Epicurious and Food Network are both great sources.
Tomato, Mozzarella and Basil Bruschetta
Prep time:
Cook time:
Total time:
Serves:
makes about 18 slices
A fresh, simple and flavorful Italian classic.
Ingredients
1 French baguette or similar good, crusty bread
olive oil
6 or 7 ripe tomatoes, diced
4 cloves garlic, peeled and minced + 1 whole clove for rubbing bread
12 oz shredded mozzarella OR fresh mozzarella, sliced ¼-inch thick
1 - 1¼ cups fresh basil, chopped + extra for garnish
salt and freshly ground black pepper to taste
Instructions
Preheat oven to 350°F. Slice the baguette on the diagonal into ½-inch thick slices. Using a pastry brush, brush each side of the bread slices with olive oil. Place on a cooking sheet and toast for 5-6 minutes or until the bread just begins to turn a golden brown. Meanwhile, drain your diced tomatoes and place in a large bowl. Add the minced garlic, ¾ of the shredded mozzarella (if you're using sliced, skip this), chopped basil, and salt and pepper; stir it all together.
Flip over each bread slice. Rub some peeled garlic onto each one. If you're using shredded cheese: Top each bread slice with a bit of your tomato and shredded mozzarella mixture. Sprinkle on remaining cheese. If you're using sliced mozzarella: Arrange the slices on the bread, then scoop up some of your tomato mixture and place over the cheese.
Return bread to oven for 5 more minutes or so, until cheese is melted. For smaller servings you can slice the pieces in half, or, just leave them whole. If desired, garnish with more fresh basil. Serve while still warm.