12.4.2011
Lisa and Cheryl
*

Vegetable Beef Soup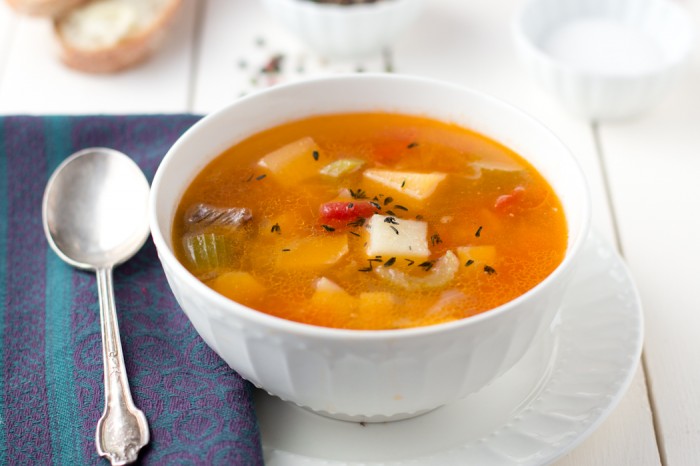 It's the day after Thanksgiving, and rather than brave the Black Friday madness, we — me, Lisa, and her mom, Cheryl — are making soup. Specifically, a Vegetable Beef Soup. The one that Lisa, her mom and her grandmother have cooked more times than they can count; the one that Cheryl used to make as the antidote to Minnesota winters; the one that Lisa, as a little girl, used to request for an after-school snack. Yes, that Vegetable Beef Soup.
So here we are in Lisa's kitchen, with Gus the cat nibbling a plant in the corner, Lisa's dad watching the football game, and Lisa and her mother swirling about the kitchen. You can tell they have done this before, and Cheryl confirms what I already suspect: "My daughter and I make a great cooking team!"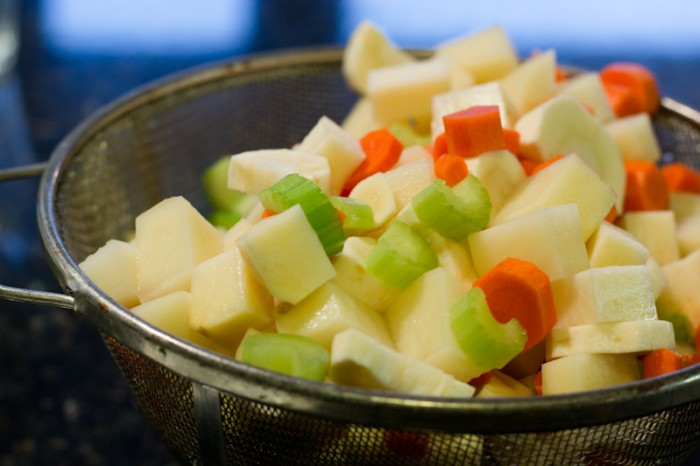 While Lisa preps the vegetables, Cheryl fires up the stove and sears the meat. As they go along, our conversation bounces from topic to topic like a rogue ping-pong ball: from cookbooks, to favorite food blogs, to the magic of the tart, to a trip to Scotland, to Le Creuset, to all the times the Vegetable Beef Soup has made an appearance at the dinner table. It is a soup that Lisa and Cheryl know so well, that many of the steps have become second nature. As Cheryl pours water into the pot, she explains how she never measures. "You know, in my own pan, I actually have a line that's formed over the years from all the soup I've made!"
Still, despite the fact that the soup is a family trademark, some slight differences in preparation begin to emerge. There is a bit of a mother-daughter dance going on, and it goes something like this:
Lisa: "I thought I was supposed to drain the tomatoes?"
Cheryl: "Oh, nooo!"
And this:
Cheryl: "Oh, I've never seen rutabaga cut like that! What a great idea!"
Lisa: "Yeah, I can be smart sometimes."
Cheryl: "You can! I had no idea!"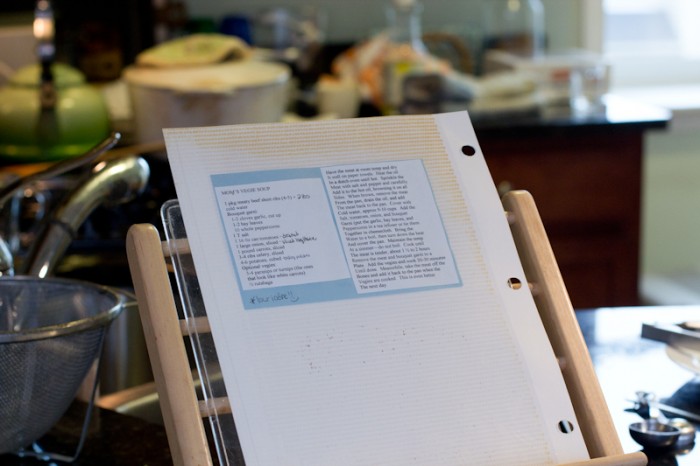 But the jokes are all in good fun, and Lisa and Cheryl are just as warm and inviting as the pot of soup simmering gently on the stove. When the soup is almost done, Lisa pulls a loaf of homemade bread from the oven, cuts a few slices, smudges them with butter and sprinkles them with sea salt. And then the three of us huddle around the kitchen table with bowls of soup and bits of fresh bread and there are oohs and ahhs all around and then silence, lots of silence.
Because that's what happens when you're caught up in a really good soup. One that is hearty, and soulful, filled with dice-size potatoes and chopped parsnips, vibrant green celery, and a broth made rich from tomatoes and tender meat. You stop noticing what's going on around you. You sort of forget that people are there.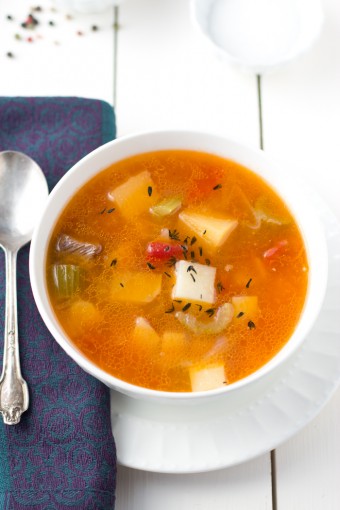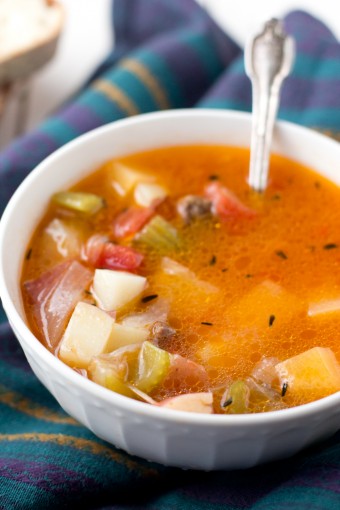 And yet, the company is still nice. The soup is great on it's own, certainly — but even better enjoyed with family and friends.
Three Quick Questions…and Lisa and Cheryl's Answers
It's your last meal. What do you have?
Lisa: I would have a 24-hour meal where I ate all of my favorite things, including this soup. There would have to be every food group, a little bit of everything. And definitely some Indian food.
Cheryl: Tough question. I know it wouldn't be lobster. Maybe I should do this by process of elimination? Well, I think some scalloped potatoes and ham would be nice.
Your kitchen is burning down. What's the one thing you grab?
Lisa: My Le Creuset dutch oven.
Cheryl: I would say the same thing.
Do you have a favorite cookbook?
Lisa: I'd say my family recipe album. My mom started it a while ago, putting her favorite recipes into a binder, and I am constantly adding to the collection.
Cheryl: Of course the cookbook I use most is Joy of Cooking, but that's not all that exciting. I also really like the Junior League-type cookbooks — compilations of people's favorite recipes. I enjoy those a lot.
Recipe type:
Appetizer/Side, Main
Prep time:
Cook time:
Total time:
Hearty, satisfying soup to keep you warm all winter long. Perfect with shredded cheese and a slice of your favorite bread.
Ingredients
2 lbs meaty beef short ribs (about 4-5 ribs)
a few splashes of olive oil
9 cups cold water
2 cloves garlic, sliced into halves
2 bay leaves
10 whole peppercorns
1 tbsp salt
1 (16-oz) can diced tomatoes
1 large onion, sliced lengthwise
3 ribs celery, sliced into small pieces
5 medium red or Yukon gold potatoes, peeled and chopped into ½-inch cubes
3-4 parsnips or turnips, peeled and chopped into ½-inch cubes
½ rutabaga, peeled and chopped into ½-inch cubes
Instructions
Have the meat ready at room temperature and pat it dry with a paper towel. Heat the olive oil in a large heavy-bottom pot or dutch oven over medium-high heat. Sprinkle the meat generously with salt and pepper, carefully place into the hot oil, and brown on all sides.
When the meat is browned, remove it from the pot, pour out oil, and add the meat back into the pot. Cover with cold water, approximately 9 cups.
Make your bouquet garni: tie the garlic, bay leaves and peppercorns in a square of cheesecloth, securing it with kitchen string (alternatively, you could place them in a tea infuser). Add the bouquet garni, salt, tomatoes (with juices), and onion to the pot. Bring the water to a boil, then reduce to a simmer and cover. Allow the soup to simmer (do not boil) until the meat is tender, about 1½ - 2 hours.
Remove the meat and bouquet garni and transfer to a plate. Add the remaining vegetables and cook 20-30 minutes, until tender. Meanwhile, take the meat off the bones, cut into pieces and add it back into the pot once the vegetables are done cooking.
Pour soup into individual bowls and serve hot with some shredded cheese and a nice, crusty bread. The soup tastes even better the next day.