11.20.2011
Kal
*

Butternut Squash & Broccolini Crostata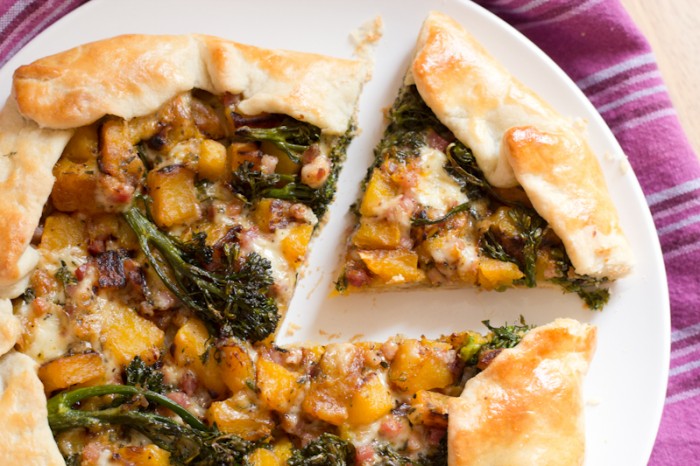 There are certain things about adulthood that, as a kid, you can't quite wrap your head around. Like how your parents never seem to get enough sleep. How they willingly watch the nightly news and actually seem to enjoy it. And the food they choose to eat? The way they rave about a salad or tout the virtues of the brussel sprout? Utterly perplexing.
And then, one day, something happens. You're walking along all normal-like, minding your own business, living your life, and bam! Adulthood sneaks up on you and smacks you over the head. Suddenly you're doing all kinds of crazy things you never thought you'd do: ordering salads, going to bed early, checking the weather forecast. Suddenly, you find yourself making a butternut squash, broccolini and pancetta crostata with fontina cheese because guess what? You love vegetables.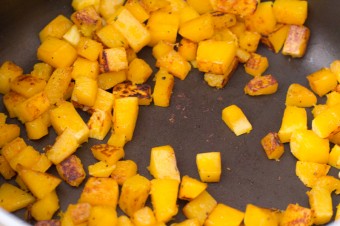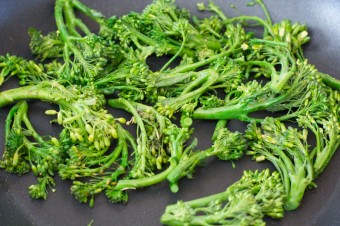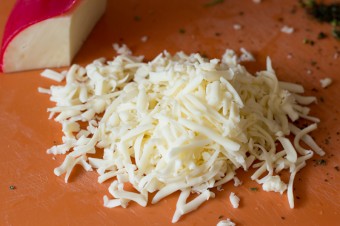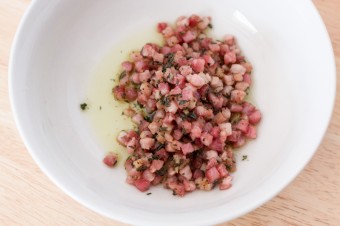 As a genuine, bona fide adult, Kal is no exception. This savory treat is one of her favorite meals, a fact which hints not only at her grown-up status, but also how she was raised. Both her parents are vegetarians, so even though Kal eats meat, she has developed a real appreciation for substantial, vegetable-centered dishes that can stand on their own. "I was always taught that bright colors signify more nutrients," Kal says, "so I try to go for a variety of colors and I tend to shop seasonally."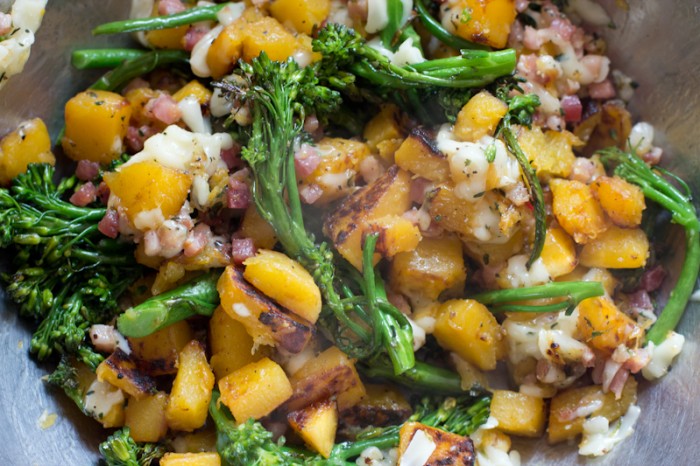 Beyond a preference for fresh produce, Kal's parents instilled in her a sense of culinary adventure. "My dad is a painter and works from home, so he did a lot of the cooking when I was growing up" she says. "He used to make all of these elaborate meals, and as a kid, I was actually kind of annoyed by it. I just wanted normal food like everyone else!'"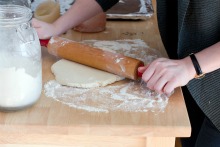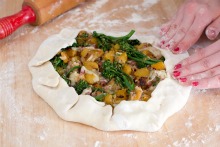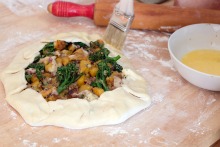 Years later, things have changed a bit. At the ripe old age of 26, Kal can appreciate her dad's efforts and experiments in the kitchen, because now, she's doing some of her own. Though she will rarely make anything more than once ("there are so many new recipes I want to try!"), the crostata — the rustc, unfussy, Italian counterpart to pie — is one she returns to again and again. Whether sweet or savory, the crust and filling are equally important, each one balancing out and complimenting the other.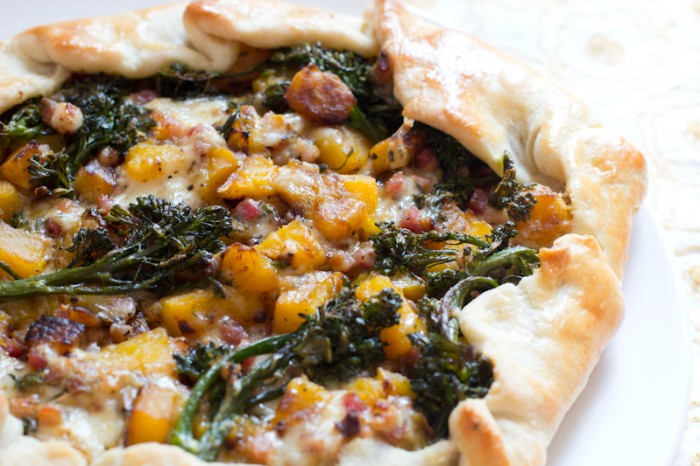 The dish is also endlessly and easily adaptable depending on your taste and the time of year. As we enjoy the last stretch of autumn, it's hard to think of anything better than sweet butternut squash, tender broccolini, crisp pancetta and sharp fontina cheese, wrapped up in a blanket of flaky butter and mascarpone crust.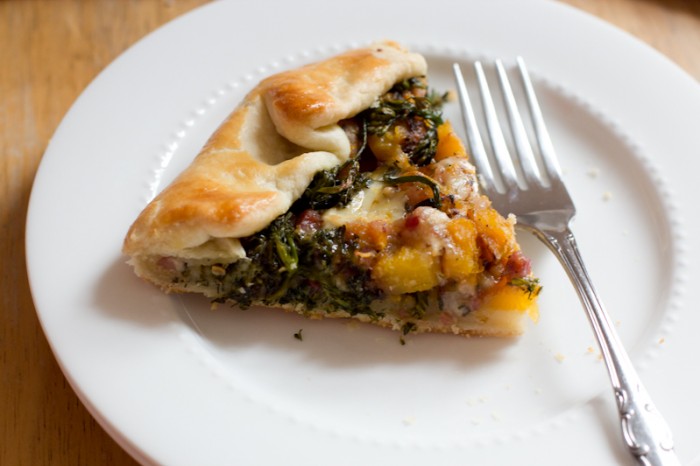 Three Quick Questions…and Kal's Answers
It's your last meal. What do you have?
I think at this point in my life, it would be some sort of yummy pasta because I just don't eat a whole lot of it anymore. So I think a good tomato-based pasta with lots of cheese and meat would make a great last meal. And then maybe for dessert I'd have my grandmother's rhubarb pie. I made it with her once and I think it's the perfect pie.
Your kitchen is burning down. What's the one thing you grab?
I'm so attached to everything in my kitchen, but I'm probably most attached to my cookbooks. I'll write notes in the margins about different recipes, whether something works or not, if it needs more or less of a particular ingredient. I remember one time I left a cookbook at a vacation house and was so upset over it! So yeah, I'd probably grab my cookbooks.
Do you have a favorite cookbook?
Joy of Cooking is such a great reference book for me, but the Bon Appetit cookbook is probably my favorite because it includes everything you could possibly imagine — some very fancy things but then also really accessible dishes that you could make with whatever you have on hand. It also has some tips on various techniques and tools that I've found really helpful.
Butternut Squash, Broccolini and Pancetta Crostata with Fontina Cheese
Author:
Adapted from Giada De Laurentiis "Everyday Italian"
Recipe type:
Appetizer/Side, Main
Prep time:
Cook time:
Total time:
Rustic yet refined, this crostata was made for crisp fall days spent cozied up indoors. The crust is simple and tasty and once you have it down, you can switch up the fillings depending on the season. To make vegetarian, simply swap the pancetta for a few more veggies.
Ingredients
FOR THE PASTRY:
1 ½ cups all-purpose flour
1 tsp salt
3 tbsp butter, cut into small pieces
1 ½ tbsp lemon juice
½ cup mascarpone cheese
3 tbsp ice water
1 egg, lightly beaten
FOR THE FILLING:
2 oz pancetta, diced
1 tsp fresh thyme, chopped
1 cup butternut squash, cut into ½-inch cubes
splash of olive oil
1 cup broccolini, ends trimmed
½ cup shredded fontina cheese
¼ tsp freshly ground black pepper
Instructions
For the pastry:
In a food processor combine the flour and a ½ teaspoon of the salt. Pulse to combine. Add the butter and pulse a few more times until the butter is finely chopped and the mixture resembles a coarse meal. In a small bowl combine the lemon juice and mascarpone, then add to the food processor and pulse a few times. Add the ice water a tablespoon at a time, pulsing briefly between each addition. Pulse just until the mixture is moist and crumbly, but does not form a mass around the blade; be careful not to over-mix. Turn the dough out onto a sheet of plastic wrap. Press into a disk, cover, and refrigerate for 20 minutes. Preheat the oven to 400°F.
For the filling:
Cook the pancetta in a small saute pan over medium heat, about 4 minutes or until golden and crisp. Stir in the herbs. Transfer the pancetta, herbs, and the pan juices to a medium bowl. Add the broccolini to the pan used to cook the pancetta and saute over medium heat until tender and lightly golden. In a separate small saute pan, toss cubed butternut squash with a splash of olive oil and cook over medium heat until golden brown.
Add cooked vegetables, grated fontina, remaining ½ teaspoon of salt, and pepper to the bowl of pancetta and herbs. Toss to combine and set aside.
To assemble: Place the chilled dough on parchment paper. Roll the dough out into a 12-inch wide circle about ¼-inch thick. Spread the vegetables out in the center of the dough leaving a 2-inch border. Fold the edges of the dough up and over the vegetables to form a crust. Using a pastry brush, brush some of the egg over the crust. Transfer the parchment paper and crostata to a baking sheet. Bake until the crust is golden, about 25 minutes. Slice into wedges and serve while still warm.