3.10.2013
Jess
*

EmptyJays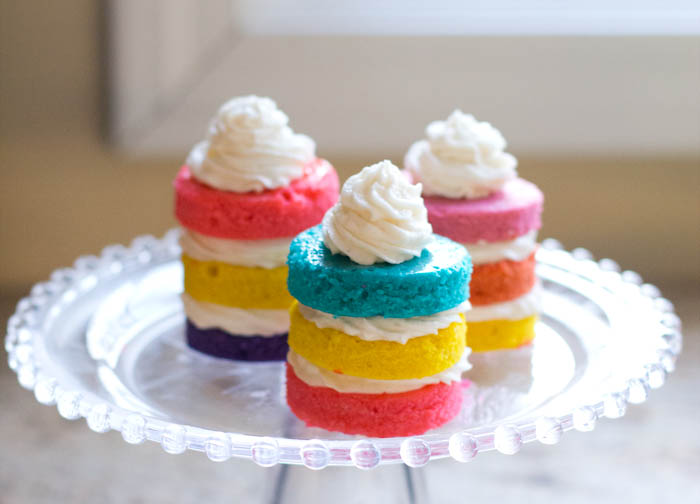 Jess: "Last school year I was saving money to go to Italy for a 5-week cooking program. I didn't have a paying job and if I wanted to keep baking after school, I wouldn't have time for one anyway. That's when it hit me: why not sell what I was baking to kids at school? For six months I became a walking bake sale. After a while though, I got tired of rolling out cookies and cutting out Rice Krispie treats. One day, I decided to change it up. I'd never liked cupcakes, but what if I made mini cakes? Mini rainbow cakes! Two of my best friends came over to help make the new dessert. The minute the cakes were done, we knew they'd be our signature treat. To name the cakes we combined the first letters of our names (Maisie, Tiff and Jess), and called them EmptyJay's (for M, T, and J)! High schoolers are used to paying change for bake sale items, but these were the first item I could price at $2 each and sell out of completely! By the time summer rolled around, I had reached my goal of a little over $2,000, and I got to take that trip to Italy."
The fact that these multi-colored mini cakes paid for a trip to Italy should tell you something right away: these are some seriously awesome sweets. And if you're still not convinced, consider the source. Jess Dawson is only 17 years old, and while most high school students spend their afternoons surfing the web or chatting on the phone (and maybe doing some homework?), Jess can be found baking up a storm for two of Chicago's most renowned chefs, Gale Gand and Sarah Grueneberg. The girl is a rockstar.
EmptyJays combine three colorful layers of vanilla bean pound cake, held together with a smooth and creamy vanilla frosting. This is the chance to let loose your inner child…or make an actual child very, very happy. Get creative. Mix and match colors. Go for an ombre effect. The options are endless, and baking these adorable little cakes is almost as thrilling as eating them. Enjoy!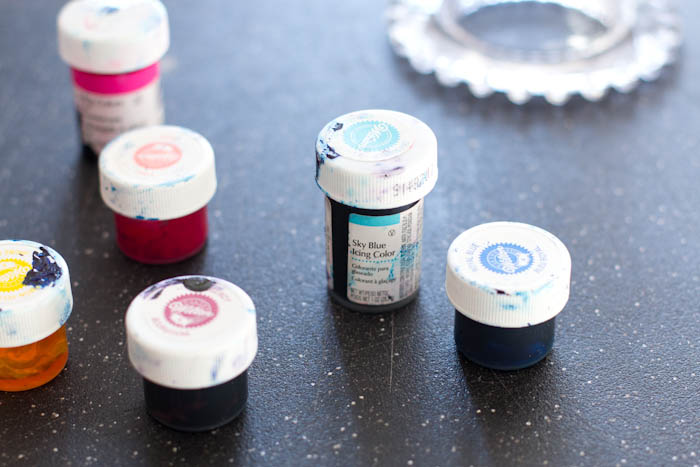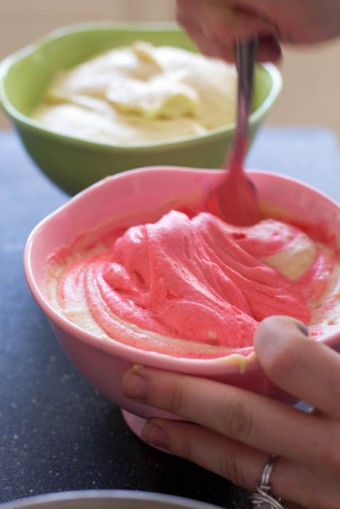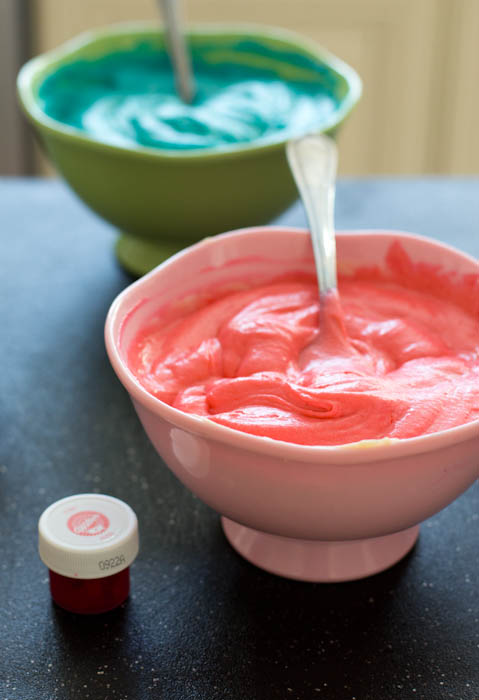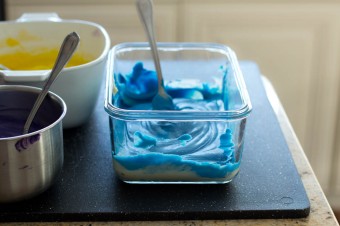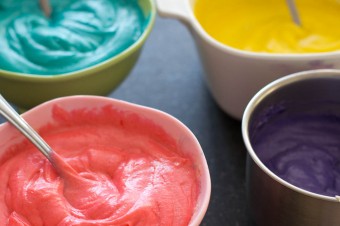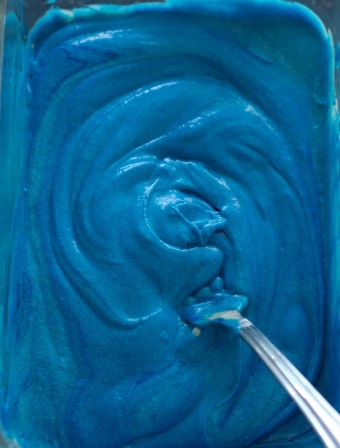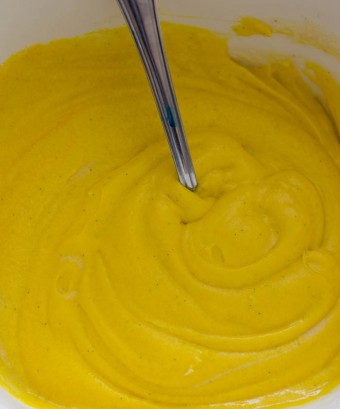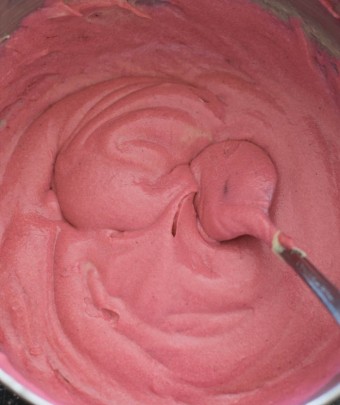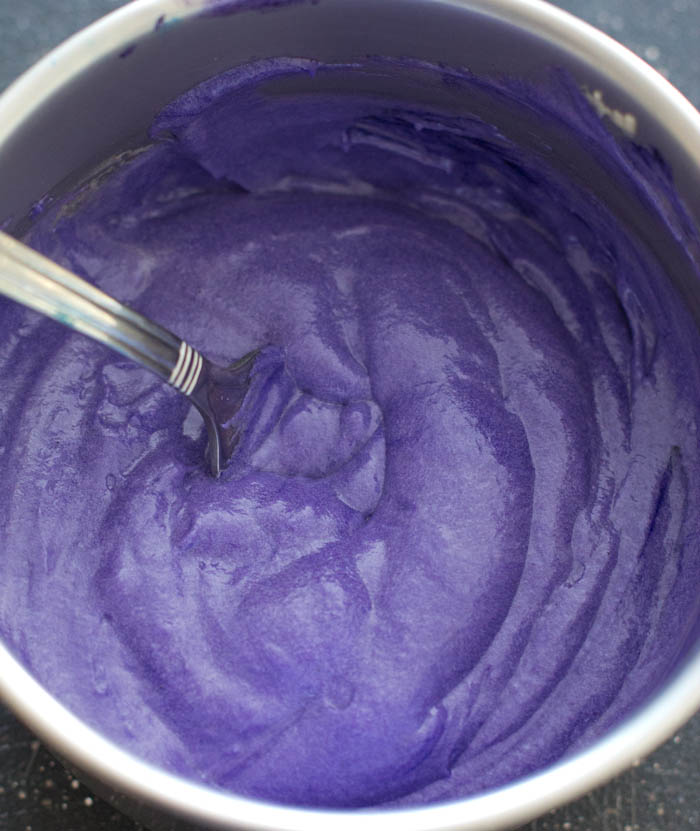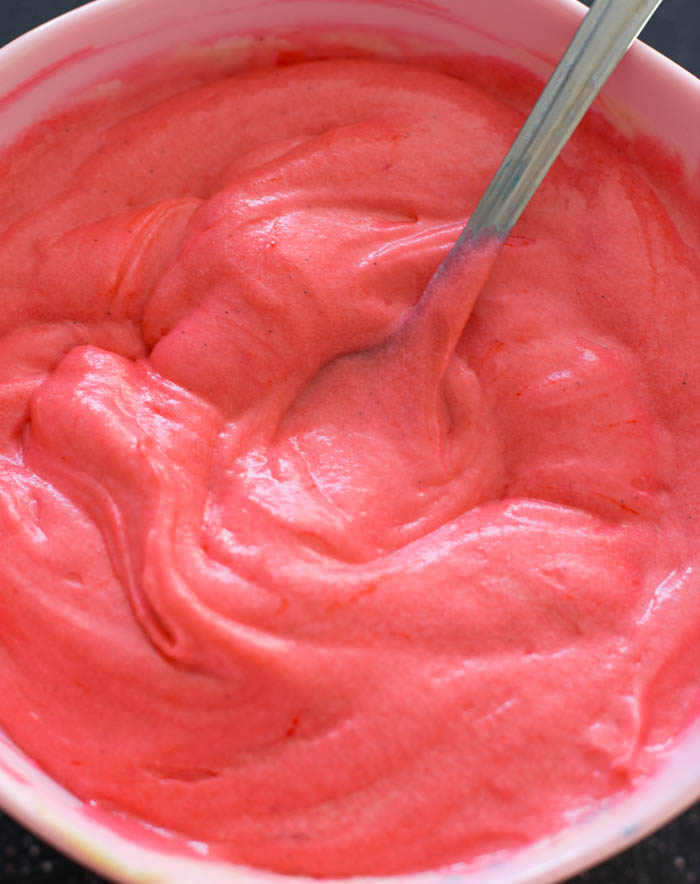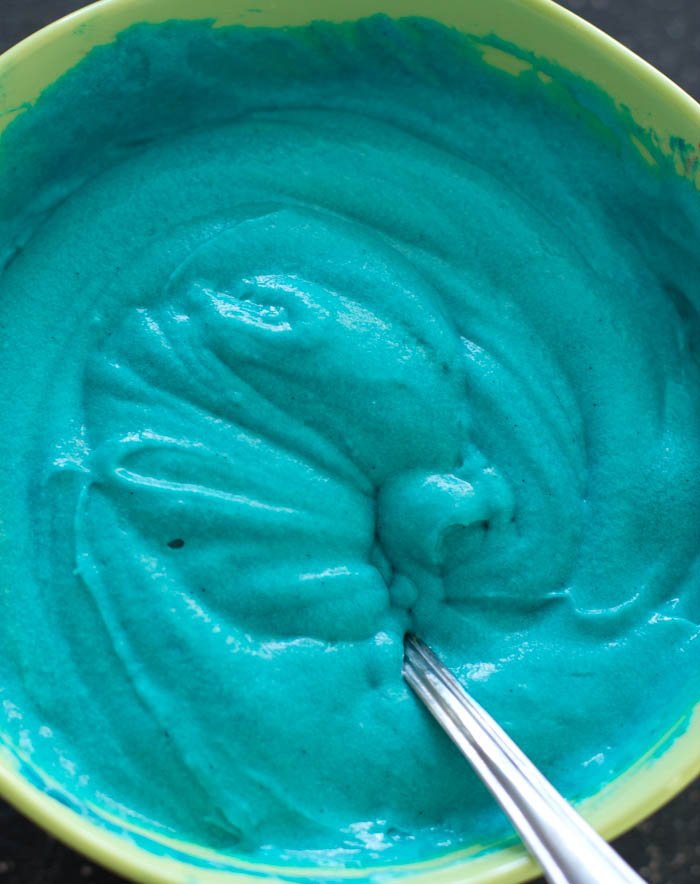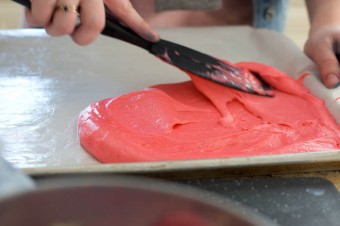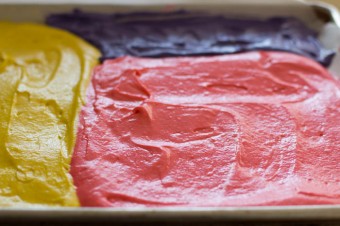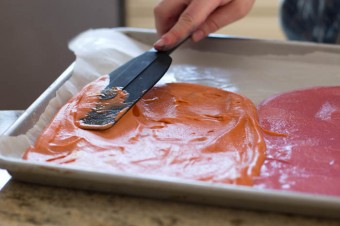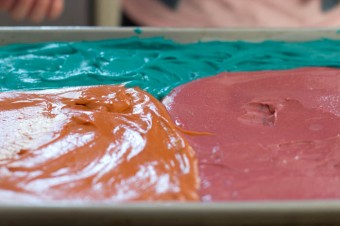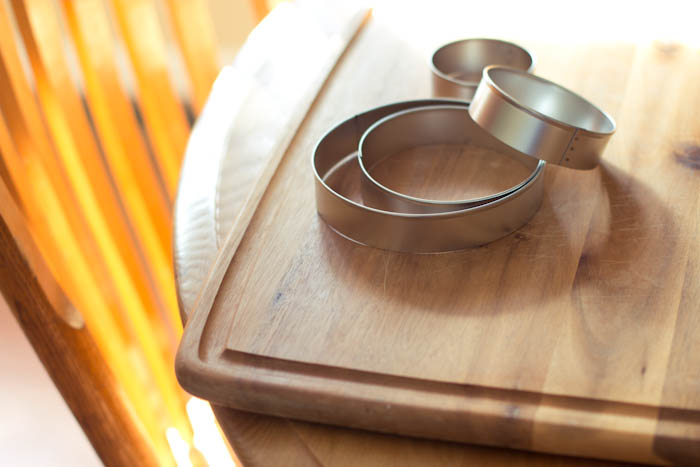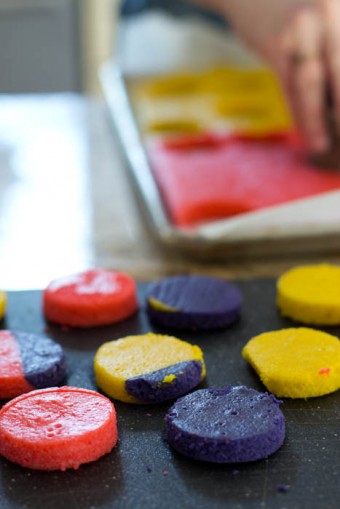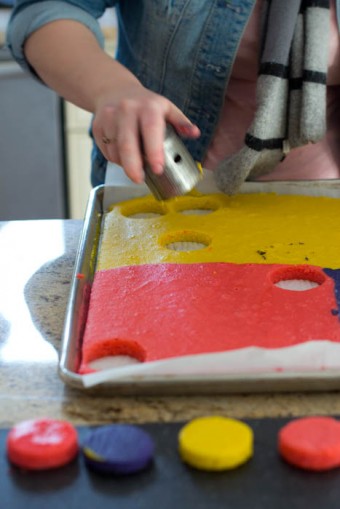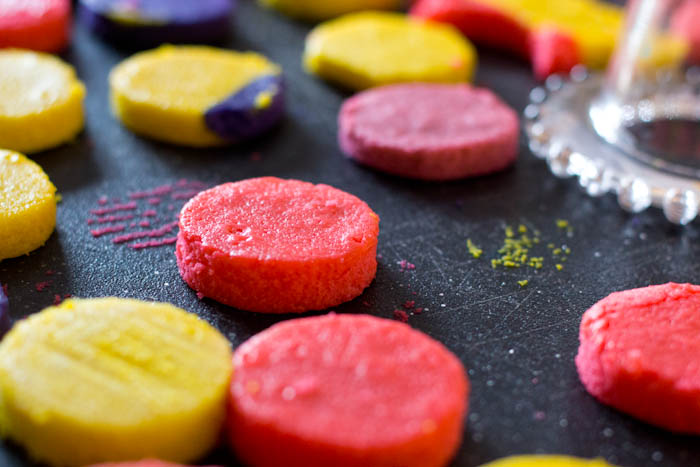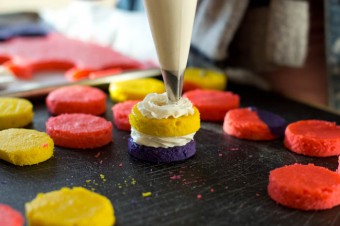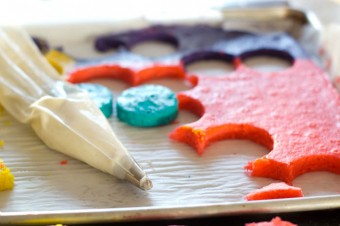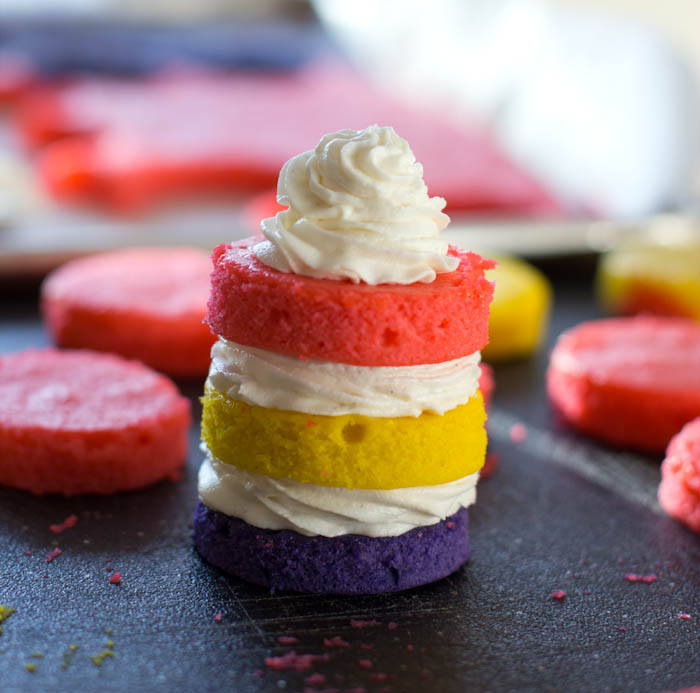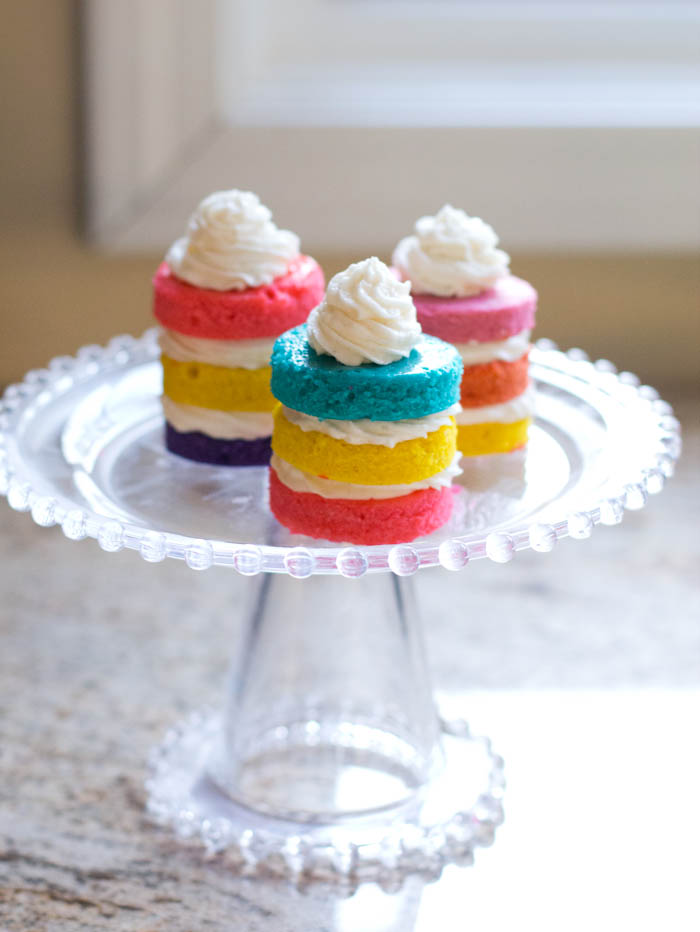 Three Quick Questions…and Jess's Answers
It's your last meal. What do you have?
Gale Gand's pea dip, pig face (yes, pig face) from Stephanie Izard's Girl & the Goat, sushi, coconut cream pie, and Gale's banana cream pie.
Your kitchen is burning down. What's the one thing you grab?
If I were being nice I'd say the fish…but I really enjoy my red stand mixer with a clear glass bowl that Gale gave me for getting good grades.
Do you have a favorite cookbook?
Our family cookbook. It's a compilation of favorite recipes, some from my grandmother, some from my mom, and now some from me.
*To see more of Jess and what she's baking these days, be sure to check out her website: http://livininthekitchen.wordpress.com/
Author:
Vanilla Bean Pound Cake recipe slightly adapted from Recipezaar
Prep time:
Cook time:
Total time:
Serves:
makes about 18 (2-inch diameter) mini cakes
These multi-colored mini cakes are just as fun as they are delicious.
Ingredients
FOR THE VANILLA BEAN POUND CAKE:
1 cup butter (2 sticks)
2 cups sugar
5 eggs

2 tsp vanilla bean paste (pure vanilla extract works, too!)
3 cups all purpose flour
1 tsp baking powder

1 cup whole milk

food coloring (3-6 different colors)
FOR THE FROSTING:
2 cups butter (4 sticks)
6 cups powdered sugar
4 tbsp sour cream
1 tsp Madagascar vanilla
 extract (may sub pure vanilla extract)
2½ tsp salt
Instructions
Make the Vanilla Bean Pound Cake: Preheat oven to 350°F. Line 2 (18x13) rimmed sheet pans with parchment paper and grease with baking spray. Using a standard mixer with paddle attachment, mix the butter, sugar, eggs, and vanilla on high speed for about 5 minutes. In a separate bowl, measure out the flour and baking powder and whisk to blend.
Turn the mixer on low, adding the flour mixture and the milk alternately in 3 additions. Mix just until combined.
 Divide mixture evenly into separate bowls; the number of bowls depends on the number of dyes you want to use. Dye each bowl of batter with a different color; a few drops per bowl should be sufficient. Stir just until dye is incorporated into batter and the color is uniform.
 Spread the different colors, one at a time, in sections on sheet trays. Don't leave any room between colors, they should come right up to one another.
 Bake for 15-18 minutes, or until a toothpick comes out clean. When the cakes are done, you'll notice the edges begin to pull away slightly from the sides of the pans. Allow cakes to cool completely before frosting and assembling.
Make the Frosting: Cream the butter for 2 minutes until light and fluffy. Add the powdered sugar one cup at a time and mix until blended. Add the sour cream, vanilla, and salt. Mix for another 2 minutes, scraping down the sides of the bowl as needed, until frosting is smooth and creamy.
Assemble the EmptyJays: Using a round cookie cutter (any size!), stamp out as many circles from the cake as you can. Wipe the cookie cutter with a paper towel between cuts to ensure that each cut-out is nice and clean. Fill a piping bag with the frosting, using tip #30 if you have it. Starting close to the edge of one of your cake cut-outs, but leaving a little bit bare, begin piping in circles until you reach the center of the cut-out. Place a different colored cake cut-out on top of the frosting, and repeat the piping process. Finally, add a third, different colored cake cut-out. In the middle of the top cake cut-out, pipe a blob of frosting by applying pressure and then lifting upwards. Then, tracing the edges of the blob and starting at the bottom, pipe the frosting around and around until you reach the top—then swirl! Repeat the process for all remaining cake cut-outs.