3.11.2012
Jen
*

Chocolate Souffle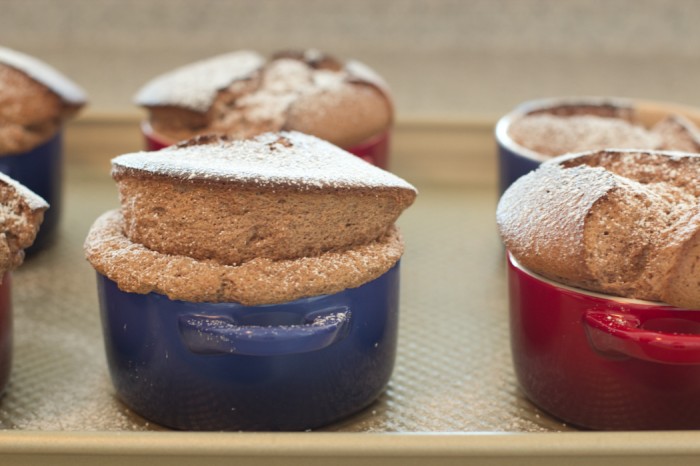 The first time she ate at The Bistro Garden, "a sweet little French restauarant in LA," Jen knew she would be back. She doesn't remember what she had for dinner, but she does remember the dessert — an ethereal chocolate volcano known as the soufflé, punctured at the top and filled with a dollop of cool whipped cream. The soufflé collapses, the whipped cream melts into the hot, creamy chocolate, and "the whole thing is just amazing," Jen says whistfully.
So amazing, in fact, that Bistro Garden's soufflés starting showing up all over the place. They were there to celebrate Jen's birthdays, the day she got her driver's license, and the college acceptance letters that came in the mail. Like a fun-loving friend, the chocolate soufflé was always in the mood for a good party.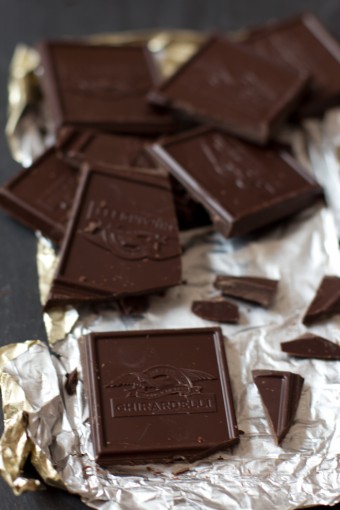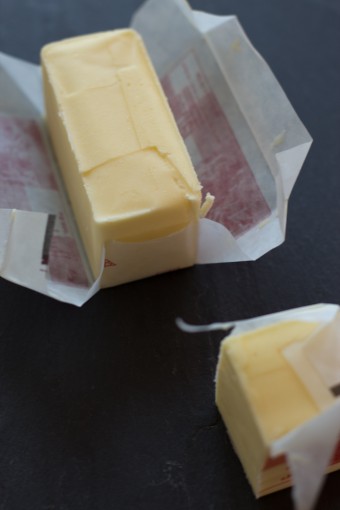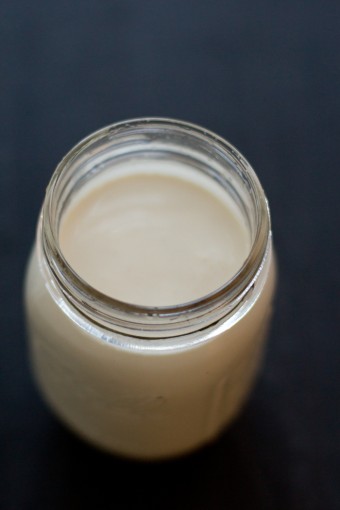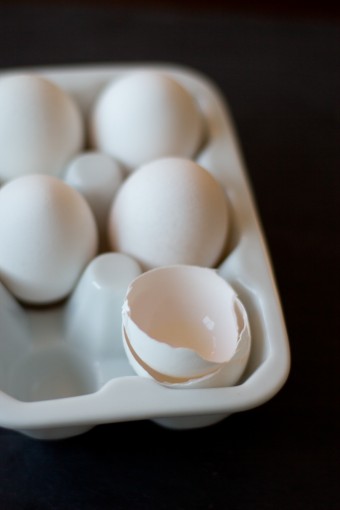 After moving to Chicago for graduate school, however, Jen sadly saw less of her party-hopping friend — but that doesn't mean she wasn't thinking about her. In fact, as Jen flipped through a cookbook in search of dinner inspiration one evening, she incidentally struck upon a recipe for a rich, decadent soufflé. That's when it occurred to her: if she couldn't make it to The Bistro Gardens, why not whip up soufflé herself?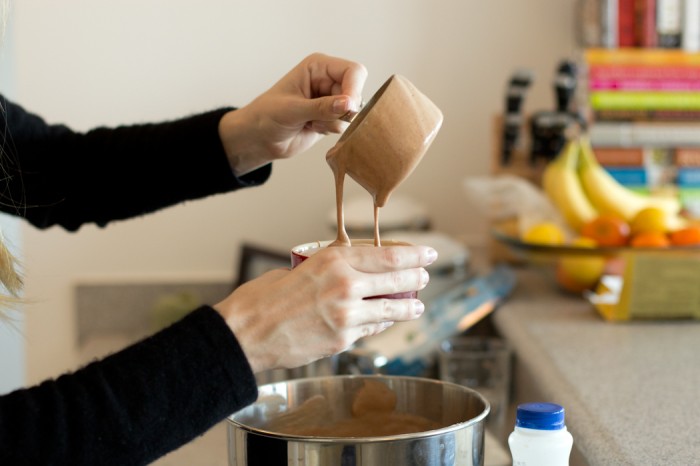 And just like that, a new, homemade tradition emerged — one in which Jen gets to see a whole lot more of her favorite dessert. Thankfully, it's not nearly as difficult to make as she had once imagined. The soufflé only seems unapproachable, too polished and elegant to be replicated at home. In actuality, it's much more laid back than that, requiring minutes — not hours — to get ready.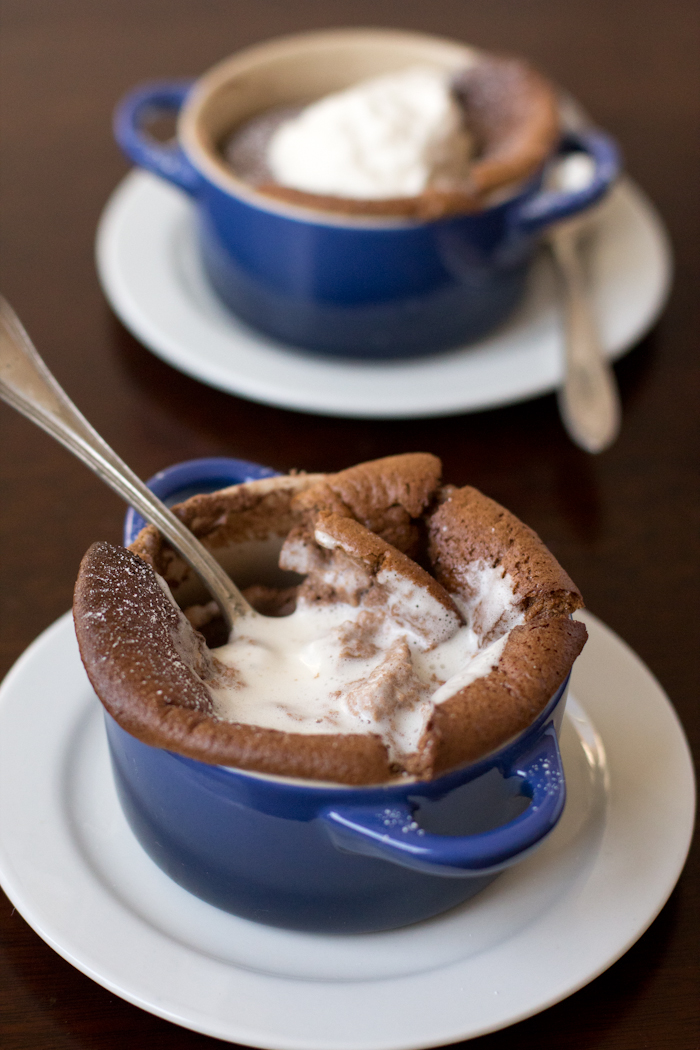 Now Jen's friend is always on-hand to party — and with this recipe, she can be there for you, too.
Three Quick Questions…and Jen's Answers
It's your last meal. What do you have?
I would have a very decadent meal with all of my favorite indulgences. I'd start with a nice, cold seafood platter –- shrimp and oysters and king crab and things like that. Then, I'd have a perfectly cooked filet with some great veggies on the side. And for dessert, I would have something very luxurious, either chocolate soufflé or a really caramelly bread pudding.
Your kitchen is burning down. What's the one thing you grab?
I don't think I could carry all my cookbooks, even though they have such a special place in my heart. So I think I would have to take my Le Creuset dutch oven, which I've had for a while now. I got it for Christmas several years ago and it was my first nice kitchen item. It sits out on the stove because I use it so much.
Do you have a favorite cookbook?
My go-to cookbooks are anything by the Barefoot Contessa. I know that pretty much any recipe of hers will be a slam-dunk. And then I also love the homemade recipe book my godmother compiled for my bridal shower. She had everyone contribute some sort of meaningful recipe and story, and it has all these wonderful pictures and little notes like "wine seems to enhance the flavor."
Author:
Williams-Sonoma Essentials of French Cooking
Prep time:
Cook time:
Total time:
Don't be intimidated by the soufflé's delicate appearance; it is surprisingly easy to make.
Ingredients
FOR THE CHOCOLATE SOUFFLE:
1 tbsp unsalted butter

8 oz high quality semisweet chocolate, chopped

1 cup heavy cream
1 cup whole milk
4 large eggs, separated, plus 3 large egg whites (all at room temperature)
¼ tsp cream of tartar
¼ cup granulated sugar
confectioners' sugar, for dusting
FOR THE WHIPPED CREAM:
1 cup heavy cream
1 tsp vanilla extract
1 tbsp granulated sugar
Instructions
Make the chocolate souffle: Preheat oven to 375 °F. Grease 6 (6-ounce) soufflé molds or ramekins with the butter; set aside in refrigerator until needed.
Place the chocolate, cream, and milk in a saucepan over medium-low heat and bring to a slow simmer, whisking until the chocolate is melted. Remove from heat and whisk in the 4 egg yolks. Set aside.
In a clean and dry bowl, using a clean and dry wire whisk or electric beater, beat the 7 egg whites and the cream of tartar until soft peaks form. Add the granulated sugar and continue beating until the whites form stiff, glossy peaks. 
Stir a quarter of the egg whites into the chocolate mixture to lighten, then quickly but gently fold in the remaining egg whites just until combined.
Place soufflé molds or ramekins on a baking sheet and ladle soufflé mixture into each one. Bake immediately until the soufflés have risen, the edges are set, and the centers are still creamy, 20-25 minutes.
Make the whipped cream: Using either a wire whisk or an electric mixer, whip the cream until stiff peaks are just about to form. Beat in vanilla and sugar until peaks form. Be careful not to over-beat. Set aside in refrigerator until ready to use.
When the soufflés are done, use a fine mesh sieve or flour sifter to dust confectioners' sugar over the tops of the soufflés. Puncture the tops and drop a dollop of whipped cream onto each one. Serve immediately.