10.30.2011
Dinah
*

Apple Tarte Tatin or "Apple Butter Magic"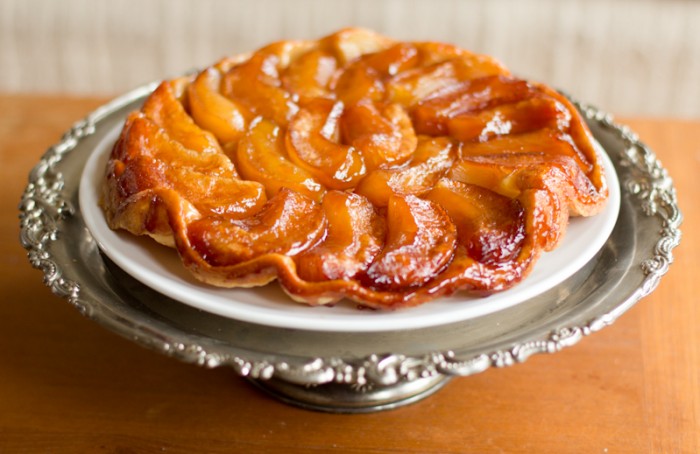 It began as an ordinary day in the small, picturesque town of Monroe, Maine. The snow from the day before slept quietly on windowsills and traced the trees in white; the sky sprawled out in endless blue. As she often did on Sunday afternoons, Dinah ventured over to her neighbor's house for teatime with a kind, warm woman named Suzanne*. Suzanne was the only grown-up Dinah knew who served an afternoon tea, with assorted desserts, homemade breads and hearty soups. But on that particular Sunday, Suzanne served something special, and Dinah fell instantly in love.
"I asked Suzanne what it was, and she couldn't believe I didn't know of Tarte Tatin," Dinah remembers. "So she explained to me that it was very simple, and that all you really needed was apples, sugar and pastry dough." Though Dinah was only twelve years old, she knew how to build a fire to feed the family's wood stove and baking came naturally to her. That evening, Dinah returned home and immediately began researching this glorious little tart, trying out her neighbor's recipe and variations from different cookbooks. "I loved that it was so simple and easy to make, with only a few ingredients, and yet it emerged from the oven this magical, jewel-like thing with such incredible complexity of flavor."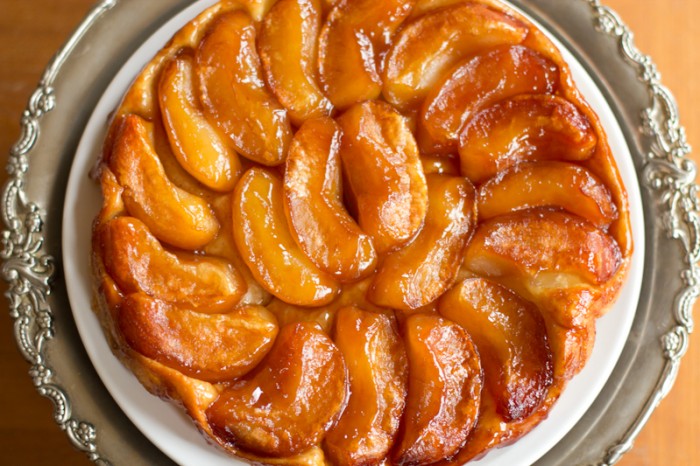 Although she didn't realize it then, the dessert would become a pivotal force in Dinah's life and many of her most vivid memories could be traced back to Tarte Tatin. On a family trip to France years later, she stumbled upon it in almost every cafe she visited — like a series of chance meetings with an old friend in a foreign land. "Everywhere you went," Dinah recalls, "there was an apple tart greeting you on the counter."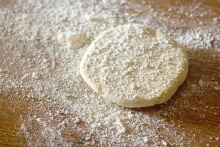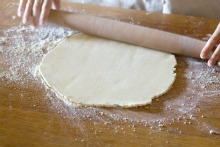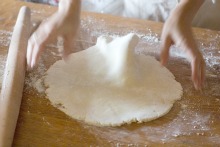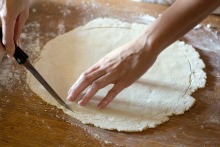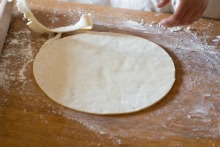 In high school and college, Dinah spent her summers working in bakeries and fine dining restaurants, and in 2010, she launched Cheap Tart Bakery in Chicago, where she bakes up some of the most delicious tarts you will ever taste. Today, she has invited me to her kitchen for a peak at the process, and I watch intently as she scatters sugar into a cast iron pan with a flick of her wrist — telling me to add sugar just until it "soaks up the butter." She picks up on subtle details that others probably wouldn't notice, like the gentle sputtering of the caramel when the apples are almost done, and she rolls out the pastry dough in easy, graceful strokes. Dinah has clearly mastered the apple tart, and it's one of the most popular items on her menu for good reason.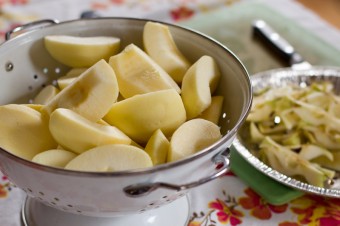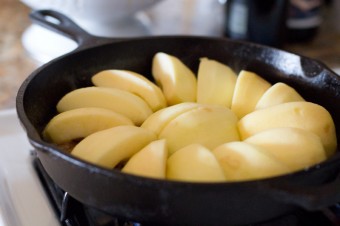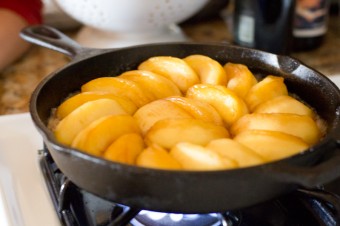 "A few weeks ago, a woman ordered a Tarte Tatin for a friend who had lost her husband very suddenly," Dinah tells me, draping a circle of dough atop the amber apples and nudging the pan into the oven. "I guess the three of them had taken a trip to France a while back, and this woman wanted the tart as a way to reminisce. She told me later how she and her friend had laughed and cried and savored every bite, and I realized that it's probably like that for a lot of people — something about the alchemy of those few ingredients that creates something so memorable."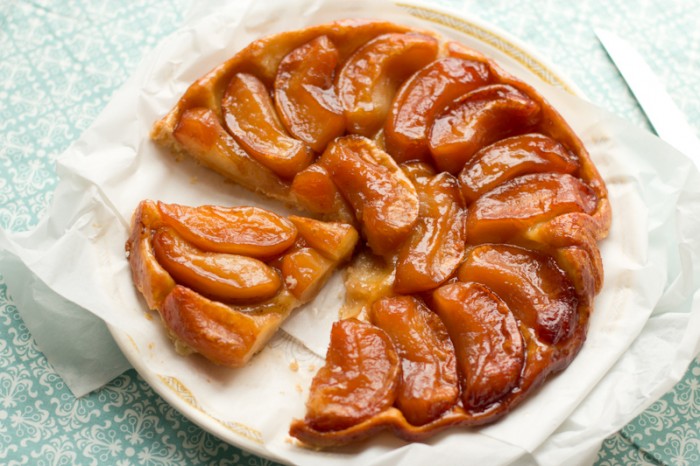 As Dinah pulls the finished tart from the oven and flips it carefully onto a plate, I know that this dessert – and the time I spent getting to know Dinah – is something I'll remember for a long time to come. The edges of the tart have grown crisp and candied, still dripping in golden caramel, while the insides remain sturdy yet soft, flaky and tasting faintly of butter. The sliced apples are more intensely apple than they have ever been, and yet, they are something different entirely: soft pillows coated in honeyed glaze, light and heavenly and plump with flavor. It's so good, I'm almost at a loss for words. "One of my old roommates used to call it 'apple butter magic,'" Dinah says, laughing.
And honestly, I can't think of a better way to put it.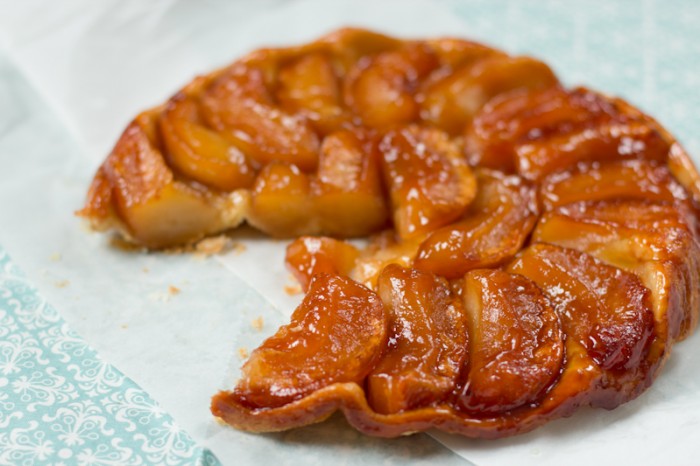 *Note that Dinah's neighbor's name has been changed on request, and a few details regarding the weather in this story have been filled in where memory fails.
Three Quick Questions…and Dinah's Answers
It's your last meal. What do you have?
An enormous bowl of my favorite fruits: cherries, pomegranates, blueberries, nectarines and apples. Fruit is such a miracle to me — these absolutely beautiful objects that materialize on trees and bushes, seemingly out of nothing. I love looking at it as much as I enjoy eating it, and I have a lot of wonderful memories associated with picking and eating fruit.
Your kitchen is burning down. What's the one thing you grab?
I'd say my cast iron pans, but I can't think of anything heavier and more awkward to carry down three flights of stairs in a fire. So, more practically, my phone to call 911.
Do you have a favorite cookbook?
Vegetarian Cooking For Everyone, by Deborah Madison. It's where I go for inspiration whenever I'm in a cooking rut, and some of the recipes I make all the time and know by heart come from that book.
Can't get enough of Dinah Grossman? Her magical tarts and other treats are available for delivery directly to your doorstep, and they're only a click away at Cheap Tart Bakery in Chicago, Illinois.
Prep time:
Cook time:
Total time:
You'll need an oven-safe pan for this recipe, so no plastic handles. Dinah prefers cast iron, but any sautée pan about 10" in diameter will work. The tart can be made using store-bought pastry, but if you're feeling ambitious you can make your own. Dinah does a riff on this recipe to get her amazing, flaky crust: http://www.realbakingwithrose.com/2005/10/roses_favorite_flaky_tender_pi.html.
Ingredients
5-6 Golden Delicious apples or other firm apples that will hold their shape during cooking
4 tbsp salted butter (Plugra and Kerrygold brands are both great quality, though any butter will do!)
4 tbsp granulated sugar
pastry for one 9" pie shell (see headnote)
Instructions
Pre-heat your oven to 425°F. Roll out your pastry and trim it to fit the size of the pan you will be using for the tart (see above note). It needn't be exact. Wrap in plastic wrap and refrigerate until ready to use.
Peel, core, and quarter the apples.
Heat the pan over medium heat and melt the butter. Sprinkle the sugar evenly over the melted butter and cook, stirring occasionally until the mixture is a very pale amber. 
Off the heat, place the apple quarters in the pan radially starting on the outer edge of the pan and moving to the center, setting them on their sides and fitting in as many as possible. As they cook they'll shrink and you'll be able to push them closer together and fit in any remaining quarters.
Return pan to the stovetop and cook over medium-high heat until the apples begin to turn a golden brown (about 15 minutes). You can lift one out of the pan to check the color on the bottom. At this point flip over each quarter so the cooked edge faces up and the uncooked edge is face down in the caramel. Continue to cook until the caramel that bubbles up between the apples pieces is a dark amber (10 more minutes, give or take). You can dip a teaspoon in and pull it out to see the color better.
Remove your pastry from refrigerator. Cut 4 or 5 slits in the pastry to allow steam to escape. 
Take the pan of the stovetop, and working quickly put the pastry over the hot apples and put into a 425°F oven until the pastry is golden brown (about twenty minutes). 
Remove pan from oven and immediately invert onto a cooling rack; you can place a rimmed cookie sheet under the cooling rack to catch any drips. Be very careful - use potholders!
Serve warm or at room temperature.