8.7.2011
Christine
*

Roasted Carrot and Pistachio Soup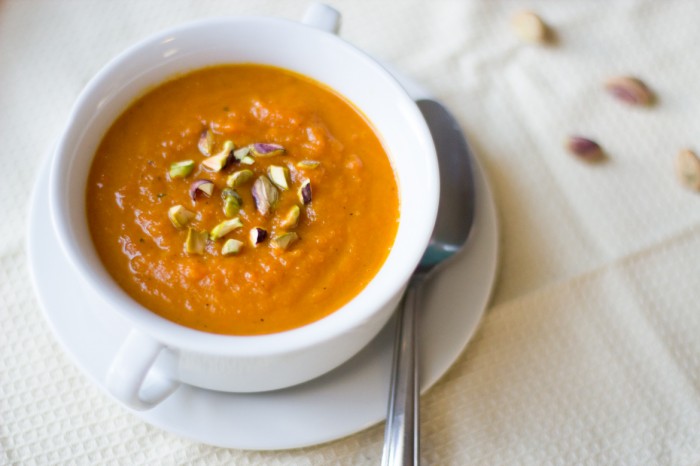 When Christine graduated college almost 12 years ago, her parents asked her a common question — so, what are you going to do for a job? And, like so many young graduates fresh out of cap and gown, Christine had absolutely no idea: "Up until that point, I had looked at college as a sort of finishing school. I went there to read books and write stories and learn about history. Not to get a job."
Unsure of what to do next and "totally freaking out," Christine's first foray into the adult world began with a move to Durango, Colorado, where her younger sister was still in school. Durango is a small town with big personalities, and one of the biggest of all belonged to a woman named Eva. Eva owned a café where Christine was hired as a barista, and she was a bit of a local celebrity – a tall, blonde beauty with an abundance of charm. She was the mother of two young children, in the midst of her second divorce, and already knee-deep in a new relationship with a handsome, bookish lawyer from Virginia — a sort of fifty-year-old golden boy.
It wasn't long before Eva and Christine became friends, and Eva bestowed upon Christine the privileged position of café manager. That meant, rather than earning the $7 an hour everyone else was making, Christine was now earning $9. And yet, as Christine tells it, the best part of the job was getting to make a giant pot of soup each morning. It was one of the most popular items on the menu, and Eva's self-professed signature dish: a smooth and satisfying carrot and pine nut soup from a cookbook called Colorado Cache.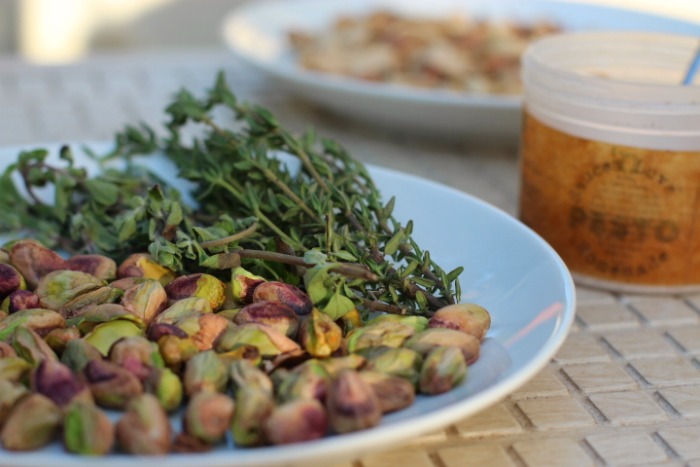 But Eva wasn't the only one in town with a signature dish. Abby, the owner of a small but successful cookie delivery business spent her days toting batches of cookies in wicker panniers that she would sell off the back of her bicycle. Inspired by Abby's initiative, Christine began to ponder her own potential. "Abby had already cornered the market on cookies, but I loved soup so much, I thought, why not? So I started a business selling soup," Christine says. "Most of it I delivered on my bicycle, which I can assure you wasn't some cutesy hipster thing. I didn't have a car, so it was more of an 'I-don't-feel-like-walking-across-town-thing.'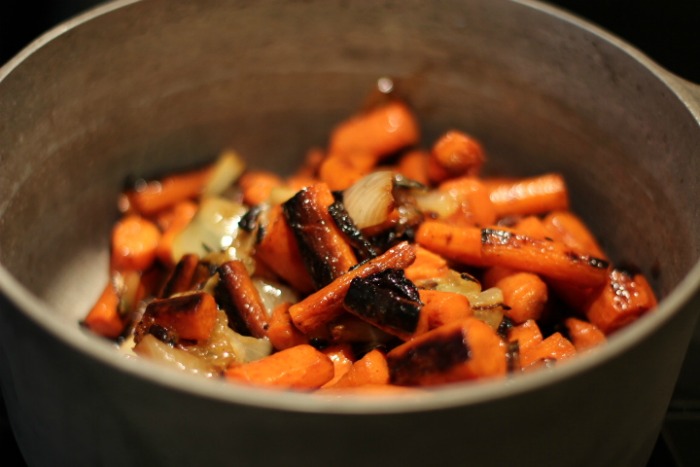 Of course, one of Christine's best-selling soups just so happened to be the same carrot and pine nut soup that Eva sold at her café.  And Christine wasn't just delivering the soup by bicycle. While some people picked it up from her apartment, when she was busy working at the café she had them pick it up from her there. Needless to say, this did not go over well with her boss.
"She was so mad at me," Christine says. "She was like, 'Christine, you can't run a business out of my business. You're taking food from my children's mouths.' She was so dramatic about it." Eva also took issue with the fact that Christine was selling what Eva considered to be her own signature product. "I thought that was ridiculous," Christine says, "because it wasn't her recipe. She got it from a cookbook. And I told her we weren't really competitors, anyway; she sold soup to be consumed in the moment, whereas I sold soup for people to take home."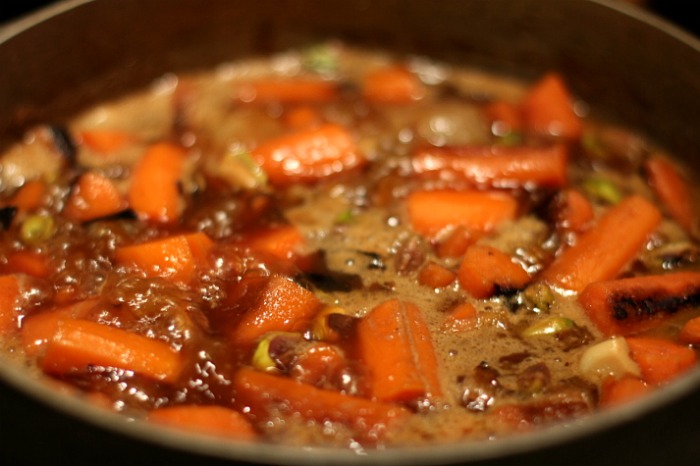 After the argument, Christine continued with her business but stopped selling soup out of the café. Still, her relationship with Eva had become permanently marred, and although they learned to get along, things between them remained rather "frosty." Fast-forward to the present day, and Christine's attitude has changed a bit: "Now that I'm older, I realize what I did wasn't okay at all. But at the time, I just remember being so pissed that she had gotten so angry. I thought that she was the adult, she was 36, and she needed to just grow up. Of course, deep down, I knew I probably did, too."
Christine smiles and leans back in her chair. "I guess, by making this soup, and telling this story, I'm acknowledging two things: A) that I'm sorry I was a total pain-in-the-ass kid, and B) the origins of the soup. It comes from the Colorado Cache Cookbook, but I'm giving it my own twist. This time, I'm using pistachios in place of pine nuts. And perhaps now, I can truly claim it as my own."
Three Quick Questions…and Christine's Answers
It's your last meal. What do you have?
Fresh pasta tossed with Alaskan king crab, tomatoes, basil and olive oil.
Your kitchen is burning down. What's the one thing you grab?
My laptop.
Do you have a favorite cookbook?
I use the Cook's Illustrated baking book as my go-to. I also really love Mark Bittman's How to Cook Everything Vegetarian. I used to use the Joy of of Cooking as my go-to, but those two books have replaced it.
Roasted Carrot and Pistachio Soup
Author:
Adapted from the Colorado Cache Cookbook
Prep time:
Cook time:
Total time:
Hearty, soulful soup with just a pop of pistachio. This is Christine's take on the soup, but if you want to try the original version, you can always substitute pine nuts for pistachios. Feeling fancy? For added flavor, if you make homemade chicken stock and save the fat, you can use the fat in place of (or in conjunction with) the olive oil used to roast the vegetables.
Ingredients
6-8 large carrots (about 1¾ pounds), peeled and chopped into 1-2" pieces
2 medium-sized yellow onions, cut into 1" pieces
8 cloves garlic, peeled but whole
½ cup olive oil
½ cup roasted, unsalted pistachios
2 quarts low sodium chicken (or vegetable) stock
2 tbsp fresh marjoram (may substitute 2 tsp dried)
2 tbsp fresh thyme (may substitute 2 tsp dried)
salt and pepper to taste
Instructions
Toss carrots, onions and garlic in the olive oil and spread on baking sheet. Roast at 475°F for 20-30 minutes until golden brown, but not burnt.
Add the pistachios and roasted vegetables to a large 6-8 quart pot. Add 1 ½ quarts of the stock and then thin out with the remaining ½ quart later, if needed. If using dried herbs in place of fresh, add those now. Let simmer for about half an hour, or until vegetables have become more tender and pistachios have softened a bit. If using fresh herbs, add these in at the last minute of simmering.
Using an immersion or standard blender, puree soup until smooth, adding more stock at this point if the soup looks too thick. Keep in mind it will be very hot, so be careful when pureeing. If using a standard blender, start on a slow speed, then increase, and do not overload the blender.
Season with salt and pepper to taste.