10.16.2011
Cheryl
*

Endive Pear Halloumi Salad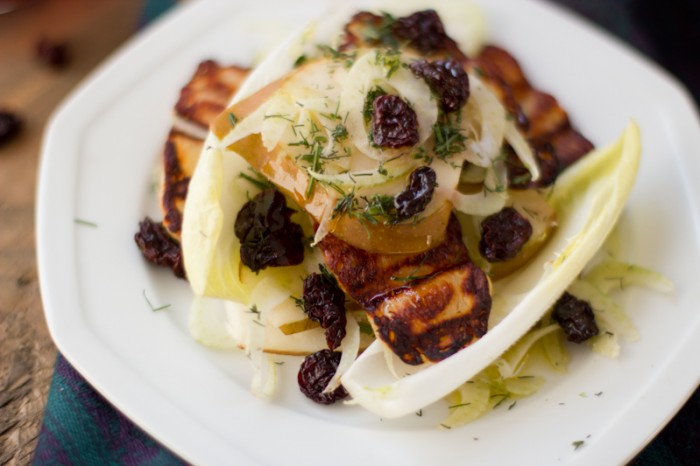 Cheryl Sternman Rule is a modern day renaissance woman who has, quite literally, been all over the place. An "East Coast girl" by birth, Cheryl went to Philadelphia for college, lived in Paris for a time, and spent two years as a Peace Corps volunteer in Eastern Africa. She conducted research at Harvard, co-wrote a three-part book series on higher education, realized her heart was in food and finally, dove into culinary school. "My career hasn't exactly followed a linear trajectory," Cheryl says, "but it's worked for me. All of my experiences helped me figure out what I really, really want to be doing — and it's been great."
These days, Cheryl lives in San Jose, California, where she juggles a whole variety of jobs: wife, mother, blogger, freelance food writer and soon-to-be cookbook author. She is also genuine, humble and completely hilarious — by the end of our hour-long conversation I felt like we were old friends. "You have enough information on me now that you could seriously blackmail me," she joked. "Are you a good person? You seem like you're a good person. You are, right?"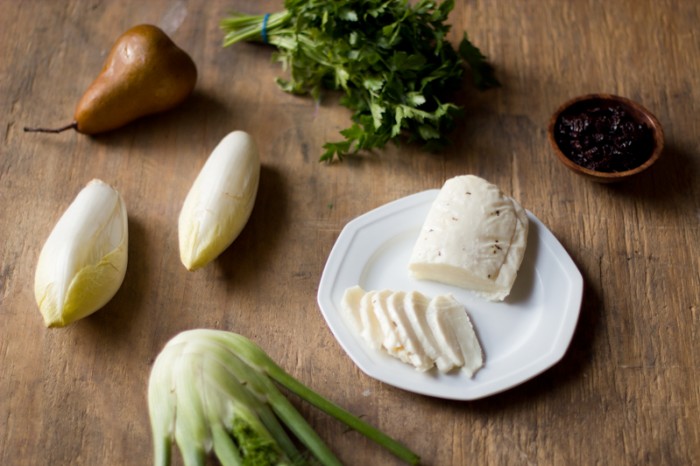 As a food writer, Cheryl is a close friend to farmers' markets, and on any given Sunday you can spot her scouting out the season's best. "I've always been really excited — I mean, sort of embarrassingly excited — just by being at the market, seeing everything laid out, all the colors and all the fresh produce," Cheryl muses. "Over time, I've also gotten to know some of the farmers, learned from them, and I think their excitement gets me excited — it's a very personally and professionally inspiring relationship."
Equally inspiring are some of the creations Cheryl has cooked up as a result of her shopping expeditions. Take, for example, this Endive Pear Halloumi salad. This is a dish that came together on a whim — born out of practicality (these little veggies needed to be eaten!), inspiration and the impulse to play around. "I knew I wanted to experiment with a clean palate, lighter colors, and a real mixture of flavors and textures," Cheryl says.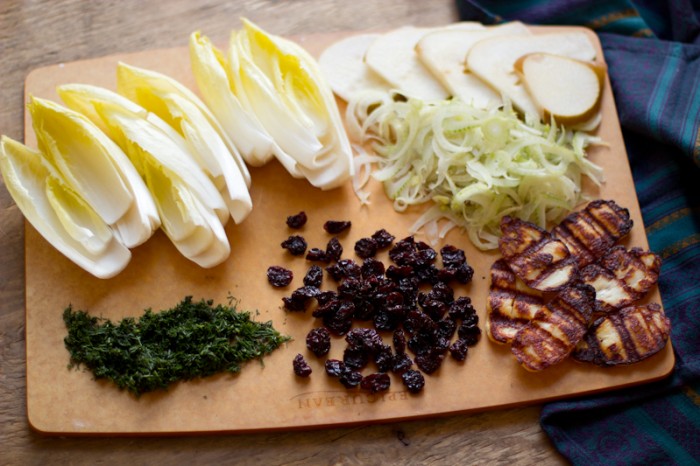 Well, her experimentation paid off. The salad is a seamless blend of all things delicious: the crunchy bite of endive, sweet crisp pears, salty Halloumi cheese, chewy dried cherries, subtle anise from the fennel, a bit of heat from the chili pepper, and a sprinkle of bright, fresh parsley to top it all off. A mandoline helps with the slicing, but is not at all necessary — though if you are looking for an excuse to buy one, Cheryl is happy to help you out here. Stack everything in haphazard layers, pile it high, drizzle with oil and vinegar, and what you get is something easy that looks fancy; a work of art that tastes just as good as it looks.
It may seem like a happy accident that such a spontaneous, unexpected mixture of ingredients turned out so well, but in truth, I think it's actually the indirect result of a lot of hard work, a lot of hits and a lot of misses. Ok, so maybe some of it's about using up a few vegetables before they go bad — but part of it is about knowing which ones to put together and in what ways. Through all of her experience in the kitchen, Cheryl has cultivated an instinct and an understanding of what works and what doesn't.
And incidentally, I think she has done the same thing with her life.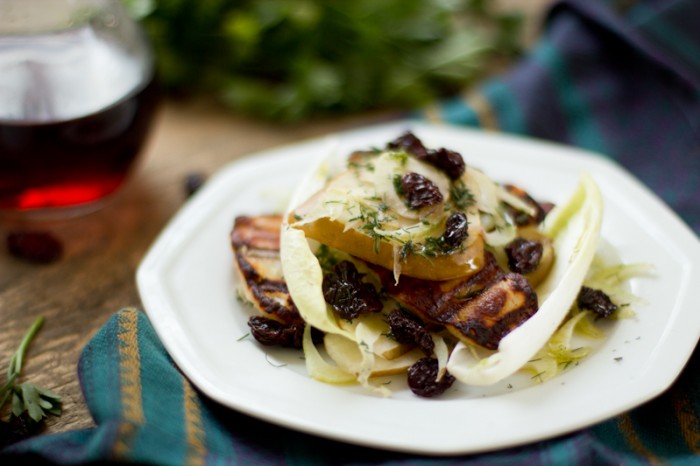 To see more of Cheryl's recipes, check out her gorgeous, witty blog: 5 second rule. To read more on her past, present and upcoming projects, go here. To pre-order her cookbook, a collaboration with photographer Paulette Phlipot to be published in Spring 2012, head on over to Amazon.
Three Quick Questions…and Cheryl's Answers
It's your last meal. What do you have?
For my last meal, can I have a buffet? Because I'm not much of an entrée person — I prefer to have lots of little things. So here's what I'd want on my buffet table: really good bread and stinky cheese, smoky nuts (Marcona almonds in particular), something with coconut because I think that's my favorite flavor, Cara Cara oranges which we have out here in California, a plum tart with frangipane, poached eggs, an artichoke, corn, and blintzes. Is that a good answer?! This is reflective of my personality — I have a hard time making choices!
Your kitchen is burning down. What's the one thing you grab?
So I assume that my kids aren't home, right? Because I would have to grab them if they were there, and don't ask me which one I would choose. No, I would grab my idea journal —  just a little hardcover book that I keep in my kitchen drawer where I jot down recipe ideas, cookbook ideas, and anything else I might want to flesh out in the future. I would grab the journal because a lot of my head is in that book and my memory is quite poor.
Do you have a favorite cookbook?
No, I don't. I know of so many cookbooks now, so many friends and colleagues have written cookbooks, and honestly I cook from all of them. So I don't have a favorite cookbook per se, but I can tell you what I've been using a lot recently. First, there's Big Night In by Domenica Marchetti, who is an expert on Italian cuisine and has all these really great, hearty, cold-weather recipes. And then there is Sara Kate Gillingham-Ryan's book, Good Food to Share, which is a little more summery and a great book to use for entertaining. And then finally, I'm really enjoying Heidi Swanson's cookbook, Super Natural Every Day. It's such a quiet, inspirational book. It doesn't scream at you, it just kind of seeps through.
Endive Pear Halloumi Salad with Sherry Vinaigrette
Author:
Cheryl Sternman Rule
Recipe type:
Appetizer/Side, Main
Prep time:
Cook time:
Total time:
Serves:
2 mains or 4 sides
Confession? Prior to this recipe, I did not own a mandoline, so I owe Cheryl for giving me some added incentive to finally buy one! It's not necessary here at all, but it does indeed make fruits and vegetables look fancy. This recipe is also a great excuse to try some Halloumi cheese if you haven't already. Halloumi is a salty, firm cheese that, when heated, keeps its shape and browns without melting, and it goes so well with the rest of this salad.
Ingredients
4 slices Halloumi cheese (see head note), patted dry
2 heads endive, stems sliced off, leaves separated
1 Bosc pear, unpeeled, sliced medium-thick (on a mandoline, if you have one)
1 bulb fennel, cored, sliced thinly (on a mandoline, if you have one)
½ to 1 small red chile, seeds and veins removed, sliced
¼ cup dried cherries
big handful of Italian parsley, chopped
2 tbsp extra-virgin olive oil
2 tsp sherry vinegar
Instructions
Heat a grill pan over medium-high heat. When hot, add cheese and cook until dark grill marks appear on the underside. Flip and cook until the other side gets marks, too.
On a good sized platter, layer the endive, pear, fennel, and cheese in haphazard stacks. Sprinkle with the chile, cherries, and parsley. Whisk the oil and vinegar in a small bowl and season with salt and pepper (be careful with the salt -- the cheese has plenty.) Drizzle on the salad.
Serve immediately.