3.10.2014
Cassandra
*

Old Fashioned Banana Cake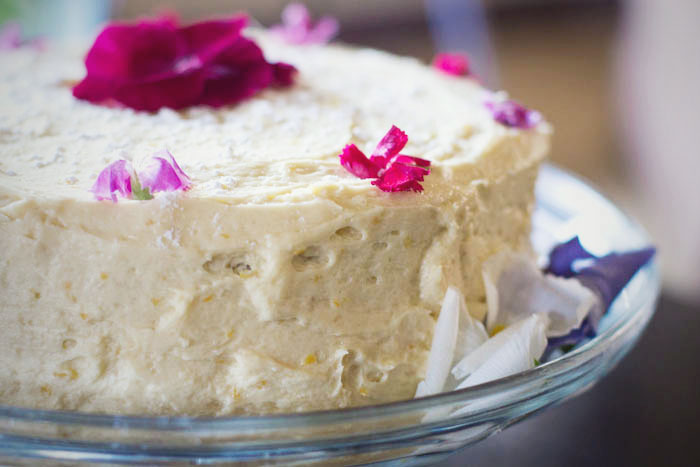 Cassandra: "This cake is from an old, battered copy of the Settlement Cook Book, once owned by my grandmother, who passed away at a very young age. The cookbook was first published in 1907, declaring "The way to a man's heart is through his stomach!" on the opening page. It includes recipes for things like a "Noodle Ring" (fried noodles, butter and breadcrumbs in a greased ring mold) and "Frozen Vegetable Salad" (in which fresh vegetables are frozen with gelatin and served with boiled mayonnaise—whatever that means!).
Some of the dishes you would never make today, but others have stood the test of time. My mother loves the simple banana cake, and my father makes it for her every year for her birthday, frosting it with a smooth lemon buttercream adapted from Laurie Colwin's gingerbread recipe. It's delicious and so easy. Since spring is around the corner, I decided to decorate the cake with edible flowers (surprisingly inexpensive) and a sprinkle of powdered sugar."
Lemon not your thing? The frosting from this cake would be a great alternative.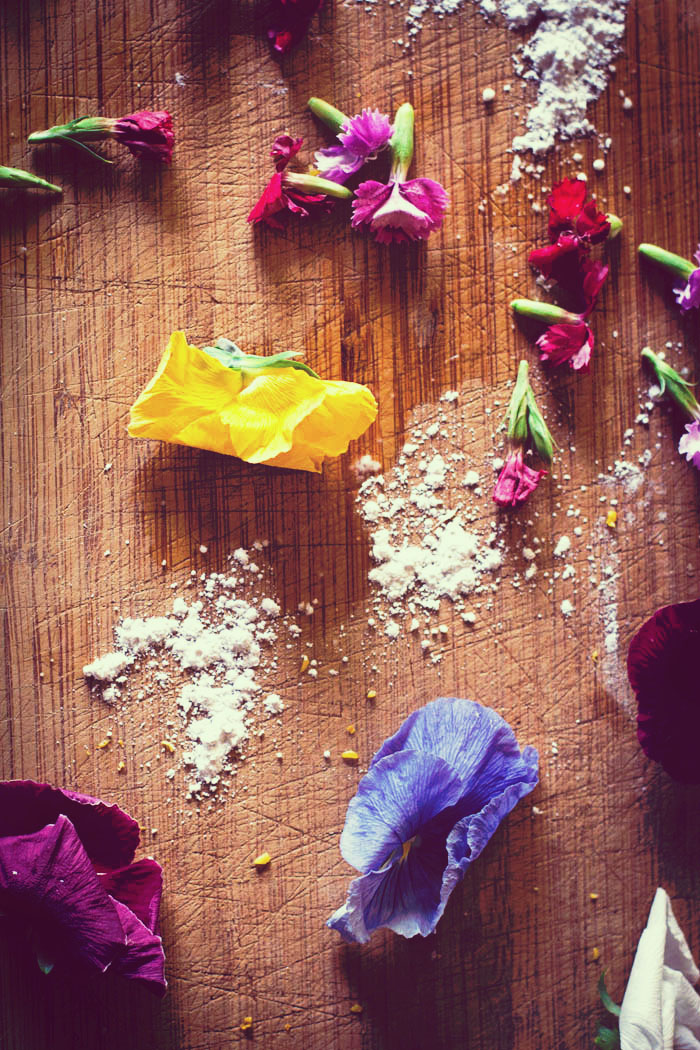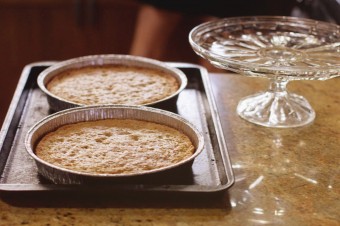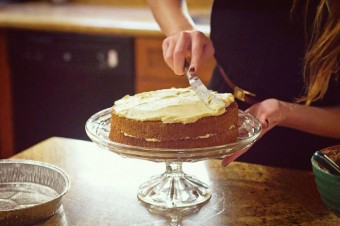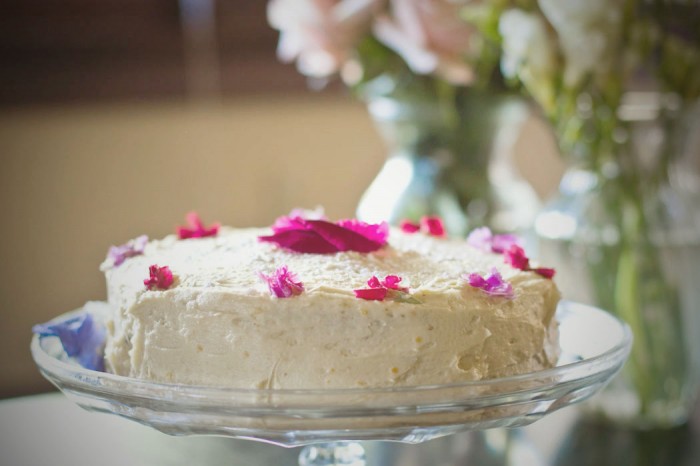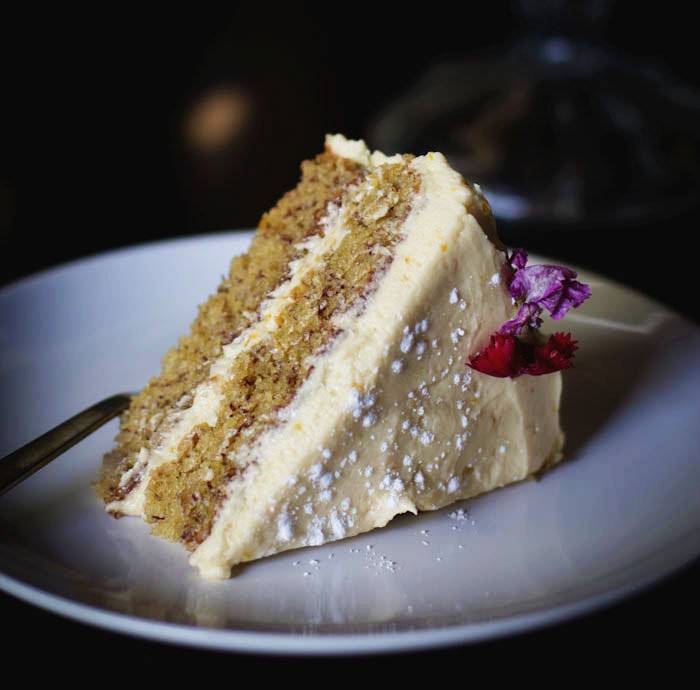 Three Quick Questions…and Cassandra's Answers
It's your last meal. What do you have?
Beef bourguignon and my dad's apple pie with whipped cream.
Your kitchen is burning down. What's the one thing you grab?
A spoon, so I could eat ice cream.
Do you have a favorite cookbook?
Laurie Colwin's Home Cooking.
*Cassandra's a great baker, but she's also a talented singer. Check her out here or, if you're in Los Angeles, see her perform at the Hotel Cafe at 9 p.m. on March 28th (the release date for her new EP!).
Old Fashioned Banana Cake
Author:
Adapted from the Settlement Cook Book
Prep time:
Cook time:
Total time:
This one-bowl banana cake is easy, moist and flavorful. It's made here with a lemon buttercream, but the cake is so versatile I imagine it would taste great with almost any type of frosting.
Ingredients
For the Banana Cake:
½ cup butter (1 stick) at room temperature
1¼ cups sugar
2 eggs at room temperature, lightly beaten
4 tbsp sour cream
1 cup over-ripe bananas, mashed (about 3 bananas)
1 tsp vanilla
1½ cups pastry flour
¼ tsp salt
1 tsp baking soda
For the Lemon Buttercream Frosting:
1 cup (2 sticks) butter
1 tsp vanilla
zest of 1 lemon
2 cups powdered sugar
juice of half a lemon, or more to taste
Instructions
Make the Banana Cake: Preheat oven to 350°F. In an electric stand mixer, cream the butter and sugar until light and fluffy. Add lightly beaten eggs and the sour cream. Beat well; then add the bananas, vanilla, pastry flour, salt and baking soda. Stir to combine. Pour batter into two 8" round cake pans (or just one 9" pan for a single-layer cake), and bake until cake is a deep golden caramel color and tester comes out clean, about 30-40 minutes. Allow to cool completely before frosting.
Make the Lemon Buttercream Frosting: Cream butter until light and fluffy. Add vanilla and lemon zest, then add sugar little by little until well incorporated. Add lemon juice and more sugar if needed. Frost the cake after it has cooled completely.