8.28.2012
Amelia
*

Mocha Pie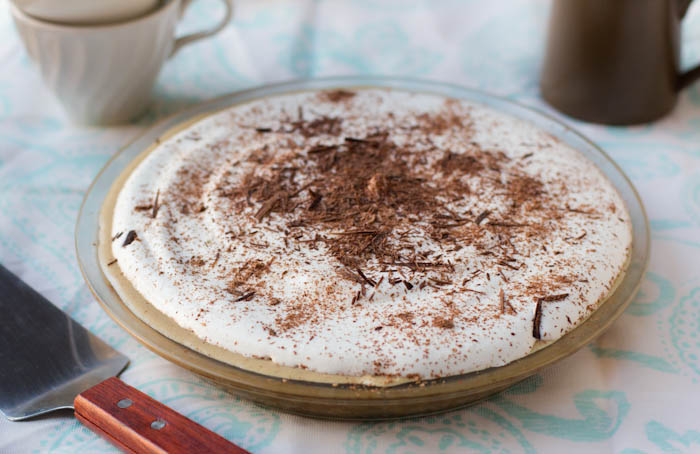 Amelia: "This is my favorite dessert. My grandma used to make it for me when I was little, and my mom makes it every year. If you're going to make the pie, you should make two of them – I'm telling you, it's that good."
Now that the days of summer are drawing to a close, it's the perfect time to indulge in one last cool, creamy treat (or two)! As Amelia will tell you, there are a few key features of a good mocha pie, and this one has it all: the nutty, buttery graham cracker crust; the rich, luscious mousse that joins together culinary soul-mates, chocolate and coffee; and the heap of billowy whipped cream that lightens everything up. Consider yourself warned: this is one seriously dreamy dessert.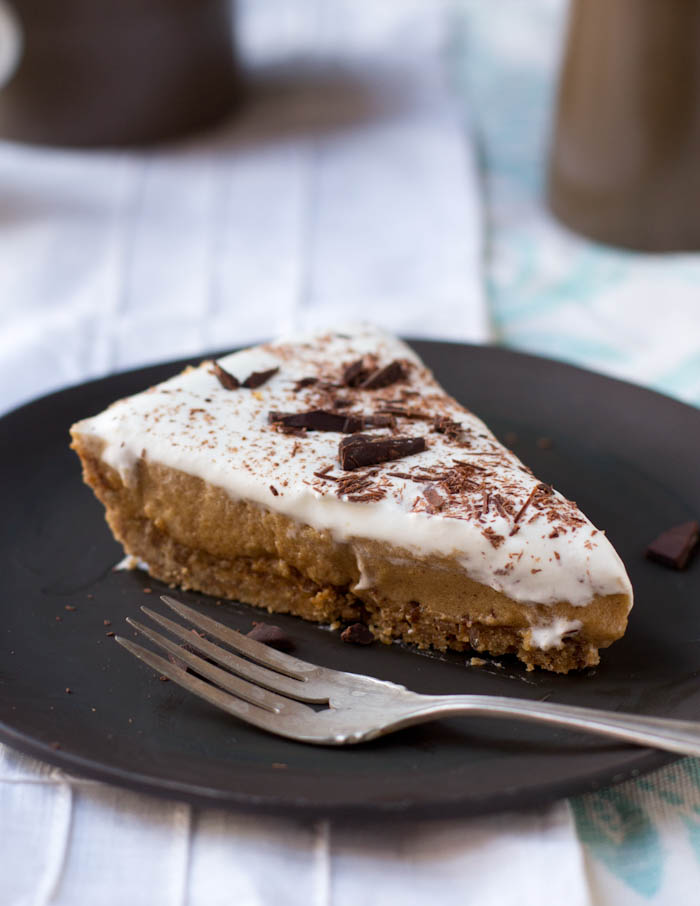 Three Quick Questions…and Amelia's Answers
It's your last meal. What do you have?
Lobster with artichokes, and mocha pie for dessert.
Your kitchen is burning down. What's the one thing you grab?
Probably the chips! No, probably one of my favorite mugs.
Do you have a favorite cookbook?
I like to go on Stumbleupon to browse for recipes. I also really like Raising the Salad Bar.
Prep time:
Cook time:
Total time:
A luscious pie made with chocolate, coffee and graham crackers. The pie itself doesn't take long to make, but keep in mind it will need to be refrigerated for 4 hours before serving.
Ingredients
8 whole graham crackers, finely crushed (about 1¼ cups)
¼ cup sugar
⅓ cup butter, melted
1 envelope unflavored gelatin
¾ cup cold strong coffee
1 square dark chocolate
¾ cup sugar
¼ tsp salt
3 egg yolks
1 tsp vanilla
3 egg whites
about 1 cup whipped cream
Instructions
Preheat oven to 375°F. Mix together crushed graham crackers, sugar, and melted butter to combine. Press firmly onto bottom and sides of 9-inch pie plate. Bake 8-10 minutes until lightly browned, then set aside to cool.
Soften gelatin in the cold coffee. Melt chocolate over hot water. Add gelatin-coffee mixture, ¼ cup sugar, and salt. Cook over hot water for about 3 minutes, stirring continuously. Beat egg yolks. Add ¼ cup of the chocolate mixture to the egg yolks and whisk vigorously. Pour into the rest of the chocolate mixture and continue to whisk. Cook 2 more minutes over hot water, then remove from heat. Allow chocolate mixture to cool; it must be cooled COMPLETELY. While the chocolate is cooling, beat the egg whites in a clean, dry bowl until stiff. Gradually add remaining sugar, beating after each addition.
When the chocolate mixture is done cooling, stir in vanilla. Gently fold the egg whites into the chocolate mixture until blended. Pour into pastry shell. Cover with whipped cream, and refrigerate at least 4 hours before serving.