8.14.2011
Amber
*

Thai Basil Fried Rice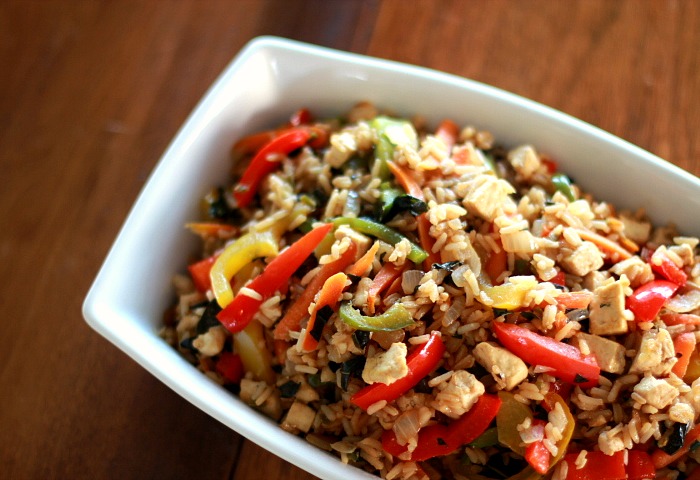 A large, vintage-style poster featuring Bird Farm sausage hangs above Amber's sink, a sort of relic of a previous time. "My mom created that in a graphic design class she took in college, so it has sentimental value," Amber says. "But I don't eat meat, and I've been a vegetarian for years."
According to Amber, her interest in a plant-based diet first took root during her junior year at the University of Illinois, when she moved off campus with her three Russian roommates. While she had grown up on a fairly standard American fare of meat and potatoes, Amber was intrigued by her roommates' casual, communal style of cooking and emphasis on vegetable-based dishes.
"My roommate, Liya, had a friend who worked at a Thai restaurant that year, and one day Liya came home with these three little sauces: oyster sauce, fish sauce, and soy sauce," Amber says. "Thai Basil Fried Rice was one of the first dishes we made together. I was a very cautious cook, and as we were cooking, I kept asking things like how much basil do I add? And when do I add the sugar? And Liya would just tell me it didn't matter. She never used recipes. She taught me to feel out a dish for myself, to go with my instincts."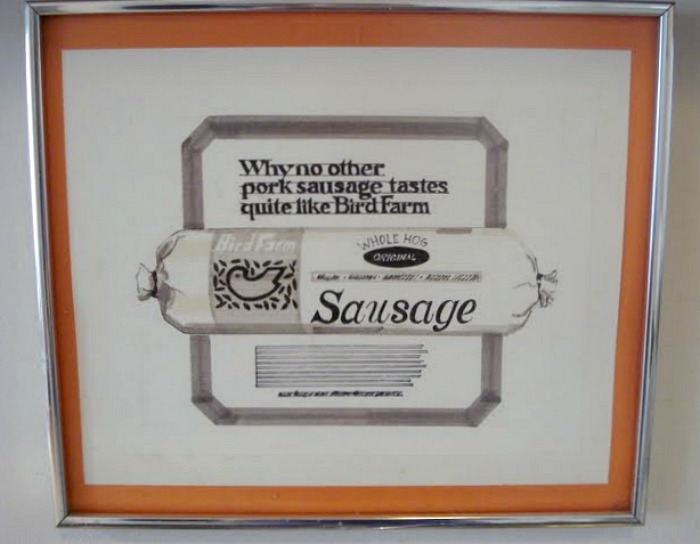 In fact, Thai Basil Fried Rice almost calls out for experimentation and adaptation; it's a dish that you can navigate as you go and tailor to your own tastes. Liya and Amber started out using serrano peppers, but Amber will often use Thai chili peppers to really kick up the heat. You can add more vegetables, try out new ones, or play with the proportions of the sauce. And though the ingredients are relatively simple, the resulting flavor is surprisingly complex: soft, sticky rice comes wrapped in rich, salty soy, speckled with spice and punctuated by bursts of fresh basil and crisp, sweet bites of red and green and yellow peppers.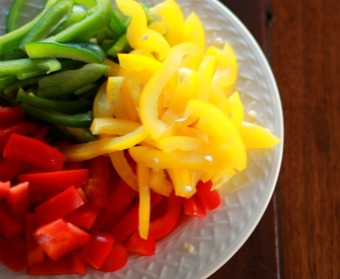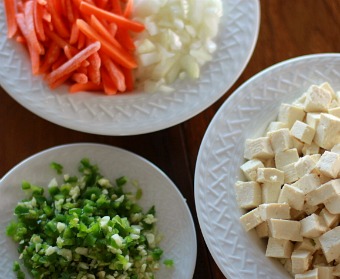 Because the dish is so adaptable, it makes for a great spur-of-the-moment meal that you can throw together with whatever ingredients you have on hand. It's also quick and easy, and most of the work lies in the preparatory chopping; with multiple people pitching in, this can be taken care of in no time. It's an excuse to work together to contribute to one delicious, common cause. And even those not involved in the process will likely come together to enjoy the results.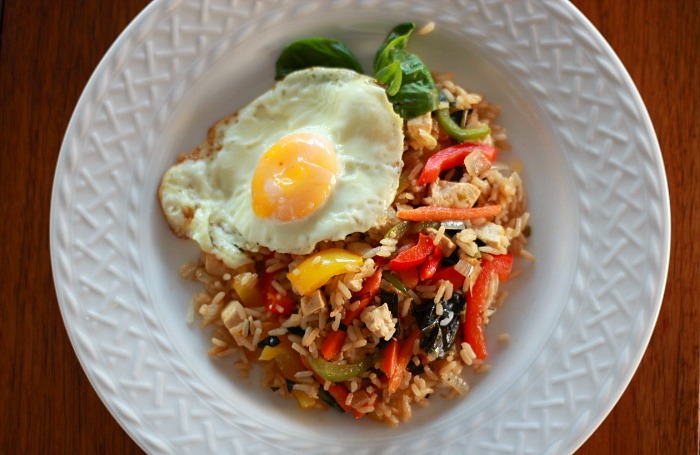 For Amber and her roommates, Thai Basil Fried Rice was the start of a tradition. Soon they were experimenting in the kitchen on a regular basis and hosting countless communal dinners around their small, circular table. "Sometimes we'd cram in as many as 15 people at a time," Amber says. "It was a blast."
Three Quick Questions…and Amber's Answers
It's your last meal. What do you have?
Umm… a lot? (laughs) I love tapas restaurants — not really for the type of food, but because I love sharing and I have a hard time deciding on just one thing. But really, I would probably just have a huge salad with berries, blue cheese, candied walnuts, apple slices, and mandarin oranges with a raspberry vinaigrette. And some ridiculous macaroni and cheese. And a frosted brownie. Yeah, i think that covers it.
Your kitchen is burning down. What's the one thing you grab?
I have a lot of pretty things in my kitchen! Maybe my mom's sausage picture. No, that's too sappy. I would probably want to take my Fiestaware, but there's a lot of Fiestaware here.
Do you have a favorite cookbook?
5 Spices, 50 Dishes, a great Indian cookbook. I don't usually like cookbooks because I get overwhelmed by long recipes and I really do get a lot of recipes from friends. But everything in that cookbook is just really easy to make, and I know that when I make something from it it's going to be solid. I love the butternut squash with coconut milk curry.
Prep time:
Cook time:
Total time:
Two things really knock this dish out of the park: the Thai basil and the Thai chilis. Both of these add distinctive Thai taste and can be found at most international or Thai grocery stores. Also: while some people (myself included!) can be put off by the smell of fish and oyster sauce, they are barely detectable in this recipe and add a great deal of complexity to the dish.
Ingredients
1 tbsp vegetable oil
2 tbsp peanut oil
3 tbsp oyster sauce
2 tbsp fish sauce
6 large garlic cloves, minced
4-6 thai chilis, crushed with seeds (or 2 serrano peppers)
1 block extra firm tofu, cut into half-inch cubes
2 large carrots, cut into matchsticks
1 yellow onion, thinly sliced
1 small red pepper, seeded and thinly slied
1 small green pepper, seeded and thinly sliced
1 small yellow pepper, seeded and thinly sliced
1 tbsp soy sauce
1 tsp sugar
4 cups pre-cooked jasmine rice
2 cups fresh thai basil, loosely chopped
4 eggs (optional)
1 cucumber, sliced (optional)
Instructions
Heat the vegetable oil in an extra-large sauté pan. Drain tofu cubes of excess water, add to pan and sauté on medium-high heat until lightly browned on all sides. Transfer tofu to a bowl and set aside.
Heat peanut oil, oyster sauce and fish sauce on medium-high until oil begins to smoke. Add garlic and Thai chilis. Cook, stirring frequently, for 1 minute or until garlic turns golden.
Mix in carrots and onion and cook 2-3 minutes until they begin to soften. Stir in red, green and yellow peppers and cook 2-3 minutes more.
Add soy sauce, sugar and rice. Stir well to mix the rice with the sauce, then stir in tofu. Turn off heat and mix in basil. If desired, top each serving with a fried egg and garnish with sliced cucumber.