11.29.2012
Alex
*

Toffee Pecan Blondies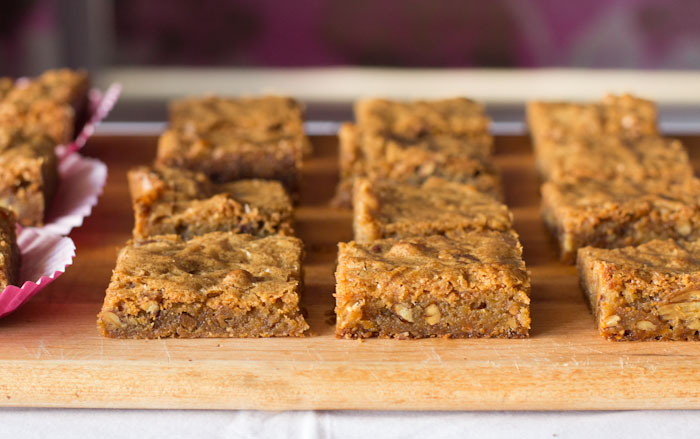 Alex: "These are possibly the most addictive bars ever."
You know a recipe is going to be good when it comes to you from a Ritz Carleton catering extraordinaire. And when said extraordinaire also happens to run her own catering business, delightfully dubbed Sweet Lyon, you know the recipe is going to be GREAT. Indeed, Alex's blondies are everything you could possibly hope for–chewy around the edges, soft and gooey on the inside, and full of rich, buttery flavor. As with most blondie recipes, brown sugar is the star ingredient here, but toffee and pecans play a pretty amazing supporting role. These are easy to make and a guaranteed crowd-pleaser, making them the perfect treat to whip up for last-minute company or to serve around the holidays when things get hectic. But, let's be honest: there is no wrong time for blondies.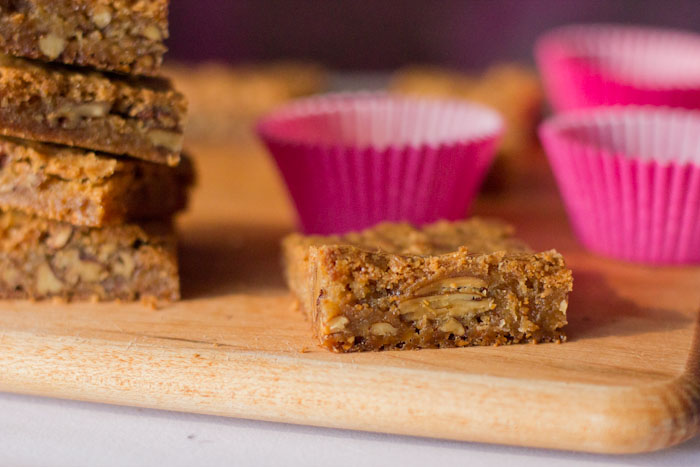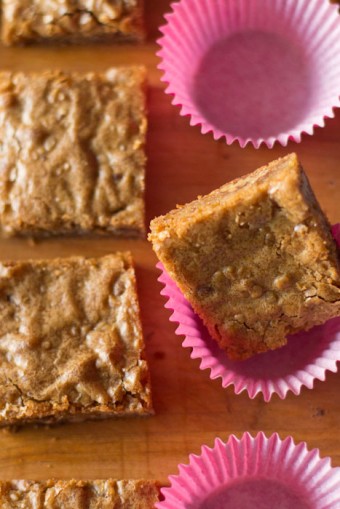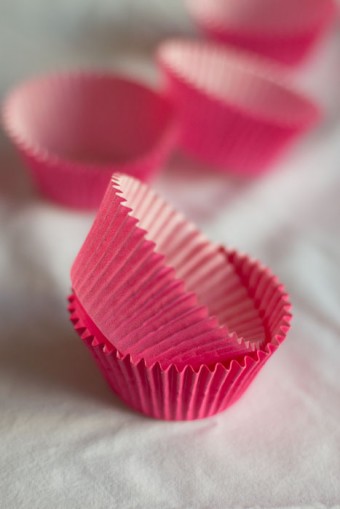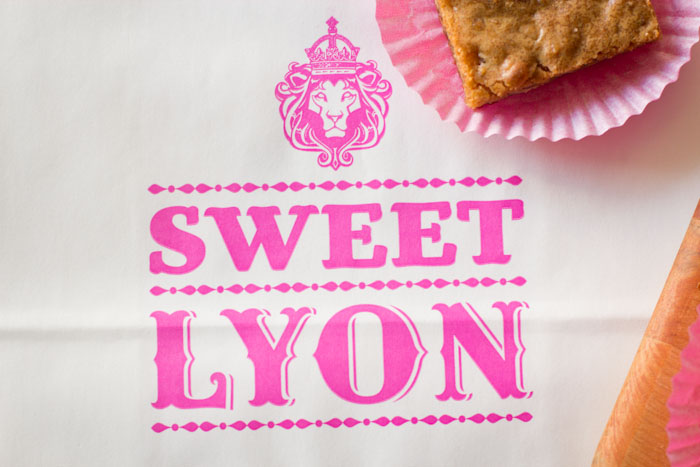 Three Quick Questions…and Alex's Answers
It's your last meal. What do you have?
For my last meal I would have to make a trip across the globe to Florence, Italy where my all of my best food memories remain. I would start with a pasta dish called "the John Travolta" special from this one little restaurant. The dish consists of over-sized pasta shells in a super-creamy pink sauce with ham. I don't even like ham, but this dish is unbelievable! I would follow that up with a combination of caramel gelato from Grom (the best Gelato in Italy) and lemon powdered sugar cookies from another little place. Those cookies are pretty much like crack for me.
Your kitchen is burning down. What's the one thing you grab?
My KitchenAid Professional Stand Mixer. It may be heavy but it is the number one tool in my kitchen.
Do you have a favorite cookbook?
I am a little bit of a cookbook hoarder so it is hard to say what my all-time favorite cookbook is. I am constantly discovering new obsessions, but my latest cookbook crush is called Miette. Miette is a patisserie in San Francisco, and they have very simple and elegant products with detailed and meticulous recipes. I love them because they're very similar to my personal baking style but they take it to a level that I am striving to find in myself. It has been a great inspirational read for me and I can't wait to actually visit the bakery the next time I find my way to San Francisco!
Prep time:
Cook time:
Total time:
Serves:
makes about 24 squares
Ingredients
1½ cups cake flour (not self-rising)
1 tsp baking powder
½ tsp salt
½ tsp cinnamon
1½ sticks unsalted butter
1 cup firmly packed dark brown sugar
½ cup sugar
2 large eggs, at room temperature
2 tsp good vanilla extract
1 cup toasted pecans
1¼ cup toffee pieces
Instructions
Preheat oven to 350°F. Grease a 13" x 9" baking pan.
Whisk together cake flour, baking powder, salt and cinnamon; set aside. Cream butter with both sugars until light and fluffy, about 3 minutes. Add the eggs and vanilla to the butter mixture and mix until smooth and incorporated. Add the dry ingredients and mix until just incorporated. Add the pecans and toffee. Spread evenly in the pan and bake for about 35 minutes, rotating the pan once halfway through.
When blondies are done they will turn a dark caramel color; a toothpick inserted into the middle of the pan should come out almost clean, with some moist crumbs.