4.2.2012
Lev
*

Sweet & Spicy Beef Brisket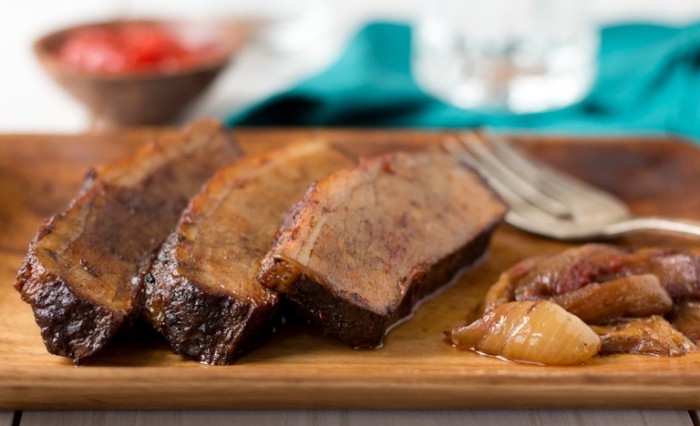 Lev: "If I've taken one thing from my Jewish upbringing, it's a true taste for brisket. This one here is a meat-lover's dream (and perfect for Passover, incidentally). Just be sure to have some snacks at-the-ready while it slow-cooks — the aroma stirs up quite an appetite."
It's hard to capture with words (and even photos) just how incredible this brisket tastes. It emerges from the oven hot, juicy and falling-apart tender — a simple, delicious crowd-pleaser that will have everyone in your home clamoring to the kitchen for dinner.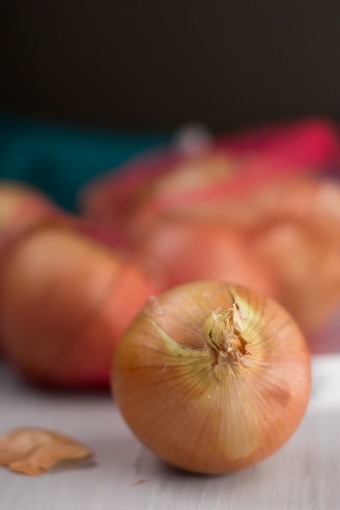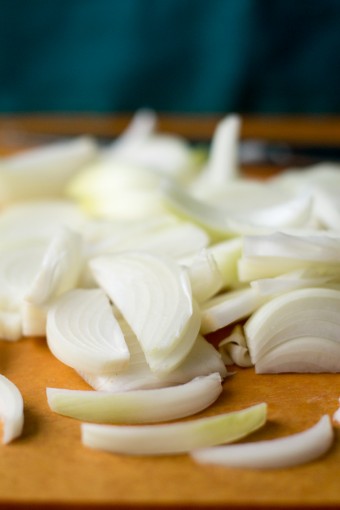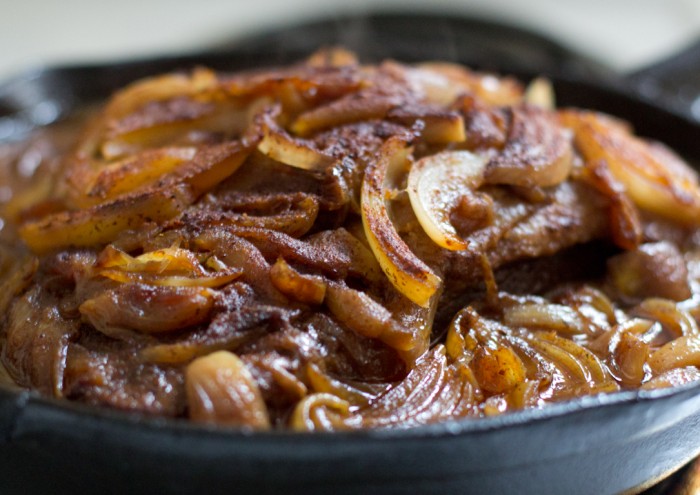 Three Quick Questions…and Lev's Answers
It's your last meal. What do you have?
Bacon-wrapped dates to start, Pleasant House Bakery Steak and Ale Pie for dinner, and Ben & Jerry's Coffee Heath Bar Crunch Ice Cream for dessert.
Your kitchen is burning down. What's the one thing you grab?
My Mac knife.
Do you have a favorite cookbook?
Sweet & Spicy Beef Brisket
Prep time:
Cook time:
Total time:
Tender beef brisket in a rich, flavorful sauce that is simultaneously sweet and spicy.
Ingredients
olive oil
salt and pepper
3-4lbs of a brisket cut of beef
8 medium yellow onions, cut into eighths
Tony Chachere's More Spice Seasoning (or similar spicy Creole blend)
chili powder
ketchup
Chile-Lime Cholula Sauce
Instructions
Preheat oven to 325°F.
In a large cast iron skillet or dutch oven, heat a few splashes of oil over high heat. Generously salt and pepper the meat on all sides, and carefully place in skillet. Sear the meat on one side (for about 5 minutes, or until browned), then flip it over and brown the other side. Transfer to cutting board or plate.
Generously season with spice mix and chili powder (don't hold back here – use more than you think is necessary).
Distribute 2 sliced onions (cut into eighths) across the bottom of the pan, and place the meat on top. One side of the meat will be fattier than the other – you want this side to be facing up. Arrange the other 2 sliced onions across the top of the meat. Drizzle with olive oil, cover with foil (or lid), and bake for 2-2.5 hours.
After 2-2.5 hours, remove brisket from oven and generously season a second time with spice mixture and chili powder. Slide another 2 sliced onions below the meat, and place another 2 on top of it. If the meat looks at all dry, drizzle with a bit more olive oil. Cover and return to oven; continue to bake for 2-2.5 more hours.
Remove from oven, let cool for 15 minutes, and transfer brisket to a cutting board. Cut the meat into slices (make sure you slice against the grain). Place slices back into skillet, slather top with ketchup, and generously drizzle on the Chile-Lime Cholula. Sprinkle with more spice mixture and chili powder. Bake for one more hour (covered) until the brisket is so tender it's practically falling apart. Remove from oven and let rest, covered, for 20 minutes before serving.