3.4.2012
Meena
*

Spicy Cabbage Cake & Masala Stuffed Okra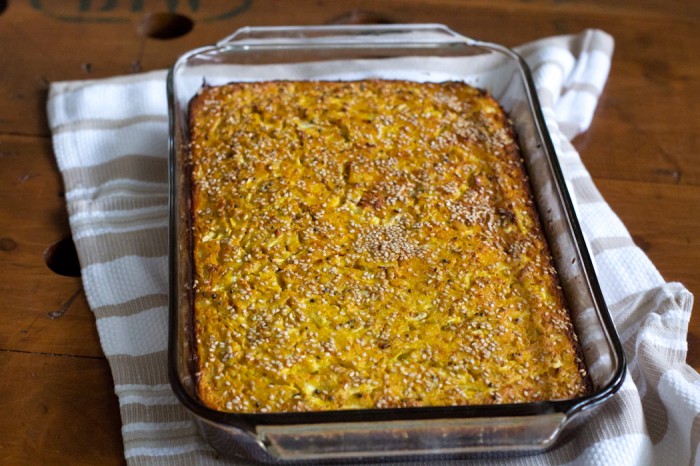 When I show up at Purvag's apartment, the kitchen is already abuzz with activity. Jars of brightly colored spices — crimson, burnt orange, saffron yellow — have been pulled from their cabinets. Heaps of okra and shredded cabbage sprawl out across the table. The food processor purrs fiercely in a corner. Purvag's mother, Meena, who is visiting from India, is whirring about the room with enough energy to power the whole apartment.
Though her physical presence is unimposing, it quickly becomes clear that Meena can hold some heavy weights. Back in India, she is both businesswoman and homemaker, running an engineering company with her husband and handling the affairs of the household. She does keep a cook in her home, but certain dishes even the cook doesn't know how to prepare. That's when Meena steps in.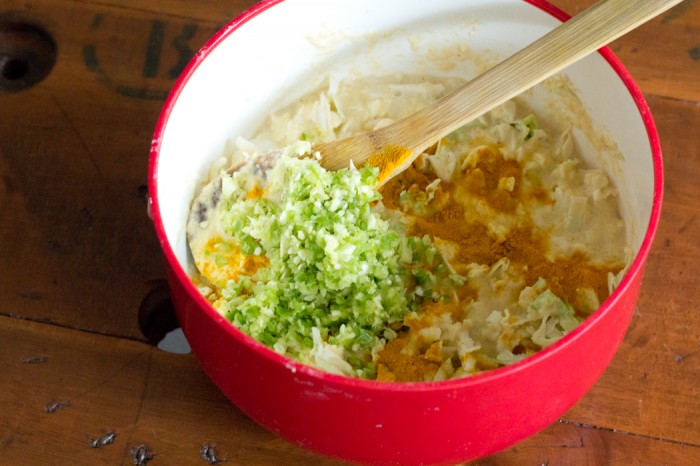 As to whether or not Purvag can cook, well… it depends on who you ask.
"Sort of," Purvag hedges. "Not really," Meena sighs. And at this, both of them burst out laughing.
Still, even if Meena is Captain of the kitchen, cooking itself is a team effort. While Meena grinds a blend of rice, chickpeas, and pigeon peas into a loose paste, Purvag minces the garlic, ginger, and green chili peppers that will go into the cabbage cake. He stirs in the shredded cabbage, and she adds the mustard and sesame seeds.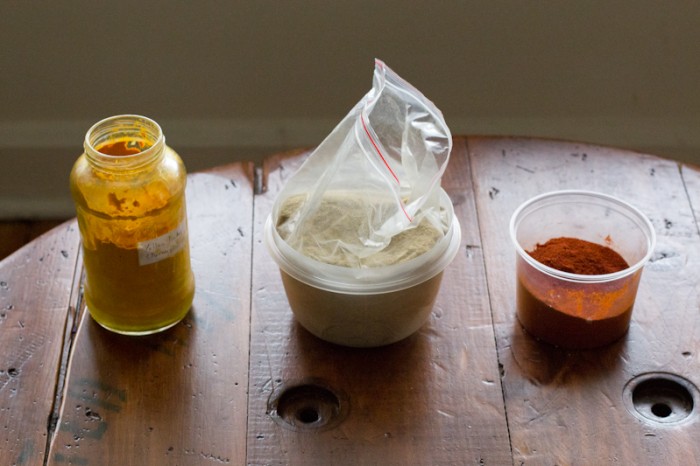 As the operation continues, Meena slices okra into little boats, and Purvag warms the mixture that will fill them: a spicy blend of oil, chickpea flour, coriander, turmeric, chili powder, and garam masala. Occasionally, Meena will grapple with the English word for an Indian spice, and Purvag will swoop in with the translation. Purvag fries the okra, and Meena tells him when they're done.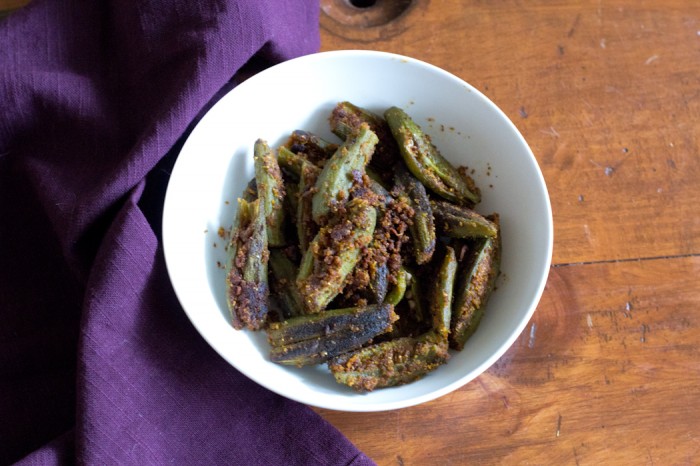 The result of their efforts is nothing short of spectacular. The cabbage cake is like a hearty, rustic cornbread — a golden, spicy cake with a hint of brown sugar, notes of garlic, ginger and sesame, and the crunchy bite of cabbage. Meanwhile, the stuffed okra is the perfect balance between mild, tender okra and a filling that resembles boldly spiced breadcrumbs.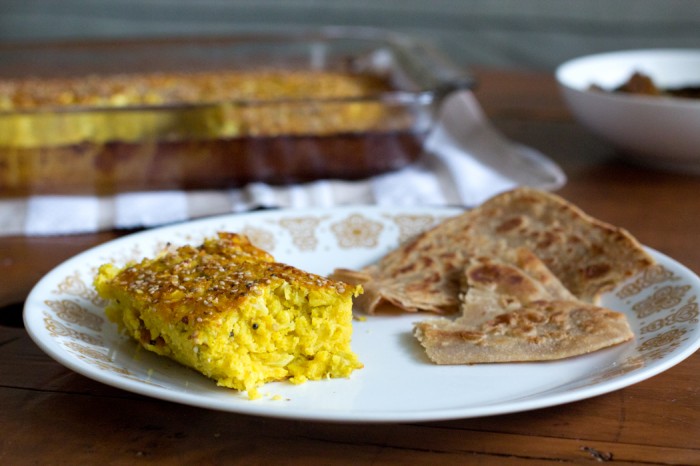 Both are great on their own, but even better together.
Three Quick Questions…and Meena's Answers
It's your last meal. What do you have?
This is hard, I love so many things. Hmm…cheesecake and margaritas.
Your kitchen is burning down. What's the one thing you grab?
I would grab the oil, so the fire can't catch it.
Do you have a favorite cookbook?
Any of Tarla Dalal's books on Indian cooking. She is a great Indian cook.
Spicy Cabbage Cake and Masala Stuffed Okra
Recipe type:
Main, Appetizer/Side
Serves:
cabbage cake serves 6, stuffed okra serves 4
Two classic dishes from Gujarat, India. They take a little time, but the results are well worth it.
Ingredients
FOR THE SPICY CABBAGE CAKE:
2 cups uncooked long grain rice
½ cup chana dal (may sub chickpeas)*
½ cup toor dal (may sub yellow split peas OR pigeon peas)*
4-5 pinches yeast
1 tsp sea salt
2 tsp brown sugar
1 tsp turmeric
4 large cloves minced garlic
1½ tsp minced fresh ginger
1-2 minced green chili peppers
2 cups shredded cabbage
½ cup plain yogurt (not non-fat)
½ cup canola or corn oil
2 tsp mustard seeds
2 tbsp sesame seeds
2 pinches asafoetida (may sub onion powder)*
FOR THE MASALA STUFFED OKRA:
1 lb fresh, tender okra
2 cups chickpea flour (besan)*
2 tbsp ground coriander
½ tsp turmeric
½ tsp chili powder
2 tsp garam masala
2 pinches asafoetida (may sub onion powder)*
1½ tsp sea salt
4 tbsp canola or corn oil
Instructions
FOR THE SPICY CABBAGE CAKE:
Wash and drain the rice, chana dal and toor dal in a colander. Transfer to a large bowl and add just enough water to cover. Let soak overnight.
In the morning, drain the water. Grind the rice, chana dal and toor dal in a food processor until it reaches a loose paste-like consistency. Add the yeast and stir well to combine. Cover and let sit at room temperature for 2-3 hours.
Preheat the oven to 350°F and grease a large casserole dish. Stir the salt, brown sugar, turmeric, garlic, ginger, chili pepper, shredded cabbage, yogurt, and oil into the yeast mixture.
In a medium-sized non-stick pan, heat a generous splash of oil over medium heat. Once the oil is hot, add the mustard seeds. When the seeds start to pop (be careful!), add 1 tablespoon of the sesame seeds and the asafoetida. After 3-4 seconds, turn off the heat. Add the contents of the pan (including oil) to the yeast mixture. Stir to blend. At this point, you want a sort of thick liquid batter; if needed, you can add a little water to thin it out.
Pour the mixture into prepared casserole dish and sprinkle the top with remaining 1 tablespoon sesame seeds. Bake for 40-50 minutes or until the top turns golden brown and a tester comes out clean. Remove from oven and allow to cool 5 minutes. To serve, cut the cabbage cake into squares.
FOR THE MASALA STUFFED OKRA:
Wash and dry the okra, then cut both ends off of each piece. Carefully cut a vertical slit into the okra, starting from one end and moving to the other. Make sure not to cut all the way through; you want the okra to remain in one piece, like a boat. Repeat for all okra.
Whisk together the chickpea flour, spices, and salt in a bowl. Heat 2 tablespoons of the oil in a skillet over medium heat. Stir in the chickpea flour and spice mixture, stirring frequently so that the spices don't burn (1-2 minutes). Allow to cool.
Gently stuff each piece of okra with a bit of the cooled spice mixture and pack it down with your fingers. It doesn't have to be perfect. Some of the mixture will spill out when you put it in the pan to cook – that's okay.
In a large, shallow, non-stick skillet, heat about 2 tablespoons of oil over medium-high heat. Place the okra, stuffed side facing up, on the pan in a single layer. Cook until the bottoms of the okra are brown. Reduce heat to low and cover most of the pan with a lid, venting it a little. Allow to cook for about 10 minutes, stirring occasionally. Remove lid and allow to cook 5 minutes more, or until okra is tender. When you can easily cut into the okra, it's done. Sprinkle with salt to taste.
Notes
*Look for these ingredients at Indian grocery stores; many of them should also be available at Whole Foods, and all of them through Amazon. For more details and information on substitutes, this is a good resource: www.foodsubs.com/