3.25.2012
Kristina
*

Choco-Cherry Almond Energy Bars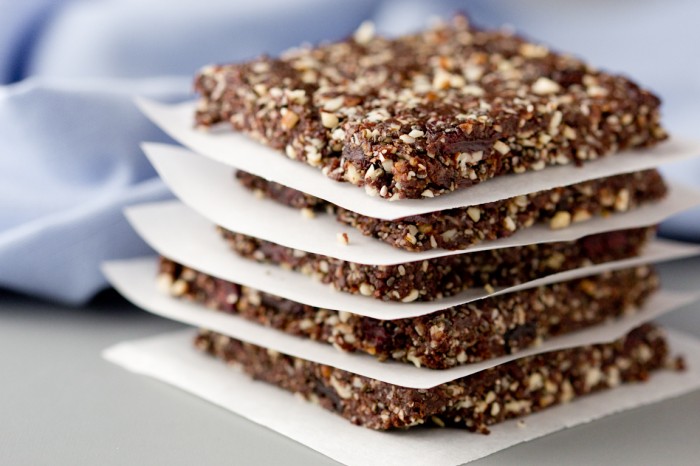 Kristina: "I was tired of the supermarket collection of energy bars, so I found a recipe that I could adapt to my own tastes. This is a super versatile recipe, and I make every batch a little different. They are way better than anything you could buy at the store!"
Kristina has it right — these are not your average energy bars. Puréed dates lend a natural sweetness and do a great job of holding everything together: the toasty almonds, the crunchy pecans, the rich cocoa powder, the dash of cinnamon, the bursts of chewy dried cherries. Chia seeds, which are rich in Omega-3 fatty acids, add a subtle nut-like flavor and wonderful texture. Another highlight? Eight moist, crumbly bars take just 15 minutes to make — no baking involved. Pack one up for a healthy breakfast on the run, or an afternoon snack to keep you going until dinner.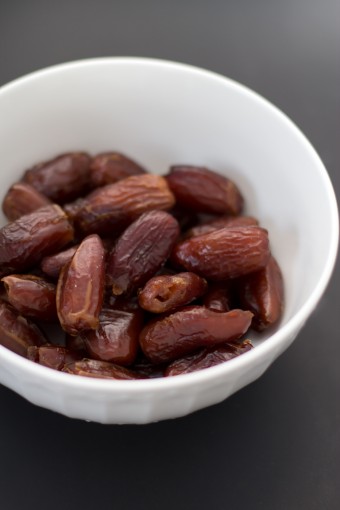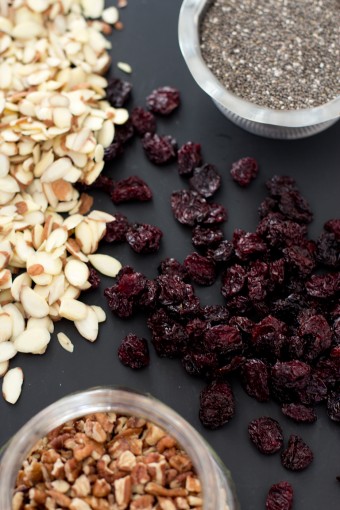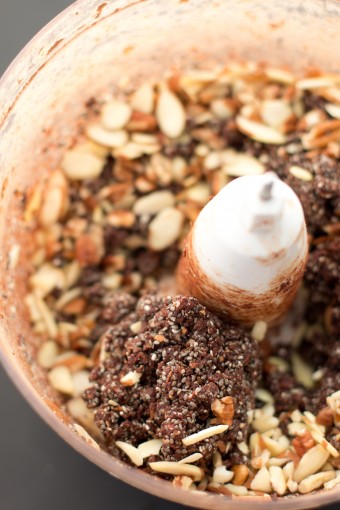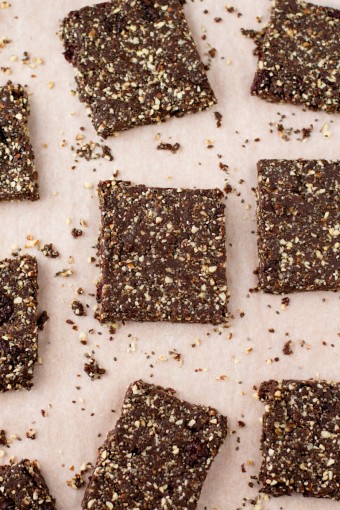 Three Quick Questions…and Kristina's Answers
It's your last meal. What do you have?
Pizza, of course! Wood fired, thin crust, melted mozzarella and goat cheese, with lots of fresh basil.
Your kitchen is burning down. What's the one thing you grab?
My cat, Marcel. He keeps a close eye on me while I cook.
Do you have a favorite cookbook?
My favorite cookbook is probably The Moosewood Restaurant Cooking for Health. It was my first vegetarian cookbook, and I always turn to it when I'm out of meal ideas. Another top pick would be Super Natural Every Day, by Heidi Swanson. She's the author of the cooking blog 101 Cookbooks, and I've never made a recipe of hers that I haven't liked.

No-Bake Chocolate, Cherry and Almond Energy Bars
Author:
Adapted from Vegetarian Times' Raw Chocolate-Chia Energy Bars
Recipe type:
Appetizer/Sides, Breakfast
Loaded with protein, fiber, and healthy fats, these bars make for a delicious and satisfying on-the-go treat. If you don't think your food processor can handle the dates, you can soak them in water for an hour beforehand to soften them up.
Ingredients
1½ cups pitted, dried dates
⅓ cup unsweetened cocoa powder
⅓ cup whole chia seeds
½ tsp cinnamon
½ tsp vanilla extract
¼ tsp almond extract
½ cup slivered almonds (unsalted)
½ cup chopped pecans (unsalted)
½ cup dried cherries
optional: sprinkle of sea salt
Instructions
Purée dates in food processor until a thick paste forms. Add cocoa powder, chia seeds, cinnamon, and vanilla and almond extracts. Pulse until all ingredients are combined. Add the almonds and pecans; pulse until nuts are well incorporated into date mixture. Stir in dried cherries.
Spread large sheet of wax paper on work surface. Transfer date mixture to wax paper, and press mixture into ½-inch-thick rectangle. If desired, you can even out the edges by trimming them with a knife. Wrap tightly in wax paper, and chill overnight.
Unwrap block, and cut into 8 bars. Sprinkle with a bit of sea salt (if using). Re-wrap each bar in wax paper and refrigerate leftovers in an air-tight container.
Two more variation ideas from Kristina:
Blueberry, Pistachio and Crystallized Ginger Bars: same as above but omit cinnamon; sub chopped pistachios for almonds and pecans; sub dried blueberries for dried cherries; stir in ⅛ cup chopped crystallized ginger after mixture is blended
Cranberry-Orange Walnut Bars: same as above but omit cinnamon and almond extract; sub chopped walnuts for almonds and pecans; add ½ teaspoon orange zest; sub dried cranberries for dried cherries