2.20.2012
Debby
*

Chocolate Chip Mandel Bread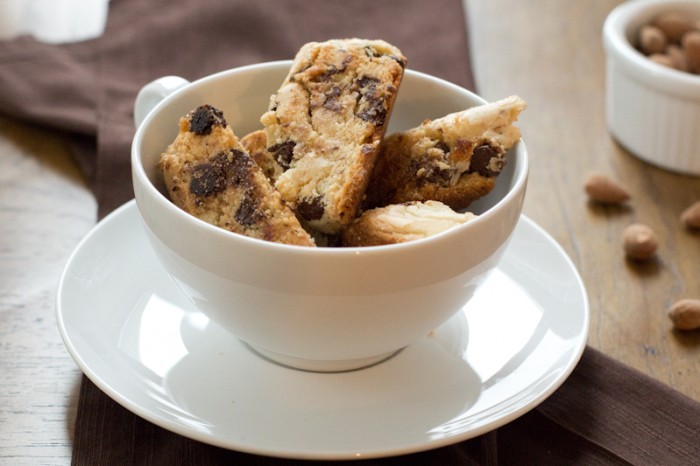 Debby is a bit of a mandel bread maven, if you will. She has been making mandel bread for years, although the history of this particular variation stretches back much further than that — all the way to Lithuanea, generations ago. When Debby's husband's grandmother immigrated to the U.S. at age 13, this is the one of the few recipes she brought along with her.
Over time, Grandmother Mary's mandel bread became rather famous within her family. In the summertime, her grandchildren would often visit Mary at her home in the countryside, where she would bake them mandel bread and cinnamon rolls even in the blistering heat. I'm making these just for you, Grandma Mary would say to each of her many grandchildren. "Of course, my husband grew up thinking that she made mandel bread just for him," Debby laughs. "And it wasn't until recently that he realized she pretty much told that to everyone!"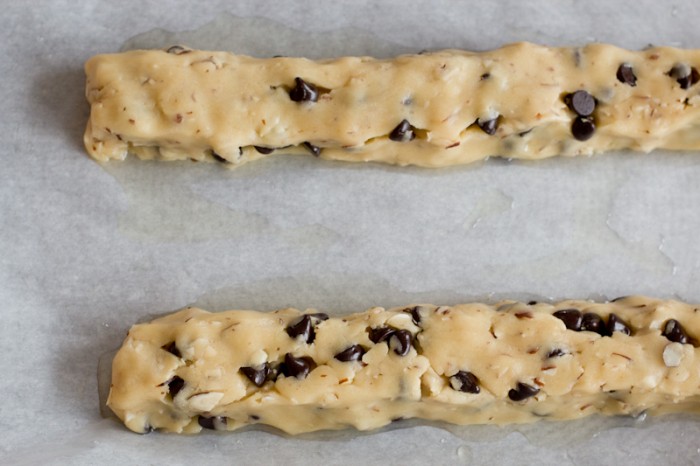 Still, there's no denying that every one of Mary's grandchilden felt special biting into that golden, crumbly cookie. The "Jewish biscotti," as Debby jokingly refers to it, and without a doubt, there are similarities. But whereas biscotti is light and airy, mandel bread is richer and denser, with a buttery crunch more akin to shortbread. The edges may crispen and crumble, but the moist interior tends to melt in your mouth, mingling notes of almond with plump bits of gooey chocolate.
Quite simply, it's delicious — perfect with a hot cup of coffee, a morning newspaper, a quiet afternoon, or as a post-dinner treat. And as it just so happens, Debby has kindly provided the recipe. Just for you.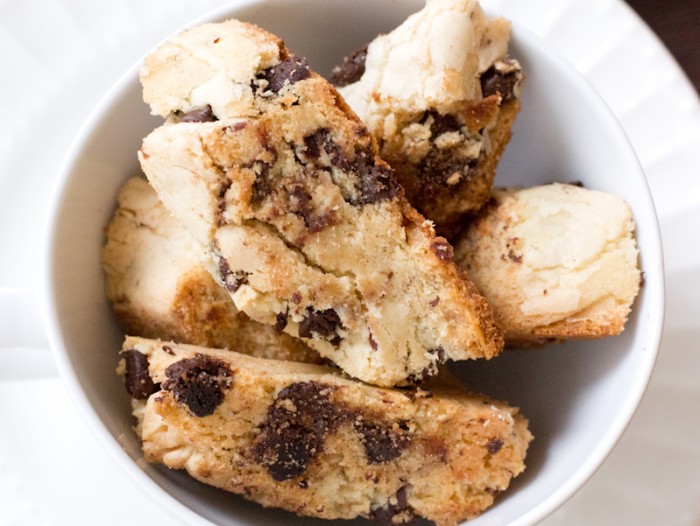 Three Quick Questions…and Debby's Answers
It's your last meal. What do you have?
A fresh, spring mix salad with berries, nuts, goat cheese and balsamic vinaigrette; glazed grilled salmon with roasted potatoes and French green beans; and a good cup of coffee and something with dark chocolate for dessert.
Your kitchen is burning down. What's the one thing you grab?
I have a big file folder of recipes from family and friends, so I would have to take that.
Do you have a favorite cookbook?
I think that file folder is my favorite cookbook.
Chocolate Chip Mandel Bread
Prep time:
Cook time:
Total time:
Chocolate chips and almonds make this mandel bread a simple, delicious treat for any time of day.
Ingredients
¾ cup vegetable oil
3 eggs
3½ cups flour
1 cup sugar
1 tsp baking powder
1 tsp vanilla or almond extract
¼ tsp salt
1 cup chocolate chips, raisins, dried cranberries, dried cherries, or any combination of these
½ - 1 cup sliced almonds
cinnamon and sugar, for sprinkling
Instructions
In a large mixing bowl, beat together oil and sugar, then stir in extract. Beat in eggs.
In a separate bowl, sift together flour, baking powder and salt. Stir the flour mixture into the oil, sugar and egg mixture. Stir in the almonds and chocolate chips (or raisins, dried cranberries or dried cherries). Cover dough with plastic wrap and refrigerate for 30 – 60 minutes. Meanwhile, preheat oven to 350°F.
Very generously grease two cookie sheets that have edges. Baking sheets can be lined with greased parchment paper or foil for easier cleaning. Form the dough into three logs, about 1¼-inch thick, and place on greased cookie sheets. Sprinkle a mixture of cinnamon and sugar on top of the logs. Bake for 15-20 minutes or until lightly golden on top.
Slice logs on the diagonal into pieces about 1-inch wide, and place the pieces on their sides; bake 5 minutes. Flip pieces over and bake an additional 5 minutes. Serve warm or at room temperature.