1.8.2012
Jane
*

Salmorejo (Tomato & Bread Soup)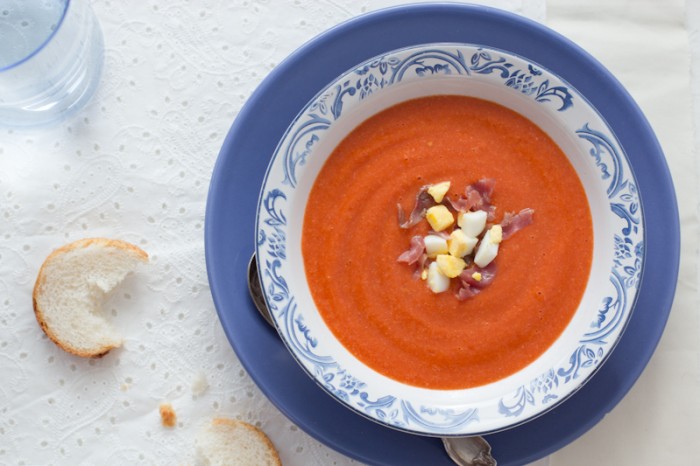 Everything seemed to be falling into place. Jane had just been accepted into medical school only a day before, and now she was about to embark on a two-week trip to Spain, a country whose food and culture had long been calling her to visit. And who knew? If things went well, she could always defer school and extend her trip. Perhaps she would even stay an entire year! Visions of late-night parties, new friends and endless tapas traipsed through her head. It would be perfect.
Only, it wasn't. That pesky old thing called reality, true to form, wound up falling frustratingly short of fantasy. Meeting new people as a solo traveler proved more challenging than Jane had anticipated and — at the height of winter — Spain felt subdued. Museums and architecture quickly grew old, and good food just wasn't as good without someone with whom to share it. "Everything was really beautiful," Jane recalls, "but I was super, duper lonely. And I realized I didn't like being a tourist, just wandering around as this outside observer of life."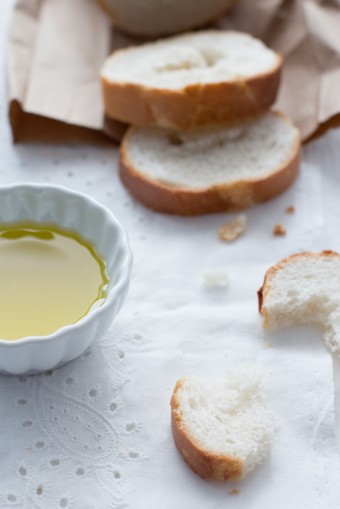 One evening, tired and hungry, Jane ducked into an unassuming, pint-sized tavern nestled deep at the end of a quiet cobblestone street. Inside, the room was aglow in warm shades of red and orange and yellow. Jane took a seat at the bar and glanced around. The place was empty save for a single server who, spotting Jane across the room, hurried over to hand her a menu. Paco, his name was, and what could he get her tonight?
She scanned the menu quickly until her gaze caught on something called Salmorejo. "What's this?" she asked him, pointing to the title. Paco's eyes lit up, and he grinned; nothing starts a conversation like food. Salmorejo, he explained happily, was sort of like the Gazpacho of Córdoba, a chilled soup made mostly of bread and tomatoes. Jane hesitated — she didn't really like Gazpacho.
No, no, no, he assured her, but it's different. You should try it.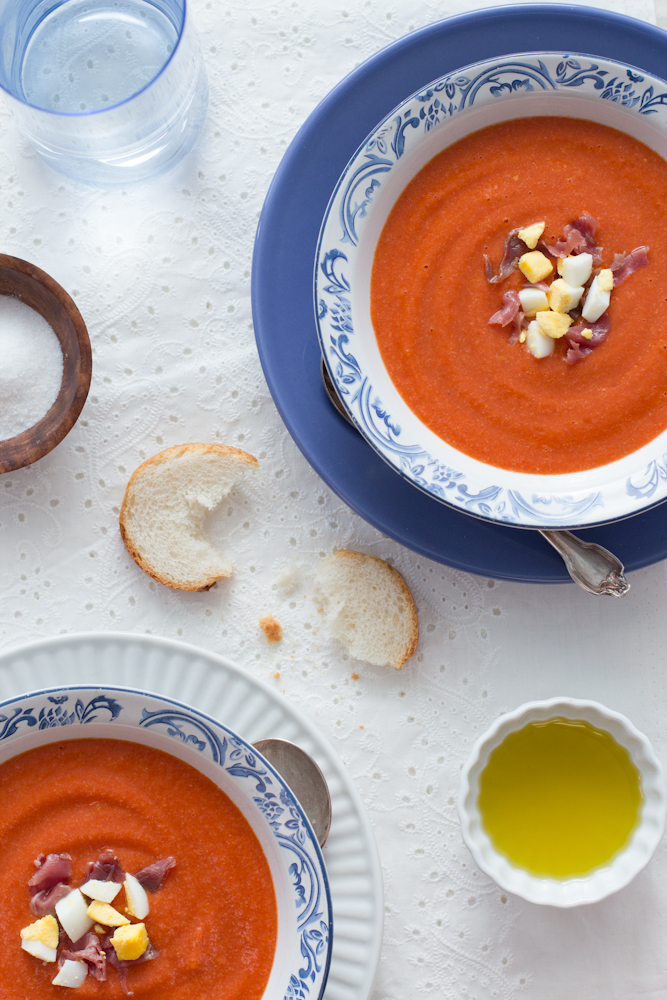 And so she did. Not only was it much, much better than Gazpacho, it was also the best soup Jane had ever had. "It was so incredible," she says, "that I asked the chef, whose name was also Paco, if I could have the recipe."
The ingredient list turned out to be so shockingly simple — tomatoes, garlic, salt, olive oil, and bread — that Jane almost couldn't believe it. "At first I thought the chef was pulling my leg, but he promised me that was all there was to it." Jane and the two Pacos ("Los dos Pacos") laughed and joked and talked through dinner, and by the end of the night, Jane was no longer a tourist. She was just another person living her life, eating a meal, shooting the breeze with a couple of friends.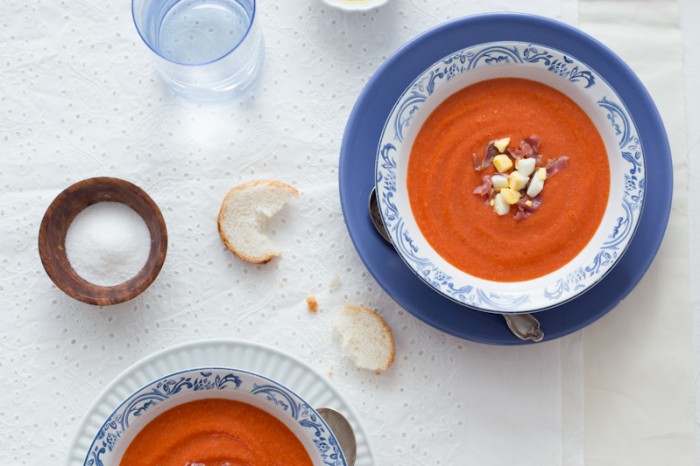 When she returned to the States a week later, Jane prepared the soup just as instructed, and to her great delight, found it exactly how she remembered it.  The color was a vibrant coral orange, the texture smooth and velvety, the flavor rich with garlic, tomatoes and a light, mellow olive oil. In the middle of winter, the Salmorejo was a sparkling summer day — a cool reminder of the warmth she found hidden in a quiet little tavern on a lonely night in Córdoba.
Three Quick Questions…and Jane's Answers
It's your last meal. What do you have?
It would have a lot of components, for sure. There would be a lot of garlic. There would be a lot of raw oysters from Maine. What else? Lots of cooked green things with lemon and garlic. Probably the Salmorejo. And maybe a pizza from this place in Athens, Ohio. It's crispy and chewy and not very thick, with a whole bunch of garlicky greens, fresh mozzarella, fresh tomatoes and preserved lemons. It is so good.
Your kitchen is burning down. What's the one thing you grab?
I guess this is a pragmatic answer, thinking about what would be the most expensive thing to replace, but I'd have to say my KitchenAid Stand Mixer. My mom and my best friend, Emily,  joined forces to buy it for me.
Do you have a favorite cookbook?
I actually have two favorites. One of them is the original Moosewood cookbook, which I think was updated at some point to make it slightly healthier so that it's not all fat and cheese and sour cream anymore. And then there's this great tapas cookbook that I got as a Christmas present years ago. It's just this tiny little thing, but it has the best, most amazing recipes. You can buy it new online for three dollars and sixty-three cents because it is that tiny.
Author:
From Taberna Pepe Misi restaurant in Cordoba, Spain
Recipe type:
Appetizer, Main
Prep time:
Cook time:
Total time:
Serves:
3 mains or 6 sides
Salmorejo is a creamy chilled soup originating in Córdoba, Spain. The soup calls for only five ingredients -- bread, tomatoes, olive oil, garlic and salt -- and is traditionally topped with a sprinkle of diced Serrano ham and hard-boiled egg.
Ingredients
1 cup day old crusty white bread, crusts removed, torn into small pieces
1 large clove garlic, peeled
1 (28-oz) can tomatoes
¾ cup extra-virgin olive oil
salt to taste
Optional:
⅓ cup chopped Serrano ham (about 1½ oz)*
3 hard-boiled eggs, coarsely chopped
Instructions
Combine bread and garlic in a blender and pulse until chopped. Add tomatoes (with liquid), puréeing until very smooth. With the blender running, slowly add in extra-virgin olive oil and purée about 3 minutes until frothy. Season with salt to taste.
Chill in refrigerator for at least an hour before serving. If desired, top individual servings with a sprinkle of chopped Serrano ham and hard-boiled egg.
Notes
*An uncooked, cured Spanish ham. If unavailable, prosciutto is a good substitute.