11.6.2011
Tory
*

Norwegian Pancakes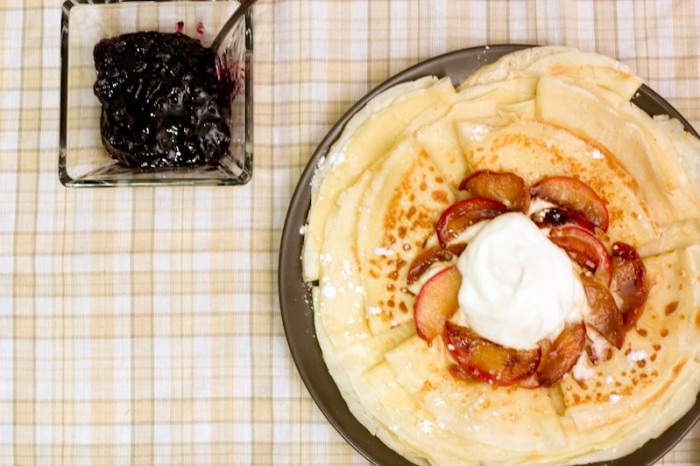 It wasn't the worst way to be woken up in the morning – the rich, sweet scent of pancakes bubbling golden on the griddle. Growing up, Tory knew immediately the familiar scene he would find in the kitchen as he made his way downstairs: his father standing over the stove, ladle in hand, a giant bowl of pancake batter to one side and an endless stack of pancakes to the other.
Endless isn't an exaggeration, either. He didn't make them every day, but when he did, Tory's father would make as many as 70 pancakes at a time. That may sound like a lot, and it is – enough for nearly a week's worth of leftovers. But these weren't your typical thick, heavy pancakes that put you back to bed just as soon as you've woken up. They were thin, light, and tender, kissed with only the smallest bit of butter and the softest hint of sugar. Similar to French crepes in appearance and taste, Norwegian pancakes (called pannekaker) offer the perfect backdrop to all sorts of fillings both sweet and savory.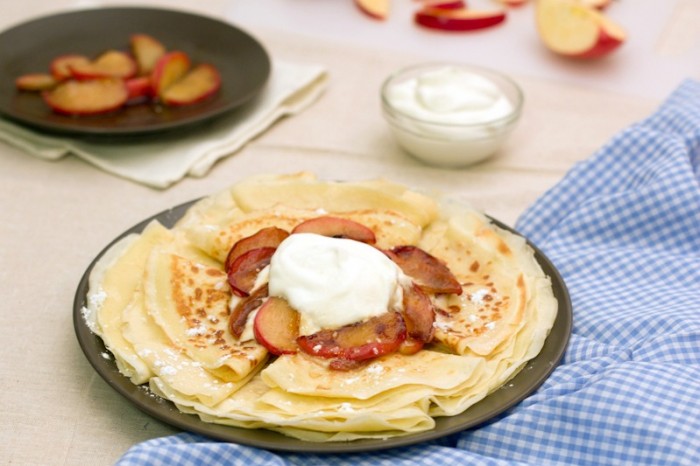 Pannekaker have been a staple of the Larsen family breakfasts for years — a tasty treat that Tory's great grandfather brought with him when he immigrated from Norway to Staten Island, New York in 1924. Back then, Tory's great granddad would row his boat across the Hudson to work each morning, and the pancakes served as delicious fuel. They have since been passed down from generation to generation with each man learning to make the pannekaker simply by watching his father. No one, Tory says, uses a recipe; the ingredients are simply combined until the batter begins to "look right."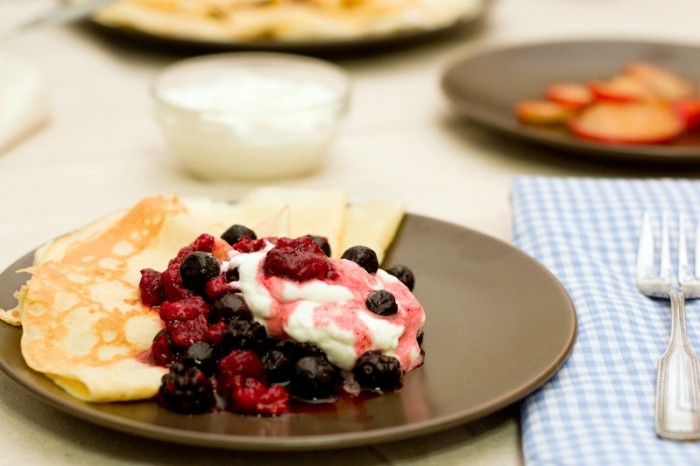 Fortunately, Tory and I were able to piece things together step by step, so even if you don't have a father who makes pannekaker, you're in luck — here is a recipe so you can enjoy them just the same.
Three Quick Questions…and Tory's Answers
It's your last meal. What do you have?
Is there a time limit on my meal? For an appetizer, I'd definitely have the pannekaker, but made by my dad. Next, I would have a big, juicy steak with mashed potatoes on the side, a bacon cheeseburger with everything on it, chicken Parmesan and some asparagus. Then I'd probably have some ice-cream to really top it all off.
Your kitchen is burning down. What's the one thing you grab?
There's nothing really worth saving in here, so I'd say just let it burn! And maybe I'd buy some new stuff with the insurance money.
Do you have a favorite cookbook?
The internet is my favorite cookbook.
| | | |
| --- | --- | --- |
| Tory * Norwegian Pancakes | | |
Author:
Serve these thin, light pancakes rolled up with all sort of fillings such as berries, jam, caramelized apples, whipped cream or maple syrup. You can also go the savory route by adding your favorite protein, cheese or veggies.
Ingredients
1 ½ cups milk
3 eggs
1/2 tsp vanilla (optional)
1 cup all-purpose flour
1/4 tsp salt
1 tsp sugar (optional)
Instructions
Combine the milk, eggs and vanilla in a large mixing bowl. Add the flour, salt and sugar, and whisk until smooth.
Heat a small cast-iron or other heavy-bottom pan over medium-high heat. Spread a teaspoon or two of butter on the pan to coat.
Scoop about 1/4 cup of batter into the pan, tilting the pan so that the batter spreads out evenly. Cook until the top looks dry, about 30 seconds.
Carefully flip the pancake with a spatula and allow to cook for a few seconds on the other side, until golden brown. Transfer pancake to a plate, and repeat with remaining batter.
Serve warm with your favorite filling.