11.27.2011
David
*

Strawberry Walnut Bread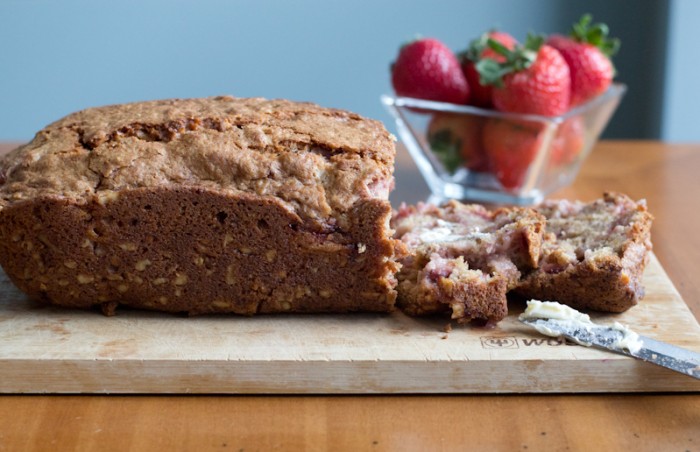 When David took his family apple picking one fall morning, he didn't anticipate how much fun it would be – for his children, yes, but also for him. Granted, it wasn't hard to lose oneself in the whole experience: in the cool, damp air, the endless rows of green, and the ruby-studded trees that gleamed in the slanted sun.
But that was only the beginning. David and his family returned home from the orchards with an overabundance of apples and not enough mouths. It was a problem of plenty, and the solution was pie – lots of them. It started with apple, but soon switched to peach, and cherry, and blueberry and plum.  Fruit picking became a family tradition, and for David, so did serving up sweets: "Desserts are great because everyone enjoys them, and since my wife isn't a fan of baking, they finally gave me a role in the kitchen!" he says, laughing.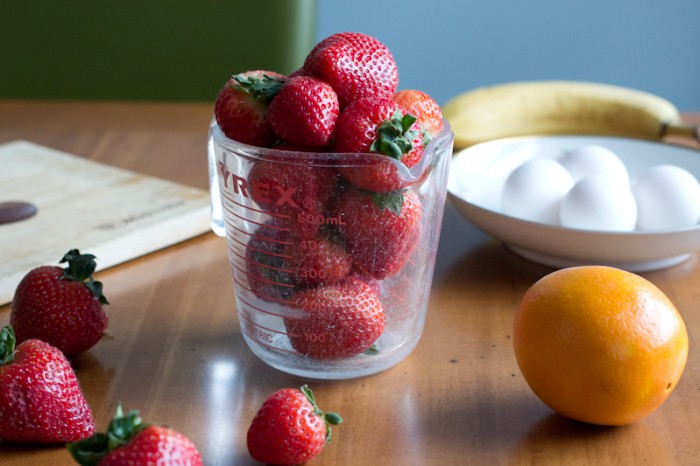 Then, as the seasons cycled, and produce came and went and came and went, David's kids continued to grow. "As they got a little older, they all started watching their weight and fruit picking (and the resulting pies) lost its appeal," David says. "So now I'll just go by myself or with my sister when she's in town, and I've started baking for others. I'll bake for a fundraiser, or a party, or when we go to a friend's for dinner."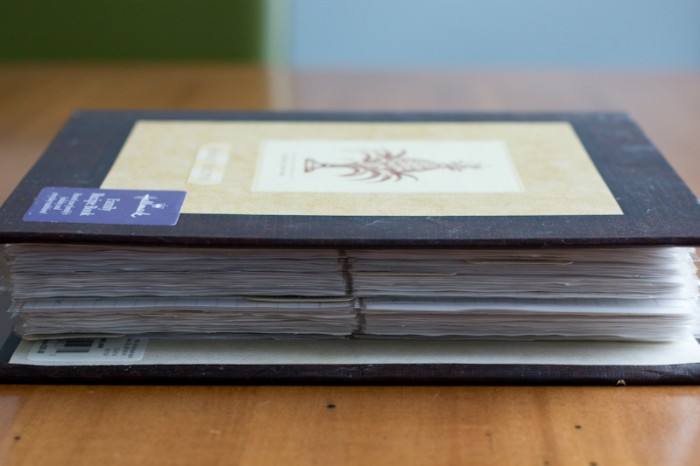 And though food makes for a nice gift, for a man who loves to bake, perhaps a cookbook is even nicer.  "A woman I know through work gave this to me about a year ago," David says, flipping through an album of over 100 recipes scrawled out on individual note cards. "She doesn't have a computer so she wrote them all by hand. I think she's made twenty of these books in total to give to friends and family. And it's something I really appreciate."
Truly, the book was a wonderful gift: a vast array of thoughtfully selected, tried and true, well-loved recipes to be made again and again, year after year. "I've started working my way through some of her bread recipes," David tells me, "and so far they've all been fantastic: the Zucchini Bread, the Orange Bread, and most recently, and perhaps most notably, the Strawberry Walnut Bread."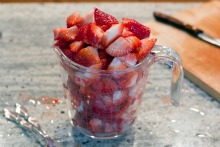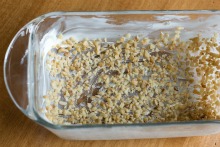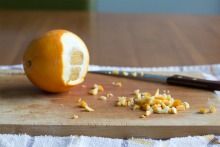 One of the best things about the bread is the way that, as it bakes into a golden brown, the warm scent of cinnamon floods your entire kitchen. Moistened with mashed banana, dotted with plump strawberries, and lined with a craggy walnut crust, the bread turns out so delicate and tender it tends to fall apart to the touch. Which means that you'll have to pick it up with your hands, in little pieces, and linger over every slice. And though the crumb is dense and almost cake-like, it feels much healthier than that, more nourishing, with just the right amount of sweetness. Smudged with a bit of butter and paired with a hot cup of tea, the bread makes for an ideal breakfast or a delicious afternoon snack.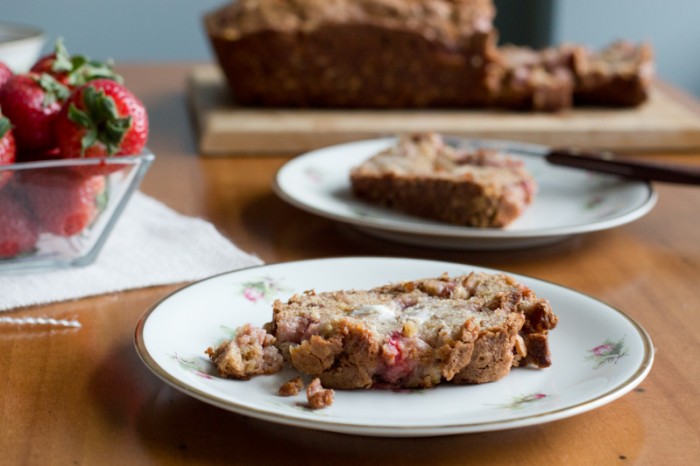 Another plus? The recipe produces not one, but two lovely loaves. Just enough for you and — if you're feeling generous — enough to gift to someone else.
Three Quick Questions…and David's Answers
It's your last meal. What do you have?
Probably a good apple crumb pie.
Your kitchen is burning down. What's the one thing you grab?
My meat cleaver. It reminds me of the Chinese cooking class I took just out of college – I used the cleaver a lot for chopping and it's just very useful.
Do you have a favorite cookbook?
Honestly, the only cookbook I really use is the Joy of Cooking. That was where I first learned to cook and I still go back to it today.
Recipe type:
Breakfast, Dessert
Prep time:
Cook time:
Total time:
Serves:
makes two 9" loaves
A wonderfully moist quick bread filled with fresh strawberries, chopped walnuts and a generous dose of cinnamon.
Ingredients
2 cups chopped walnuts
3 cups all-purpose flour
1 tsp baking soda
2 tsp cinnamon
¼ tsp nutmeg
½ tsp salt
4 eggs, beaten
3 cups chopped strawberries
2 cups sugar
1 cup mashed banana (about 3 medium bananas)
1 cup vegetable oil
1 tbsp finely chopped orange peel
Instructions
Preheat oven to 350°F.
Grease two 9" loaf pans and sprinkle the bottom of each pan with a ½-cup of the chopped walnuts. In a large mixing bowl, stir together flour, baking soda, cinnamon, nutmeg and salt.
In a separate bowl, combine the rest of the walnuts with remaining ingredients (everything from the eggs to the orange peel). Gradually stir in flour mixture, about a cup at a time, just until moistened.
Distribute batter evenly into each pan and bake for about 1 hour. The bread is done when a toothpick inserted into the center of the loaves comes out clean.
Remove from oven and allow to cool for 10 minutes before removing the loaves from pans. Cut bread into slices and serve warm or at room temperature.