10.2.2011
Ficre
*

Spicy Red Lentil and Tomato Curry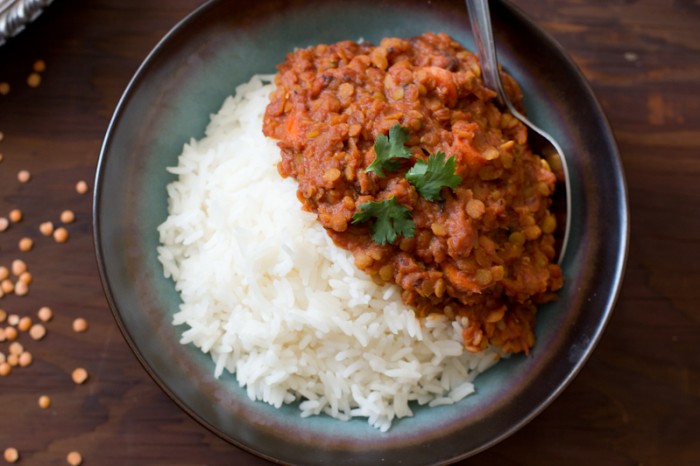 Light streams through the kitchen windows and washes the walls in golden wheat. On the stove, coffee beans like small gems shimmy and shake in a pot. As they roast — slowly, over low heat — a rich, nutty aroma fills the air and the beans begin to glisten. "You see that oil?" Ficre asks me. "You don't want that burning off. This is the point when you remove the beans from the heat."
For Ficre, roasting his own coffee is only one of the many traditions he brought with him when he moved over 30 years ago to New Haven, Connecticut from modern Eritrea, an East African country of 3.5 million people located along the Red Sea. Like his coffee, Ficre is full of depth — his life a complex tapestry of experience, his food filled with subtle nuances and intricate flavors.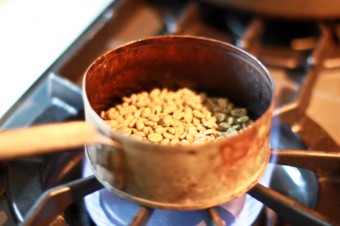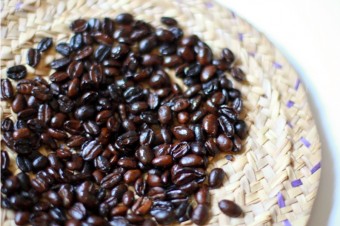 I am not the first, nor the only one to notice this. In the 1990s, when he opened an Eritrean restaurant, Caffe Adulis, with his two brothers, many people took note of his cooking, as did the New York Times. So I feel very fortunate that today he is sharing with me not only his coffee, but also another tradition: a smooth, spicy red lentil dish that his mother, a Coptic Orthodox Christian, would make for lent.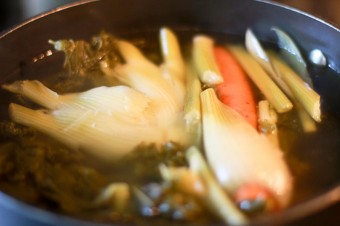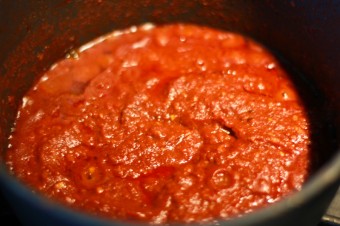 When I ask him what the dish means to him, Ficre shrugs his shoulders. "I don't know! I'm a man of few words," he says, grinning. "I guess the food speaks for itself, right? It's healthy, it's nourishing, it's balanced. It reminds me very deeply of my parents and their faith. But it's only the tip of the iceberg." During lent, as Ficre tells it, the 40-day fast would be filled with all sorts of vegetarian extravagances his mother would make for their family of nine, each meal more flavorful than the next. "The breads become more sophisticated, the stews become more complex. It takes a certain leap of cognition to make so much out of a few vegetables and grains," Ficre says. "It reminds me of my mom at her best."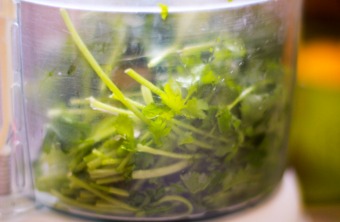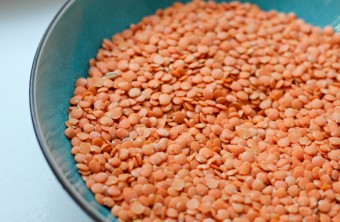 Indeed, the red lentil dish proves much more than the sum of its parts. The ingredients are simple — tomatoes, lentils, curry, vegetables — though as they simmer, the flavors mingle, intensify, transform. The pot boils up with the deep, heady scent of spiced curry and sweet, smoky tomato. The final touch is a generous "blast of cilantro," which Ficre adds "whenever the spirit moves me." Here is a dish that gives back to you what you give to it; give it time to linger over low heat and you will not be disappointed.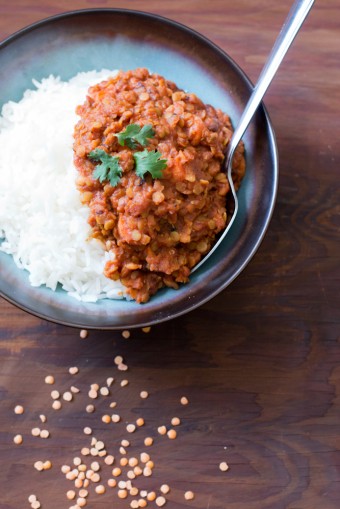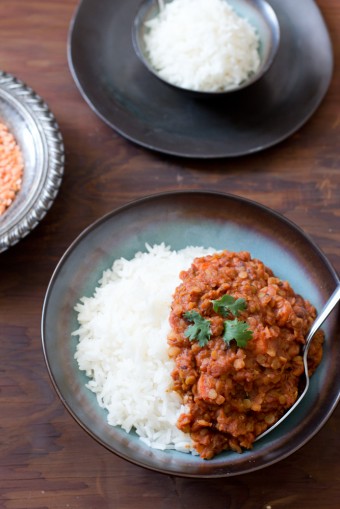 As Ficre and I sit down to enjoy a small cup of coffee and a bowl of steaming hot lentils, the room gets a little quiet as we are both consumed by the food. "I think the only thing that could make this dish better," Ficre starts, "is a little Tesmi, a clarified spiced butter. When I was little, if we weren't eating this for lent, I would be holding my mother's hand as she cooked, telling her to add more butter!'" he laughs. "It was always: more butter, more butter…"
Three Quick Questions…and Ficre's Answers
It's your last meal. What do you have?
Probably this dish. It's a very good dish. There are many other things that I could have made that remind me of my parents, but I think this one is the best.
Your kitchen is burning down. What's the one thing you grab?
This work of art right here (motioning to a watercolor painting of a pig sitting beside a giant flower vase, on the top of a hill). Our son Simon made it when he was eight or nine years old — we call him our little surrealist. Everything else in here is replaceable, but Simon is never going to be eight or nine again and paint this same painting.
Do you have a favorite cookbook?
I'm not sure — is it okay not to have an answer? My wife uses most of the cookbooks. She loves Nigella Lawson, says she's a diva. I must admit that How to Be a Domestic Goddess is a very, very smart book. However, in general, I'm not a big believer in recipes. I find them a little controlling of one's energy.
Spicy Red Lentil & Tomato Curry
Prep time:
Cook time:
Total time:
Don't be scared off by the long cook time -- for the most part, once you've taken care of the chopping, all you'll need to do is check on this dish occasionally as it simmers. To cut down on cook time, you can also use store-bought vegetable stock rather than making your own (you will need 2-3 cups). A note on tomato passata: although it isn't incredibly common in the U.S., I've found it at Whole Foods and another grocery store in the area. It's a tomato purée similar to tomato paste and tomato sauce -- the main differences are that the tomatoes in the purée are uncooked, with no additional ingredients added, and it's not cooked down like tomato paste. If you can't find it, you can certainly substitute tomato sauce or crushed tomatoes for a slightly different flavor.
Ingredients
FOR THE STOCK:
2 heads fennel
2 heads kale
1 yellow onion, cut into large pieces
2 large carrots, cut into large pieces
1 stalk celery, cut into large pieces
4 cloves garlic, finely chopped
FOR THE TOMATO CURRY SAUCE:
24 oz can tomato passata
2 carrots, chopped
3 cloves garlic, finely chopped
2 tbsp curry powder
½ tsp cayenne
½ tsp paprika
2 cups dry red lentils
¼ cup fresh cilantro, chopped
salt to taste
Instructions
In a large heavy pot, combine the first 6 ingredients and enough water to cover the vegetables by about a half inch. Allow stock to simmer for 4 hours.
After the stock has been simmering for about an hour, you'll want to start making the tomato curry sauce. Combine the tomato passata, 2 chopped carrots, 3 cloves chopped garlic, and the spices in another large heavy pot and allow to simmer 3 hours.
Add lentils to tomato curry sauce and let simmer 20-30 minutes more, adding stock as needed to thin it out (about 2-3 cups). The mixture should be thick and creamy, not soupy or dry.
Stir in fresh cilantro and remove from heat. Season with salt to taste. Serve lentils alongside basmati rice.