8.21.2011
Susan
*

Chocolate Meringue Cookies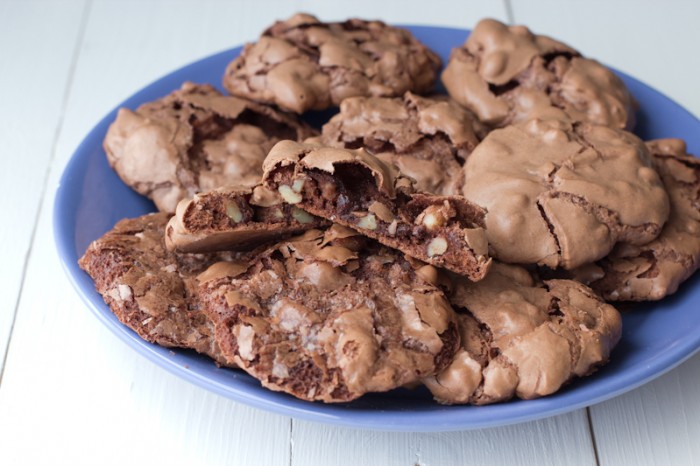 The custom-built kitchen was straight out of Mad Men, only it wasn't a set for a television show. The butcher block counters sprawled out and hugged the walls, not one but two shiny ovens sparkled and gleamed, and a little hallway opened up into a grand dining room filled with shimmering chandeliers, a french mahogany table and velvet-cushioned chairs. Upstairs, in the bedroom, slept an enormous collection of cookbooks, well over one hundred — some nestled on bookshelves while the others, the ones that rarely caught a wink, sat piled high beside the bed. The bed belonged to Susan's mother.
"My mother's life-long hobby," Susan explains, "was hosting dinner parties. She had them about twice a month, for four or five couples at a time. She would spend not only the entire day cooking, but the day before, making these incredibly lavish dishes like croquembouche — a french pastry that builds into a cone — and chocolate roulade — a sheet cake with whipped cream rolled into it. The best part was that, as a kid, if you hung around long enough, at the end of the night you could help clean up, get some of the food and watch all of the adults get drunk."
Though the dinner parties never failed to impress, Susan's mother was by no means a perfectionist in the kitchen. "She didn't get too hung up on all the details," Susan says, "She was never a food snob. She came from a family where they really enjoyed food — it was a delicacy, but always sort of hearty. She was the kind of the mother who just said 'go cook something' and encouraged us to do it ourselves. Sometimes she would have us go down to the beach with a big bucket to collect mussels, and then she'd steam them with wine for dinner. She just made use of what was there."
As Susan describes her mother's dinner parties and the leisurely joy she found in food, her words play out before me like a silent film reel. I can picture clearly the time and place, and yet the scene feels somehow foreign. These days, life seems far too hurried, too distracting, too expensive to be throwing the kinds of parties, with the kind of frequency, that Susan's mother enjoyed. It's harder to get people together, to coordinate hectic schedules, to manage work and play and that ever-elusive balance between the two. There are many great things about the present day, but still, there's no denying the pull of the past. Thankfully, certain remnants have been passed down to us.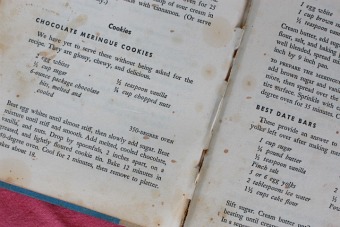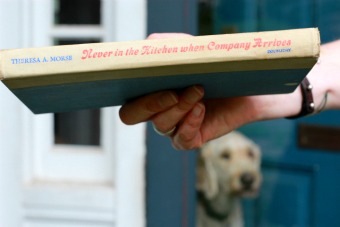 "After my mother passed away," Susan says, we donated most of her books, but I picked out a few that I remembered her using more heavily, that had more emotional value to me. And this is one of them: Never in the Kitchen When Company Arrives." The book is worn and weathered with use, missing the jacket it came in, filled with splatters of the food it was designed to make. "In the 1960s, the book was considered very gourmet, it was trying to use more fresh foods. But looking at it now — well, no one with high cholesterol would be cooking out of this book. That's what I like about it. It's filled with very rich, very delicious food." Things like Peaches Glamour, Friendship Fruit Cake, and one of Susan's mother's favorites: Chocolate Meringue Cookies.
"These cookies are something my mother made a lot for company, something sort of special." Susan begins to set out the ingredients on the counter: the eggs, the sugar, the walnuts, the chocolate. "They don't have flour in them, so they feel very light," she tells me.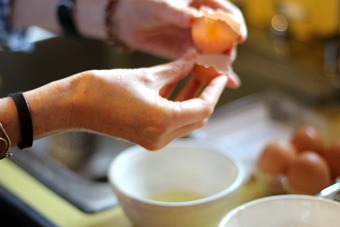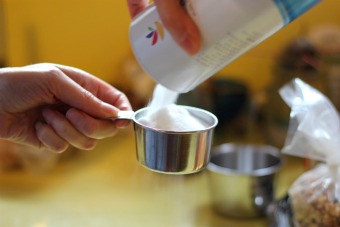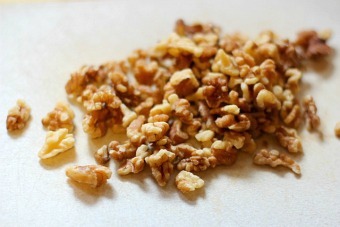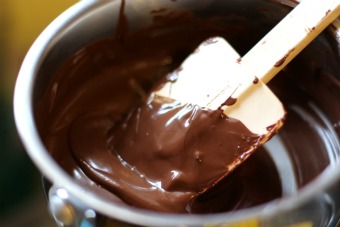 Susan beats together the egg whites and the sugar. We add in the vanilla and the melted chocolate, cooled just to room temperature, then stir in the chopped walnuts until the mixture is a smooth, chocolatey cloud. "If you're my mother's child, this is the part where you get to lick the spoon," she says.
As she gathers up generous dollops of dough and drops them onto a baking sheet, Susan advises me that the cookies are not meant to be perfectly shaped. They're supposed to be a bit messy, a bit irregular, with dreamy peaks, sweet valleys and craggy, nutty mounds. The outsides turn crisp and glossy as they cook, but take one bite and you'll find a center filled with rich, gooey chocolate.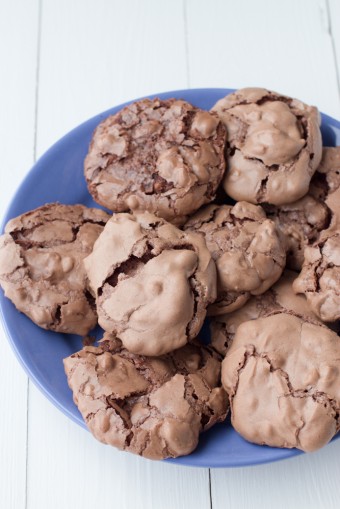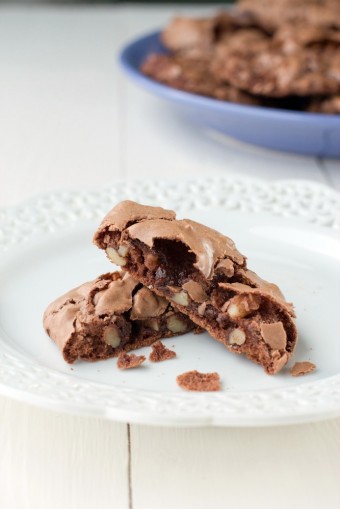 So rich, in fact, that for just a moment, I can feel myself dissolve backwards into the decadence of a different era entirely.
Three Quick Questions…and Susan's Answers
It's your last meal. What do you have?
Oh, clearly a Greek salad. I sort of developed a fondness for them as a teenager. There was this tiny little shop in town called the Mediterranean Snack Bar, and my sister and I used to go all the time. I would order the Greek salad, and I've loved them ever since.
Your kitchen is burning down. What's the one thing you grab?
I don't know, what do I have in there? I'd say photographs of the kids, and the artwork. But is that answer too typical?
Do you have a favorite cookbook?
I would say this cookbook, Never in the Kitchen When Company Arrives, because it's such a sentimental book for me, and you can't reproduce the memories that go along with it. So even though I don't entertain that much and we do more things as a family, this would have to be my favorite cookbook.
| | | |
| --- | --- | --- |
| Chocolate Meringue Cookies | | |
Author:
Serves:
Makes about 18 cookies
These cookies are incredibly quick and easy to make. If you serve them at a dinner party (as Susan's mom would), be prepared to hand over the recipe as there will be no shortage of requests!
Ingredients
2 egg whites
1/2 cup sugar
6-ounce package semi-sweet chocolate chips, melted and cooled to room temperature
1/2 tsp vanilla
3/4 cup chopped walnuts
Instructions
Beat egg whites, slowly adding in sugar, until the mixture forms soft peaks.
Gently fold in melted, cooled chocolate, vanilla and nuts, and stir just until blended.
Drop by spoonfuls, 2 inches apart, onto a greased baking sheet.
Bake 12 minutes in 350° oven.
Cool for 2 minutes, then transfer to platter.