7.17.2011
Nana
*

French Coconut Pie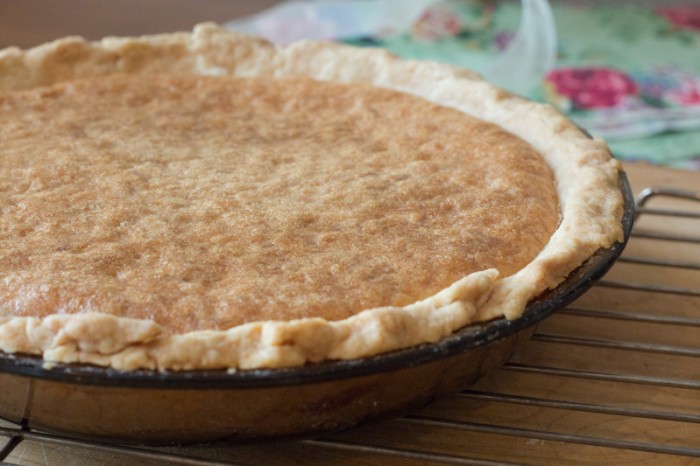 The story of my grandmother's French Coconut Pie really begins in Nashville, Tennessee, during the summer of 1950, and in fact, it begins with a Cherry Pie. At the time, my grandfather was a first-year medical student at Vanderbilt University, and my grandmother was a freshman in the nursing school. My grandfather loved sweets, and the first time my grandmother had him over for dinner, she promised to make his very favorite dessert: "Oh, yes," she told him. "I could bake you a cherry pie!" My grandmother had never made a pie in all her life.
And so, what began as a simple cherry pie (a recipe handed down straight from the files of Betty Crocker), soon evolved into all sorts of culinary escapades: pumpkin-pecan pie, bourbon-soaked bread pudding, raspberry-lemon trifle. And in 1953, on the cusp of their  senior year, that cherry pie turned itself right into a marriage.
Shortly thereafter, my grandparents graduated and moved to New Orleans. About six years after that, my grandmother quit her job as a nurse to take on the task of raising three young children. Meanwhile, she worked her way through Betty Crocker's cookbook, continued to experiment in the kitchen, and perfected the art of the pie crust. "Your grandfather had to have a different dessert every night," she tells me. "Maybe he would take a piece of leftover pie to lunch the next day, but at night, it was never the same thing twice."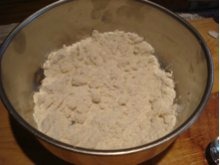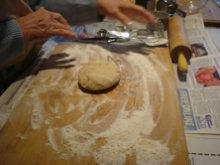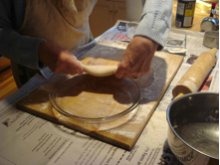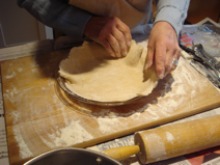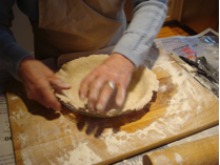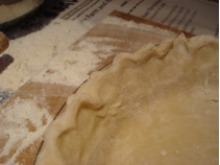 Not surprisingly, my grandmother was always on the lookout for great-tasting sweets, and one of her favorite recipes came from her mother-in-law, Juanita. It's a recipe for French Coconut Pie that Juanita made at Christmas one year; when I asked my grandmother where it came from originally, she wasn't sure. "Juanita was from a small town — Waurika, Oklahoma — and the ladies swapped recipes all the time. She probably got it from a friend. Cooking was a big thing at the time. It was an accomplishment I think most women strived for. It was sort of a badge of honor to be considered a good cook."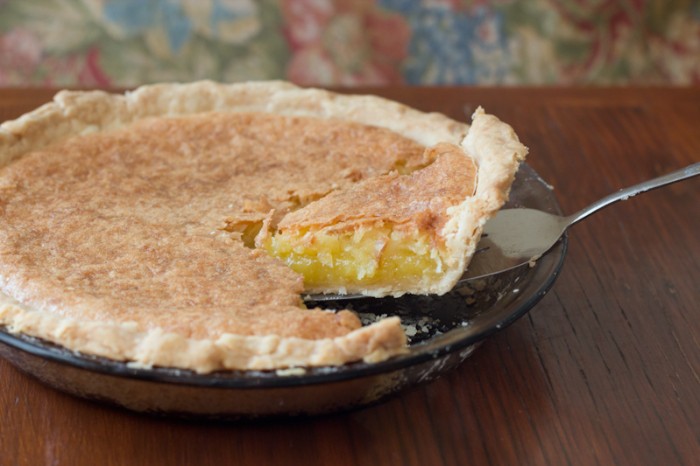 Today, my grandmother is still baking that French Coconut Pie, and it's one of my favorite desserts of all time — a dreamy combination of flaky golden crust, pillowy soft coconut, and a crisp, honeyed shell. For this recipe, I thank my grandfather, his sweet tooth, and the cherry pie that started it all.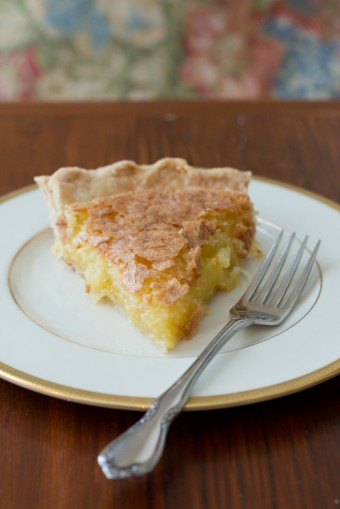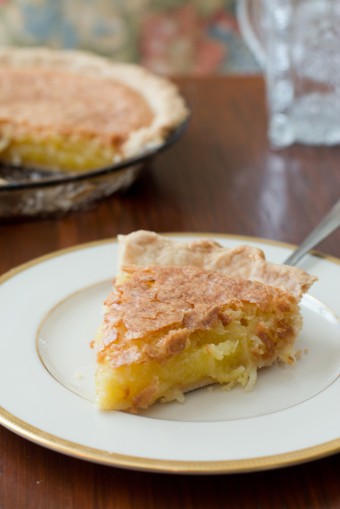 ***If you like coconut and/or this recipe, be sure to check out my grandmother's Coconut Pound Cake as well: http://www.dramaticpancake.com/2012/04/coconut-pound-cake/
Three Quick Questions…and Nana's Answers
It's your last meal. What do you have?
Just a good old fashioned apple pie.
Your kitchen is burning down. What's the one thing you grab?
My Christmas cookie cutters, because those are the cutters I used when I sent you and your brother cookies all those years. And you can't find that set anymore.
Do you have a favorite cookbook?
The original Betty Crocker Cookbook. I still go back to it to look things up.
Prep time:
Cook time:
Total time:
Recipe is for an 8- or 9-inch pie crust. If your kitchen is warm, place your shortening, flour, mixing bowls and utensils in the freezer briefly before you get started.
Ingredients
FOR THE PIE CRUST:
1 cup all-purpose flour
teaspoon salt
⅓ cup plus 1 tbsp shortening
2 to 3 tbsp ice water
FOR THE FILLING:
1 stick melted butter
1½ cups sugar
3 whole eggs
1 cup sweetened coconut flakes
1 tsp white vinegar
1 tsp vanilla extract
Instructions
For the pie crust:
Measure flour and salt into bowl. Cut in shortening thoroughly using either two knives or a pastry blender until the mixture resembles large, coarse crumbs. Sprinkle in water, 1 tablespoon at a time, mixing with a stiff spatula until the dough just begins to clump. You may or may not need the full 3 tablespoons of water to reach this point, so don't feel like you have to use it all.
Gather dough into ball; shape into flattened 4-inch round on lightly floured cloth-covered board. (If you have time, wrap it in plastic wrap and refrigerate for one hour or more. When you take it out, let the dough soften slightly at room temperature)
On a lightly floured board, use a floured rolling pin to roll the dough into a circle 2 inches larger than the inverted pie pan. Roll from the center outward in light strokes. As you roll out the pastry, periodically rotate it a quarter of a turn. As needed, lightly flour the board so that the pastry does not stick. Occasionally, flip the pastry (if you dare!). When completed, gently fold the pastry into quarters (fold the pastry in half and then in half again); place the folded pastry into the pie plate with the point in the very center and then unfold it in the pan.
Trim overhanging edge of pastry 1 inch from rim of pan. Fold and roll pastry under, even with pan. To crimp the edges, pinch the dough in one spot between your left thumb and index finger on one side and with your right thumb and index finger on the other; then twist each pinch in opposite directions to crimp the dough. Move over to the next portion of the edge, repeating all the way around the edge.
For the filling:
Preheat oven at 350°F. Combine all of the filling ingredients and pour in unbaked pie shell. Bake for 45 minutes until golden brown.