7.24.2011
Meg
*

White Beans and Leeks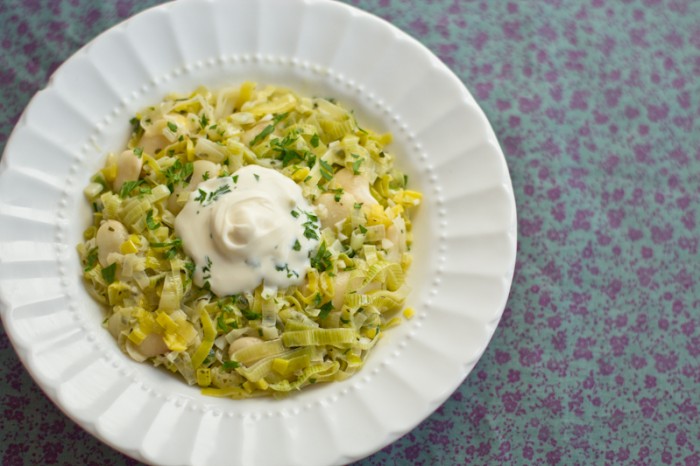 "So many things come to mind when I think of this recipe, when I think of leeks in particular. It sounds strange, but I'm so enamored with them. And they're just this simple, random root vegetable." Meg may call them simple, but I'm not convinced. Her ex-boyfriend is out of town for a bachelor party, and here we are in his kitchen with his two cats, Gus and Olive, about to whip up some white beans and leaks. I think it's safe to say there's nothing simple about it.
"This recipe is the first real recipe that Alex and I cooked together as a couple, about four years ago," Meg tells me as she begins to lay out the ingredients: the cannellini beans, the freshly-cut leeks, the crème fraiche, the white wine. She takes a pair of scissors and snips a bunch of thyme from the plant beside the window. You can tell by the way she handles the thyme, in the way she slices the leeks with careful, deliberate strokes, that she cares about this dish.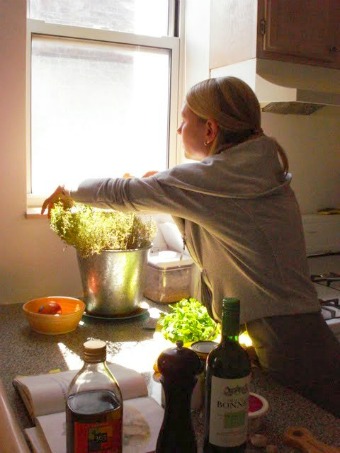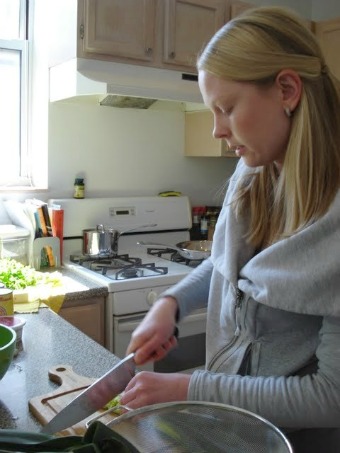 But she didn't always. In fact, neither she nor Alex had cared much for cooking at all when they first began dating. "I was trying to eat healthfully, but I was doing it in a very naïve, sort of ignorant way," Meg says. "I was eating a lot of frozen, packaged food with a lot of health claims. And I wasn't taking pleasure in planning what I ate, in preparing it, in savoring a meal. But then one day, Alex and I decided to get adventurous."
Adventure arrived on their doorstep that Spring in the form of a small local produce box filled with leeks. They didn't seem like much – a sort of homely cross between onions and garlic. But Meg and Alex decided to give them a try, and after searching for something to make with them, finally settled on Jamie Oliver's Creamiest White Beans and Leeks. The result?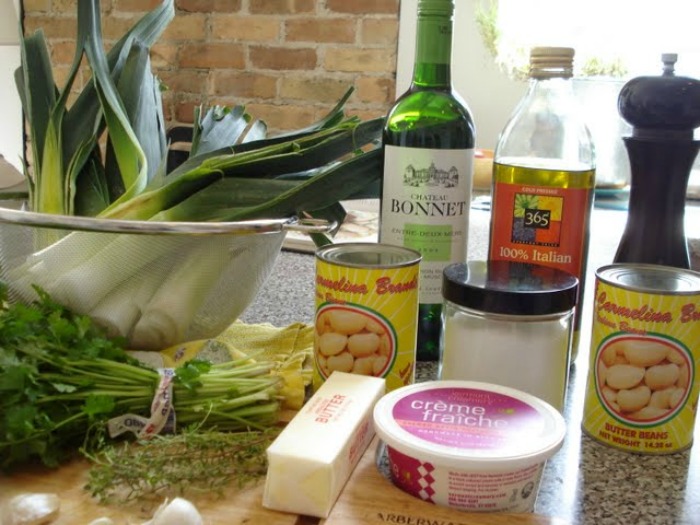 "We were totally blown away. That was sort of the beginning of our fascination with the world of seasonal, local eating. And I realized that whether it's with yourself, your friends, or your significant other, you tend to think about enjoying food as having dinner out, or even cooking together. But for the first time, the enjoyment came from simply picking out my ingredients." Meg and Alex began cooking together on a regular basis, and the local farmer's market became a weekly habit.
"Alex was always better than I was at the more intricate recipes. You know, things would really be finely minced if they were supposed to be finely minced. My specialty was pouring the wine and picking out the background music," Meg says, laughing. "No, I cooked, too. Actually, cooking became a great way for me to unwind. I'm not some amazing cook. But I have realized that cooking is very therapeutic for me. There's nothing that makes me happier than coming home after a long workday, getting out a bunch of ingredients and just taking time. And that's one of the things that's been really hard for me – that I don't have that anymore."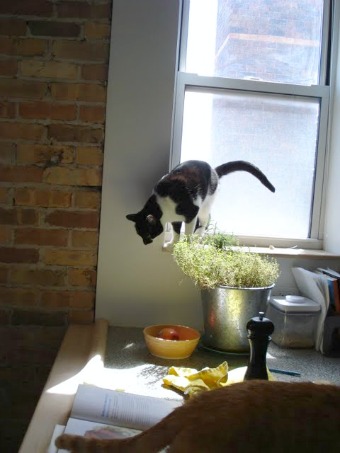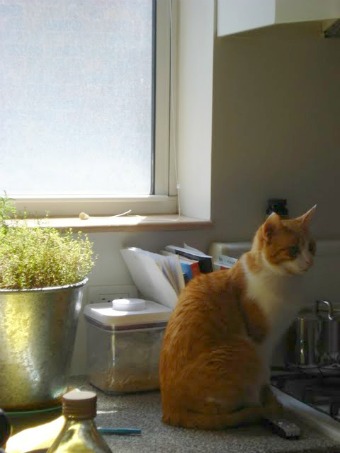 "I had a total mental breakdown after I moved," Meg continues, shaking her head. "The relationship ending was fairly traumatic, but what really pulled the rug out from under me was moving in with a new roommate to a place where nothing was mine. And it was small, and it was dark, and I couldn't have my kitchen. And I don't live in my kitchen by any means, but it's that important to my daily routine, that I just sort of lost it."
Here's the problem with relationships: they're messy. We build our lives around them, and our relationships get built into our lives. They affect our daily routines so much that if they end, we're left scrambling to make sense of it all. You can't just cut them off and be done with them – over time, they get tangled up in everything. They show up in the paths you used to walk together, the things you used to laugh about, the meals you used to share. They leave imprints in unexpected places and on ordinary things.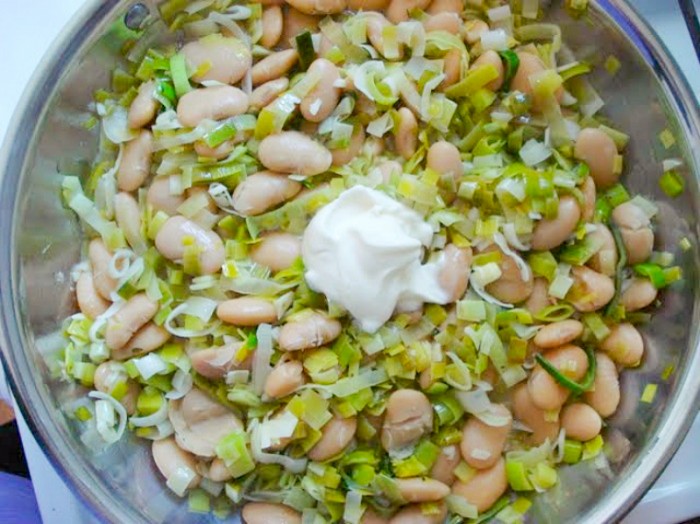 Suddenly, looking at leeks can evoke feelings of joy, or it can hurt like hell. I imagine, a little bit of both. "Alex is my twenties. Alex is my Chicago. Alex is leeks and farmer's markets." It's not easy unraveling all those things that get tangled up in our relationships, and it takes time. Which is why Meg and Alex are still sorting through it all, why she is watching his cats while he's out of town, and why we are able to be here cooking in his kitchen.
"Even though things didn't work out with Alex, it was such a great living and learning and growing experience. And he really instilled in me such an appreciation for food," she says, spooning out a dollop of creme fraiche. "This is actually really exciting for me to be cooking again, especially this dish. It's a really lovely, savory dish. And it reminds me of Spring."
Three Quick Questions…and Meg's Answers
It's your last meal. What do you have?
Grilled fillet with a red wine reduction sauce, sautéed garlic spinach, and parmesan truffle risotto (along with several glasses of a nice zinfandel or Cotes d Rhone)!
Your kitchen is burning down. What's the one thing you grab?
My sharpest chef's knife.
Do you have a favorite cookbook?
The Joy of Cooking or the Better Homes and Gardens Cookbook. These have always been my mom's go-to culinary guides. The versions she owns are at least 20 years old and the pages are stuck together with grease and sauce of meals past — I get nostalgic, warm and hungry every time I see them.
Creamiest White Beans and Leeks
Author:
Adapted (just barely) from Jamie Oliver
Recipe type:
Appetizer/Side
Prep time:
Cook time:
Total time:
This dish smells amazing as it cooks. Goes wonderfully with grilled fillet steak.
Ingredients
4 leeks, washed, finely sliced, stems and dark green ends removed
a small bunch of fresh thyme, leaves picked
2 garlic cloves, peeled and finely chopped
olive oil
1 tbsp butter
wineglass of white wine
1 lb 2oz canned or jarred butter beans (or any type of large white beans), drained and rinsed
a small handful of fresh parsley leaves, finely chopped
1 tablespoon crème fraîche
sea salt and freshly ground black pepper
Instructions
Place the leeks, thyme, garlic, butter and a splash of olive oil in a heavy-bottomed saucepan and allow to sweat over low heat for about 20 minutes, until leeks have softened.
Turn the heat up to medium and add the white wine. Bring the wine to a boil, then add the beans and a splash of water, so that the beans are almost covered. Turn the heat down again and let simmer for 5 to 10 minutes until the beans are soft and creamy.
Add the parsley (saving just a bit for garnish), crème fraîche and another splash of olive oil; season with salt and pepper to taste. The original Jamie Oliver recipe calls for a tablespoon of creme fraîche, but we don't think it hurts at this point to add a couple extra.
Remove from heat. If desired, garnish with remaining parsley.